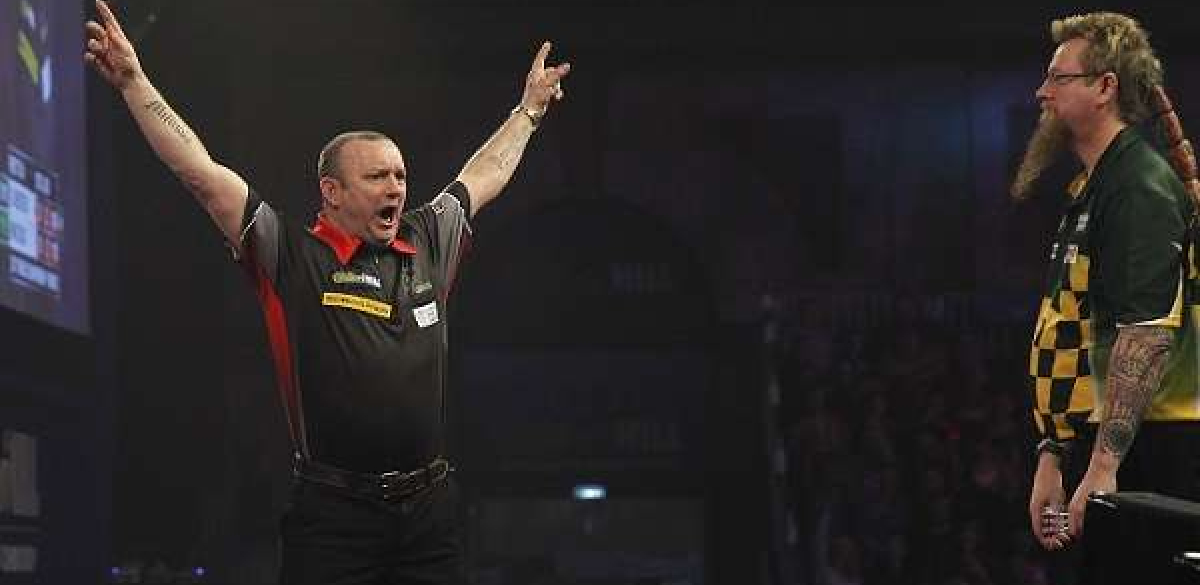 BRILLIANT WEBSTER STUNS WHITLOCK WITH CAREER-BEST DISPLAY
 
DARREN WEBSTER produced the performance of the William Hill World Championship so far, as Gary Anderson and Adrian Lewis both continued their bids to win the title for a third time with comfortable wins at Alexandra Palace on Friday. 

Webster, Anderson and Lewis all enjoyed whitewash victories as the second round action got underway, while Michael Smith, Benito van de Pas and Ian White also progressed to the last 16 on the final day of pre-Christmas action.

Last month's Players Championship Finals semi-finalist Webster put on a display of the highest quality to shock Simon Whitlock with a straight sets victory.

The 2007 World Championship semi-finalist averaged 104.64 - the highest in the nine days of the event so far - to follow up his first round win against Stephen Bunting with an even more impressive triumph.

"It's the moment of my career," said the unseeded Webster, who rattled in eight 180s and sealed the win with a brilliant 140 checkout.

"I've always said that my best is yet to come and it's coming. I'm happy with how I played. I'm still learning how to take my floor form on to the big one but I'm getting there. 

"I know I'm playing really well and I'm happy with myself."

Norfolk's Webster will now return after Christmas to take on the winner of the second round tie between number one seed Michael van Gerwen and Spain's Cristo Reyes.

"I'm a realist and I know how good Michael is," added Webster, who lost out to Van Gerwen in the Players Championship semi-finals after leading the Dutch star 6-0 in the their race to 11 legs.

"If I play like I did, I'll give him a game if I play him. It will be hard - people thought The Titanic couldn't sink but it did, and I'm the iceberg to sink Michael.

"We are just a couple of humans with two arms and two legs so we will see what happens."

Reigning champion Anderson has yet to drop a set after he followed up his first round romp against Mark Frost by easing past Andrew Gilding, winning all four sets with a 3-1 scoreline.

The number two seed remains on course to lift the Sid Waddell Trophy for a third successive year after averaging 102.58 to set up a round three clash with Van de Pas. 

"It was a lot easier than I thought it would be," said Anderson, who hit six 180s and a beautiful 132 finish on the final night of Alexandra Palace action before Christmas.

"He never got going and I know how dangerous he can be.

"I really enjoyed it up there, though. The crowd were fantastic. I've never heard them so loud in all my time playing darts. That is what the World Championship is all about."

Lewis produced an equally impressive display as he made light work of Joe Cullen to set up a last 16 clash with either Raymond van Barneveld or Alan Norris.

The two-time World Champion edged the first set 3-2 but only dropped two legs after that as he upped his standard in a warning to the field by averaging 102.65 and hitting five maximums.

"The game really suited me," said Lewis, the 2011 and 2012 champion. "I said that I would play better after the first round and I did. It was good and solid but there is more in the tank.

"Joe has had a great year on and off of TV so to go up there and win 4-0 is special."

Earlier in the day, Smith fought off the tenacious Mervyn King in an epic seven-set contest, which saw the St Helens ace fire in a huge 14 180s to reach the third round for the fourth consecutive year.

The former PDC Unicorn World Youth Champion missed five darts to take a more comfortable 4-1 victory before King hit back to force a deciding set tie-break, where Smith finally prevailed.

"I should have seen Mervyn off earlier," said Smith, who went on to reach the quarter-finals at Alexandra Palace last year. 

"He just wouldn't leave me alone. He was like a cat with nine lives. Mervyn is a fighter and he nearly got me there.

"Credit to him but I'm happy that I got the job done. That's the main thing and whoever I play next has to play me, not the other way round."

Smith will now take on the winner of the post-Christmas second round match between James Wade and Steve Beaton.

Dutch ace Van de Pas also came through a nail-biting encounter and survived a missed match dart from veteran star Terry Jenkins. 

Van de Pas, who has won a trio of Players Championship titles in 2016, produced a gutsy 110 checkout in the tie-break to help him progress to round three for a third time.

"What a game," said the 23-year-old, who recently reached the quarter-finals of the World Grand Prix and World Series of Darts Finals.

"I'm a real fighter and I know how to finish games. The pressure was high but I was very relaxed.

"I'm playing better and better on the stage and step by step, I'm moving closer to achieving my goals."

White, meanwhile, claimed a comfortable triumph against Wales' Jonny Clayton, who failed to recover from losing the first three sets as he eventually went down 4-1.

Number 14 seed White hit eight 180s to follow up his first round success against Kevin Simm with another convincing victory.

White will take on Peter Wright or Jamie Lewis in the last 16 as he bids to match his previous best run at the World Championship, having reached the quarter-finals in 2014. 

The remaining competitors will return after a three day break for the festive period, with the action resuming on December 27 with a double session of second round action.

Mensur Suljovic and Mark Webster will kick off Tuesday's play before Robert Thornton takes on Daryl Gurney and Dave Chisnall meets Chris Dobey.

The evening session sees number one seed Van Gerwen face Reyes and 16-time World Champion Phil Taylor go up against Kevin Painter in a repeat of the 2004 decider, while Raymond van Barneveld meets Alan Norris.

World number one van Gerwen remains the 8/11 odds-on favourite with sponsors William Hill to be crowned as World Champion on January 2, with Anderson now 11/2 and both Peter Wright and Phil Taylor rated 9/1.

Lewis' whitewash of Cullen has seen his odds of winning a third World Championship cut to 20/1, while Webster's pre-tournament odds of 500/1 have now been slashed to 125/1 following his superb second round win.

For the latest William Hill World Darts Championship odds, visit www.williamhill.com.

A very limited number of standard and Hospitality tickets are still available for the remainder of the William Hill World Darts Championship, with information at www.pdc.tv/tickets.

WATCH LIVE 
The William Hill World Darts Championship will be broadcast live on the Sky Sports Darts channel.

Worldwide coverage is also available through a record number of live broadcasters, and online for PDCTV-HD Subscribers (outside of UK, Ireland & Netherlands) through www.LIVEPDC.TV .

TICKETS 
A limited number of tickets are still available for the William Hill World Darts Championship - including sessions pre-Christmas - and can be ordered online by CLICKING HERE .

For full ticket information, click here .

William Hill World Darts Championship
Second Round
Friday December 23
Afternoon Session 
Ian White (14) 4-1 Jonny Clayton
Michael Smith (11) 4-3 Mervyn King (22)
Benito van de Pas (15) 4-3 Terry Jenkins (18)

Evening Session 
Darren Webster 4-0 Simon Whitlock (17)
Gary Anderson (2) 4-0 Andrew Gilding
Adrian Lewis (5) 4-0 Joe Cullen (28)

Second Round - best of seven sets

LIVE STATS 
Follow live stats & see match stats throughout the event via the official PDC Live Scores website - CLICK HERE 

MATCH UPDATES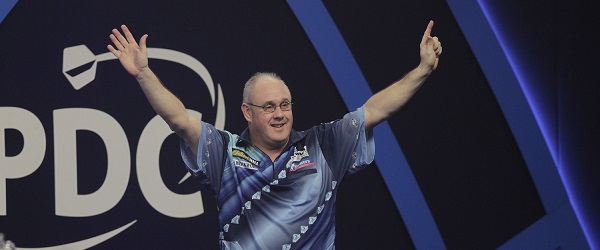 Ian White (14) 4-1 Jonny Clayton 
1-0 (3-1)
White started with a 180 and took the first leg with an 80 checkout. He then pegged double four before Clayton pulled back a leg on tops. White, though, fired in another maximum and sealed the set on double eight. 

2-0 (3-1)
White took out 44 before Clayton hit double five but the Stoke ace went on to double his lead with finishes of 84 and 100. 

3-0 (3-1)
White took out 52 and 78 before the pair shared three 180s in the third leg, which Clayton won on double eight. White rattled in his sixth maximum in the following leg as he won the set by bedding double 16. 

3-1 (1-3)
White fired in his seventh maximum and took out 91 but a 111 finish by Clayton sparked a resurgence as he took three straight legs to get a set on the board. 

4-1 (3-2)
Clayton pinned double 14 and then moved two legs clear on double 16. White found the same bed as he fought back, taking consecutive legs to steal the set and seal his place in the last 16.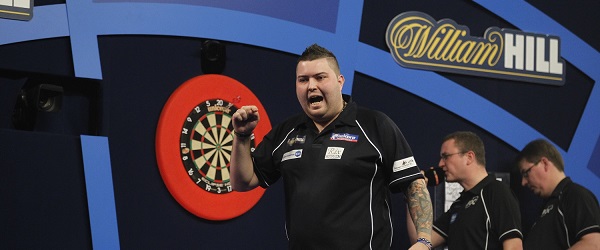 Michael Smith (11) 4-3 Mervyn King (22) 
0-1 (1-3)
King started in style with a 121 checkout to break and he doubled his lead on double four. Smith pulled a leg back but a 180 helped King seal the set.

1-1 (3-2)
Smith cleaned up 25 to take the first set before King took out 68 to level. He then produced a sublime 148 finish but Smith levelled on tops before punishing his opponent for three missed set darts by sinking double top. 

2-1 (3-2)
Smith pinned tops before King levelled on double 16. Smith then hit 180s in each of the next two legs, which were shared, before landing tops for the third set.

3-1 (3-1)
Smith nailed double five to break and then doubled his lead. King hit back with a 64 finish but Smith's fifth 180 helped him move within a set of victory.

3-2 (3-2)
King broke on double eight but Smith returned the feat by double 12. The pair both then pegged double eight to force a set decider, in which they exchanged 180s before Smith missed five match darts and King landed double ten to stay alive.

3-3 (2-3) 
Smith upped his 180 tally to ten as he opened up a 2-1 lead in the sixth set until King produced a brilliant match-saving 130. He then hit a fourth maximum and took out 80 to take the tie to a seventh and decisive set.

4-3 (4-2)
Smith won the first two legs before a 74 finish kept King's chances alive. He then took out 70 to punish his opponent for three further missed match darts, forcing a tie-break, where Smith finally sealed the win as he increased his maximum count to 14.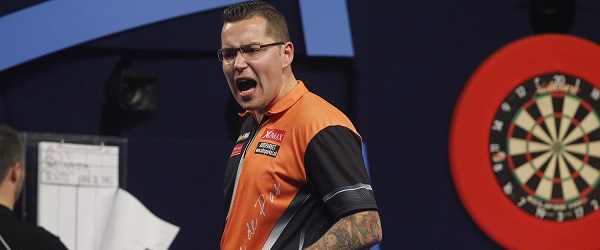 Benito van de Pas (15) 4-3 Terry Jenkins (18) 
1-0 (3-2)
The first four legs went with the throw until Van de Pas hit a crucial double 16 to break in the set decider.

 1-1 (0-3)
Jenkins took out 81 to break in 11-darts and followed that with a 12-dart hold in which he opened the leg with back-to-back maximums. Jenkins then pinned double 18 to restore parity.

2-1 (3-1)
Both players landed double top in the first two legs before Van de Pas pulled away, winning the following two legs to take the set.

3-1 (3-1)
Van de Pas pegged tops before Jenkins took out 100. The Dutchman then pinned double seven and cleaned up 70 to open up a two-set advantage.

3-2 (3-2)
Both players broke each other's throw immediately before finishes of 120 and 84 saw Jenkins take the fifth set.

3-3 (0-3)
Jenkins continued his charge with a sweet bullseye finish of 87 before bedding tops twice to take the set and take the match all the way.

4-3 (5-3)
Four legs were shared before Jenkins moved within a leg of victory but he missed a dart at double 12 for the win and was punished when Van de Pas found the bed his opponent had been unable to. The Dutch ace then took out 110 to break and landed double five to triumph after Jenkins missed two darts to break.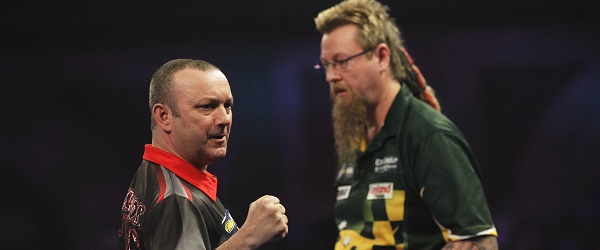 Darren Webster 4-0 Simon Whitlock (17) 
1-0 (3-2) 
There was a 180 in each of the first four legs - three for Whitlock - which all went with the throw, before Webster took out 81 to break in the deciding leg. 

2-0 (3-1)
Whitlock hit his fourth 180 but lost the first leg before levelling by bedding double eight. The Australian added is fifth maximum in the following leg but again lost it and Webster went on to take the set in four legs, upping his own 180 count to three in the process.

3-0 (3-1)
Both players hit 180s in the first leg as Webster broke Whitlock's throw with an 89 finish. Webster landed his fifth maximum and pinned tops before Whitlock's seventh 180 helped him pull a leg back. Webster took out 112 to take the set.

4-0 (3-2)
Webster took out 82 to win the first leg but Whitlock levelled with the aid of another 180. Webster landed tops before an 89 finish kept the 2010 runner-up in the match but a brilliant 140 finish saw Webster claim a shock straight set victory, in which he hit 8 180s and posted a three-dart average of 104.64.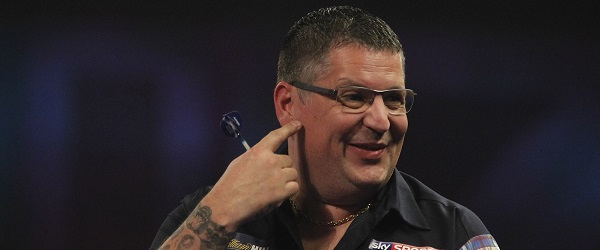 Gary Anderson (2) 4-0 Andrew Gilding 
1-0 (3-1)
Anderson kicked off with a 64 before Gilding levelled on double nine. Anderson pegged double two and then cleaned up 25 to take the first set.

2-0 (3-1)
Gilding won the first leg on double top after Anderson had missed a dart at doubles. The reigning champion produced a brilliant 134 finish and won the next two legs to double his lead in the match.

3-0 (3-1)
Anderson had finishes of 66 and 62 as he took another set in four legs.

4-0 (3-1)
Anderson pinned double one to take the first leg before firing in a sensational 132 checkout. He then added his sixth 180 before completing the win with a 92 finish.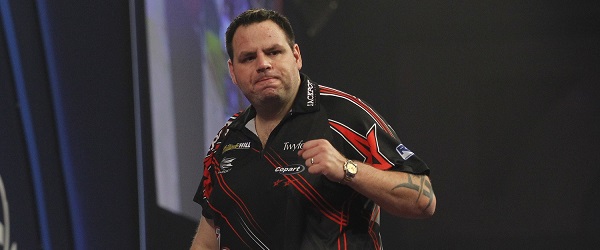 Adrian Lewis (5) 4-0 Joe Cullen (28) 
1-0 (3-2)
Lewis began with an 86 finish to complete an 11-dart leg. Cullen levelled on double ten before Lewis took out 92. Cullen hit double 16 but it was Lewis who won the set, landing double ten to edge ahead.

2-0 (3-0)
Lewis hit double nine and double top before a stunning 161 finish doubled his lead in the match.

3-0 (3-1)
Lewis took out 111 and 69 to win the first two legs. Cullen pulled one back but Lewis took the set on double 16.

4-0 (3-1)
Lewis added his fifth 180 and pegged double ten before Cullen landed a maximum and finished 103 to level. Lewis nailed double nine and then tops to seal a whitewash victory.