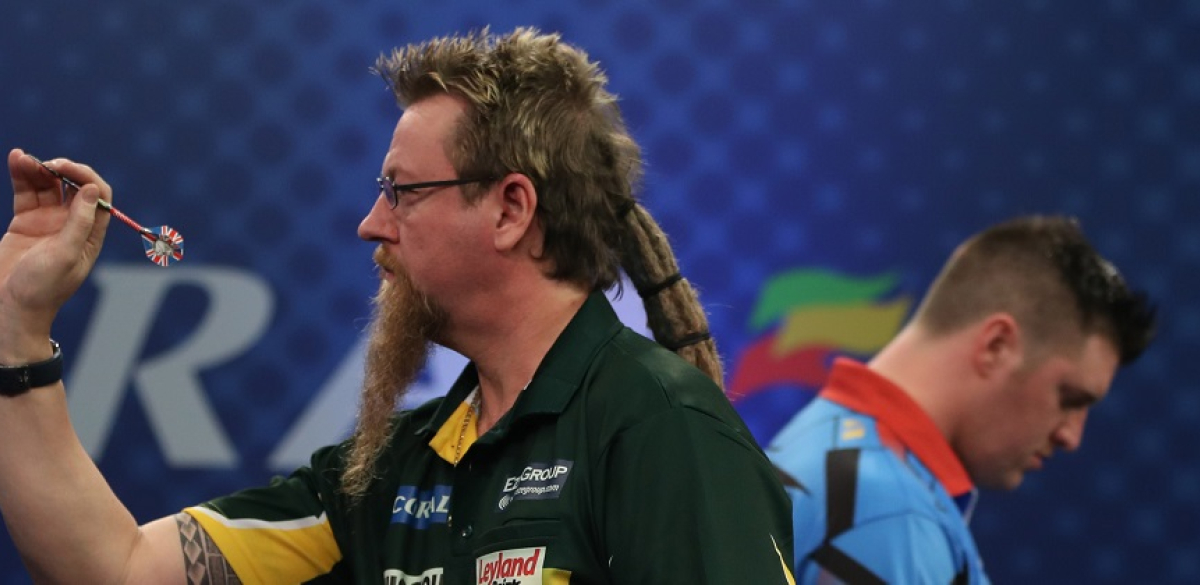 SIMON WHITLOCK won his second ranking title in a week as he defeated Ronny Huybrechts 6-3 in the final of Coral UK Open Qualifier Five, on a day where the Belgian and Darren Webster landed nine-darters.
Following on from Michael van Gerwen's two nine-darters in one game on Friday, Webster was the first man to achieve perfection against Benito van de Pas, before Huybrechts repeated the trick with the first perfect leg of his career - against Webster - in the quarter-finals.
However, it was Whitlock who tasted success in a dominant display in the final to deny Huybrechts the chance of winning his first PDC title and follow up his success last Saturday with another £10,000 top prize.
An early break gave the Australian a 2-0 lead in the final, but he was quickly pegged back as Huybrechts clinched back-to-back legs.
However, Whitlock - who missed double 18 for a nine-darter himself earlier in the day - was enjoying continued consistency on the trebles and raced away from the Belgian, stretching his lead to 5-2.
Huybrechts clinched a leg back, but the order was too tall as Whitlock chalked off the remaining leg to secure the victory and the £10,000 title.
The former European Champion has enjoyed a brilliant return to form to win four ranking titles since October, including another victory in a final against Huybrechts in a Players Championship and two nine-dart finishes at the back end of 2017.
In reaching the final, Whitlock edged out Michael Rasztovits in his opening game, before whitewashing Mick McGowan to reach the last 32.
There, the Australian squeezed past Brian Woods and followed that win with 6-2 victories over Scott Taylor and Mervyn King to reach the final four.
Standing in his way of the final was the in-form Rob Cross, who only joined the professional circuit this year, but Whitlock proved too tough in a 6-4 victory to set up the clash with Huybrechts.
It was a day of giant-killings for Huybrechts as he reached his second PDC ProTour final in five months. After early wins against Kevin Dowling and Matthew Edgar, he saw off two-time World Champion Gary Anderson in a narrow 6-5 victory.
Reaching the last 32, he then beat Terry Jenkins, Ian White, Darren Webster and came from behind against a resilient Michael Smith to book his spot int he final two.
But it was arguably Cross - who made his name at the 2016 Coral UK Open by reaching the last 32 as an Amateur Qualifier - who claimed the most impressive scalps of the day.
An opening round win against Scott Dale booked him a match with James Wade, but the 26-year-old edged through in a deciding leg thriller against the Betway Premier League star.
He then comfortably saw off Mark Frost to reach the last 32, where his most impressive darts come to the fore as he dropped just five legs in victories over Dave Chisnall, Robert Thornton and Jelle Klaasen before falling to Whitlock.
Smith's strong run saw him beat the likes of Vincent van der Voort, Peter Wright and Gerwyn Price in narrow victories before losing out to finalist Huybrechts.
2016 Players Championship Finals semi-finalist Webster, who is also enjoying a purple patch of late, can be pleased with his efforts as he guaranteed his qualification for the UK Open, including victories over Keegan Brown, Rob Hewson, Van de Pas and David Pallett on the day.
The Coral UK Open Qualifiers come to a conclusion on Sunday with Qualifier Six at the Robin Park Tennis Centre in Wigan, as players battle it out for £60,000 and the final opportunity to secure qualification to the Coral UK Open.
Following Qualifier Six, the top 96 players from the UK Open Order of Merit progress to compete in the Coral UK Open TV Finals at the Butlins Minehead Resort from March 3-5, alongside 32 Rileys Amateur Qualifiers.
Fans worldwide can watch coverage of Qualifier Six through two live streams, which will be available at www.livepdc.tv for all PDCTV-HD Subscribers and through a series of bookmakers' websites.
Click below to see Ronny Huybrechts' nine-dart finish


Coral UK Open Qualifier Five
Saturday February 11
Preliminary Round
Mark Forman 6-4 Jon Jukes 
Josh Payne 6-4 John Bowles 
Barrie Bates 6-2 Ian Lever
Sean Ryan 6-3 Ben Ward
First Round
Justin Pipe Bye
Robert Owen 6-4 Michael Burgoine 
Ross Twell 6-4 James Hubbard 
Darren Johnson 6-3 Yordi Meeuwisse
Stephen Bunting Bye 
David Pallett 6-0 Nick Jennings 
Robbie Green 6-4 Devon Petersen 
Ryan Murray 6-2 Steve McNally
Benito van de Pas Bye
Ryan De Vreede 6-5 Roxy-James Rodriguez 
Jan Dekker 6-4 Richie Burnett 
Jonathan Worsley 6-1 Coni Singh Nagi
Darren Webster Bye
Keegan Brown 6-5 Martyn Turner 
Rob Hewson 6-5 Jeffrey de Zwaan
Michael Barnard 6-1 Mark Forman
Terry Jenkins Bye
Mick Todd 6-2 Matthew Dennant
Eikichi Nakanishi 6-5 Par Riihonen
Andy Jenkins 6-0 Sven Groen 
Gary Anderson Bye
Jermaine Wattimena 6-0 Roger Scrivens 
Matthew Edgar 6-1 Jack Todd
Ronny Huybrechts 6-4 Kevin Dowling 
Ian White Bye
Dave Ladley 6-5 Jeff Batham 
Bryan De Hoog 6-4 Dyson Parody 
Shaun Griffiths 6-4 Craig Gilchrist
Brendan Dolan Bye
Martin Schindler 6-1 Jim Brown
Kevin Painter 6-4 Rowby-John Rodriguez 
Mark Hylton 6-1 Mike De Decker
Raymond van Barneveld Bye
Mark Dudbridge 6-0 Willy van de Wiel 
Sam Head 6-5 Kelvin Hart
Greg Ritchie 6-1 Alan Tabern Jnr
Kyle Anderson Bye
Kirk Shepherd 6-4 Jeffrey de Graaf 
Callum Loose 6-2 Vincent Kamphuis
James Richardson 6-4 Simon Stevenson
Gerwyn Price Bye
Chris Dobey 6-2 Paul Nicholson 
Dylan Duo 6-5 Joshua Richardson
Yuki Yamada 6-4 Wes Newton 
Alan Norris Bye
WIlliam O'Connor 6-0 Jamie Bain
Nigel Daniels 6-2 Bradley Brooks
Darron Brown 6-5 Harry Ward
Adrian Lewis Bye
Richard North 6-2 John Brown
Berry van Peer 6-2 Jerry Hendriks
Eddie Dootson 6-3 Maik Langendorf
Peter Wright Bye
Jason Wilson 6-1 Billy Holmes 
Matt Clark 6-2 Joe Davis
Wayne Jones 6-5 Gary Stone
Vincent van der Voort Bye
Dirk van Duijvenbode 6-2 Ryan Harrington
Aden Kirk 6-3 Ryan Searle 
Justin Smith 6-5 Ray Campbell
Michael Smith Bye
Lee Bryant 6-1 James Hajdar 
Paul Rowley 6-0 Paul Reeve
Steve West 6-2 Luke Woodhouse 
Daryl Gurney Bye
Ron Meulenkamp 6-5 Dean Stewart 
Martin Lukeman 6-0 Jay Forman 
Ricky Williams 6-4 Andy Boulton 
John Henderson Bye
Ted Evetts  6-0 Jim Walker 
Dimitri Van den Bergh 6-2 Ryan Meikle 
Joe Murnan 6-0 Josh Payne
Jelle Klaasen Bye
Mark Westgarth 6-2 Sheamus Hagan 
Steve Brown 6-4 Mareno Michels
Chris Quantock 6-5 Diogo Portela
Joe Cullen Bye
Max Hopp 6-2 Nathan Aspinall
Stuart Kellett 6-4 Kevin McDine
John Crossley 6-3 Rene Eidams 
Dave Chisnall Bye
Christian Kist  6-1 Barry Lynn 
Jonny Clayton 6-2 John Part 
Ricky Evans 6-5 Terry Temple
James Wade Bye
Rob Cross 6-2 Scott Dale 
Ting Chi Royden Lam 6-0 Arron Monk
Mark Frost 6-4 Simon Cassidy
Jamie Lewis Bye
Peter Hudson 6-3 Scott Rollings 
Ronnie Baxter 6-3 Dennis Smith
Kai Fan Leung 6-3 Madars Razma
Robert Thornton Bye
Dawson Murschell 6-4 Jim Moston 
Ryan Palmer 6-3 Richie Corner
Andreas Hajimina 6-3 Shane Reidy
Mark Webster Bye
Richard Baillie 6-3 Mario Robbe
James Wilson 6-4 Stephen Burton
Adam Smith-Neale 6-3 Andy Hamilton 
Mervyn King Bye
Luke Humphries 6-1 Kurt Parry
Zoran Lerchbacher 6-3 James Young 
Steve Douglas 6-3 Derek Brand
Kim Huybrechts Bye
Ritchie Edhouse 6-5 Nick Fullwell 
Allan Candlish 6-3 Nigel Pinchen
Prakash Jiwa 6-5 Terry Roach 
Andrew Gilding Bye
James Lane 6-5 Adrian Gray 
Callan Rydz 6-5 Wilco Vermeulen
Barrie Bates 6-5 Colin Roelofs 
Jamie Caven Bye
Paul Milford 6-4 Curtis Hammond
Martin Thomas 6-0 Rohit Rabadia
Brian Woods 6-3 Alan Tabern 
Simon Whitlock Bye
Michael Rasztovits 6-3 John Michael
Mick McGowan 6-5 Adam Hunt
Ricky Sudale 6-3 Charlie Jackson 
Steve Beaton Bye
Steve Lennon 6-2 Antonio Alcinas 
Tony Newell 6-3 Jimmy Hendriks 
Scott Taylor 6-1 Michael Huntley
Cristo Reyes Bye
Mark Walsh 6-0 Andy Parsons
Nathan Derry 6-3 Mark Stephenson 
Matt Padgett 6-0 Sean Ryan
Second Round
Justin Pipe 6-1 Robert Owen
Ross Twell 6-4 Darren Johnson
David Pallett 6-4 Stephen Bunting 
Robbie Green 6-4 Ryan Murray
Benito van de Pas 6-0 Ryan De Vreede
Jonathan Worsley 6-3 Jan Dekker 
Darren Webster 6-4 Keegan Brown
Rob Hewson 6-5 Michael Barnard
Terry Jenkins 6-4 Mick Todd
Andy Jenkins 6-0 Eikichi Nakanishi 
Gary Anderson 6-3 Jermaine Wattimena
Ronny Huybrechts 6-2 Matthew Edgar 
Ian White 6-1 Dave Ladley
Shaun Griffiths 6-3 Bryan De Hoog 
Brendan Dolan 6-5 Martin Schindler
Kevin Painter 6-3 Mark Hylton
Raymond van Barneveld 6-1 Mark Dudbridge
Greg Ritchie 6-5 Sam Head 
Kyle Anderson 6-3 Kirk Shepherd
James Richardson 6-1 Callum Loose 
Gerwyn Price 6-5 Chris Dobey
Yuki Yamada 6-4 Dylan Duo 
William O'Connor 6-4 Alan Norris 
Nigel Daniels 6-2 Darron Brown
Richard North 6-5 Adrian Lewis 
Berry van Peer 6-5 Eddie Dootson
Peter Wright 6-4 Jason Wilson
Wayne Jones 6-3 Matt Clark 
Vincent van der Voort 6-4 Dirk van Duijvenbode
Aden Kirk 6-0 Justin Smith
Michael Smith 6-4 Lee Bryant 
Paul Rowley 6-5 Steve West
Daryl Gurney 6-2 Ron Meulenkamp
Martin Lukeman 6-4 Ricky Williams
Ted Evetts 6-2 John Henderson 
Dimitri Van den Bergh 6-1 Joe Murnan
Jelle Klaasen 6-3 Mark Westgarth
Steve Brown 6-4 Chris Quantock
Joe Cullen 6-4 Max Hopp
Stuart Kellett 6-3 John Crossley
Dave Chisnall 6-5 Christian Kist 
Ricky Evans 6-2 Jonny Clayton 
Rob Cross 6-5 James Wade 
Mark Frost 6-4 Ting Chi Royden Lam 
Jamie Lewis 6-1 Peter Hudson
Kai Fan Leung 6-1 Ronnie Baxter 
Robert Thornton 6-4 Dawson Murschell
Ryan Palmer 6-3 Andreas Hajimina
Mark Webster 6-2 Richard Baillie 
James Wilson 6-4 Adam Smith-Neale
Mervyn King 6-3 Luke Humphries 
Zoran Lerchbacher 6-2 Steve Douglas
Kim Huybrechts 6-3 Ritchie Edhouse
Allan Candlish 6-2 Prakash Jiwa
Andrew Gilding 6-2 James Lane
Barrie Bates 6-2 Callan Rydz
Paul Milford 6-4 Jamie Caven 
Brian Woods 6-2 Martin Thomas 
Simon Whitlock 6-5 Michael Rasztovits
Mick McGowan 6-4 Ricky Sudale
Steve Beaton 6-3 Steve Lennon
Scott Taylor 6-2 Tony Newell 
Mark Walsh 6-5 Cristo Reyes 
Matt Padgett 6-5 Nathan Derry
Third Round
Ross Twell 6-1 Justin Pipe 
David Pallett 6-2 Robbie Green
Benito van de Pas 6-3 Jonathan Worsley
Darren Webster 6-1 Rob Hewson
Terry Jenkins 6-4 Andy Jenkins 
Ronny Huybrechts 6-5 Gary Anderson 
Ian White 6-1 Shaun Griffiths
Brendan Dolan 6-5 Kevin Painter
Raymond van Barneveld 6-4 Greg Ritchie
James Richardson 6-3 Kyle Anderson 
Gerwyn Price 6-1 Yuki Yamada
William O'Connor 6-3 Nigel Daniels
Richard North 6-5 Berry van Peer
Peter Wright 6-4 Wayne Jones
Vincent van der Voort 6-4 Aden Kirk
Michael Smith 6-4 Paul Rowley
Daryl Gurney 6-1 Martin Lukeman
Ted Evetts 6-4 Dimitri Van den Bergh
Jelle Klaasen 6-1 Steve Brown
Joe Cullen 6-4 Stuart Kellett
Dave Chisnall 6-2 Ricky Evans
Rob Cross 6-1 Mark Frost
Kai Fan Leung 6-4 Jamie Lewis 
Robert Thornton 6-5 Ryan Palmer
James Wilson 6-3 Mark Webster
Mervyn King 6-0 Zoran Lerchbacher
Kim Huybrechts 6-2 Allan Candlish
Barrie Bates 6-5 Andrew Gilding 
Brian Woods 6-2 Paul Milford
Simon Whitlock 6-0 Mick McGowan
Scott Taylor 6-4 Steve Beaton
Matt Padgett 6-3 Mark Walsh
Fourth Round
David Pallett 6-2 Ross Twell
Darren Webster 6-5 Benito van de Pas - Darren Webster hits nine-dart finish
Ronny Huybrechts 6-5 Terry Jenkins
Ian White 6-5 Brendan Dolan
Raymond van Barneveld 6-2 James Richardson
Gerwyn Price 6-2 William O'Connor
Peter Wright 6-4 Richard North 
Michael Smith 6-3 Vincent van der Voort 
Daryl Gurney 6-1 Ted Evetts
Jelle Klaasen 6-4 Joe Cullen
Rob Cross 6-2 Dave Chisnall 
Robert Thornton 6-3 Kai Fan Leung 
Mervyn King 6-5 James Wilson 
Kim Huybrechts 6-4 Barrie Bates
Simon Whitlock 6-4 Brian Woods 
Scott Taylor 6-5 Matt Padgett
Fifth Round
Darren Webster 6-1 David Pallett
Ronny Huybrechts 6-5 Ian White
Gerwyn Price 6-2 Raymond van Barneveld 
Michael Smith 6-5 Peter Wright 
Jelle Klaasen 6-3 Daryl Gurney 
Rob Cross 6-1 Robert Thornton
Mervyn King 6-5 Kim Huybrechts
Simon Whitlock 6-2 Scott Taylor
Quarter-Finals
Ronny Huybrechts 6-4 Darren Webster - Ronny Huybrechts hits nine-dart finish
Michael Smith 6-5 Gerwyn Price 
Rob Cross 6-2 Jelle Klaasen 
Simon Whitlock 6-2 Mervyn King
Semi Finals
Ronny Huybrechts 6-5 Michael Smith
Simon Whitlock 6-4 Rob Cross
Final
Simon Whitlock 6-3 Ronny Huybrechts