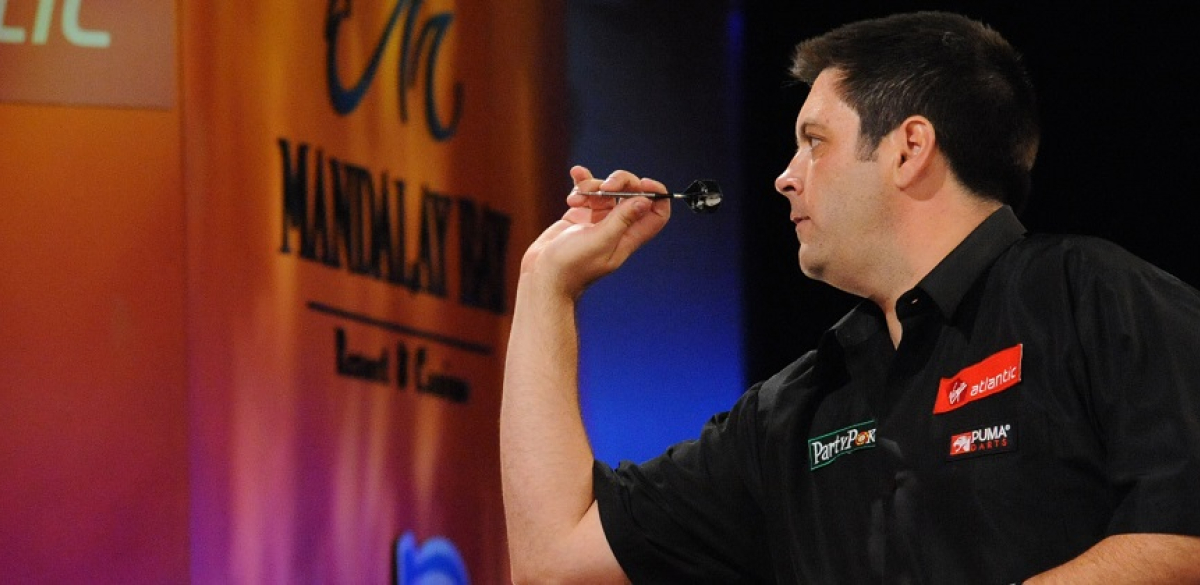 CHRIS WHITE and Willard Bruguier claimed their spots in the partypoker North American Championship and will feature at the partypoker U.S Darts Masters after winning through qualifying on Tuesday in Las Vegas.
Over 150 players entered the event all hoping to win the chance to meet the likes of Michael van Gerwen and Gary Anderson on the big stage this week in the World Series of Darts.
The eight Qualifiers from two days of knockouts at the Tropicana Hotel will also compete on Thursday in the North American Championship, where the winner will secure a spot in the William Hill World Darts Championship.
White began the day by claiming his spot in the main event beating Dennis Sayre 4-3 in the final.
The 45-year-old, who is based in California and nicknamed "Great White Shark", previously qualified for the 2009 Las Vegas Desert Classic (pictured) and also competed in the 2017 PDC Qualifying School.
South Dakota's Bruguier then joined his compatriot sealing a 4-0 whitewash over Shawn Brenneman and will have the opportunity to face the world's best players on Friday.
The 35-year-old police officer will make his TV debut in Thursday's North American Championship, although he has previously competed in the World Masters event and on the Soft-Tip circuit.
Qualifiers Three and Four take place on Wednesday, with the two winners claiming automatic qualification alongside the top four players from the Qualifiers Order of Merit.
TO SEE EVENT INFORMATION & FULL RESULTS SEE OUR MATCH CENTRE AT THIS LINK
Qualifier One
Last 16
Dennis Sayre 4-1 Michael Neubert
Ken MacNeil 4-2 Darin Young
Shawn Brenneman 4-1 John Smyth
Larry Butler 4-1 Leonard Gates
Daniel Lauby 4-3 Alex Reyes
David Fatum 4-1 Michael Rountree
Chris White 4-2 David DePriest
Kevin Luke 4-3 Kiley Edmunds
Quarter-Finals
Dennis Sayre 4-0 Ken MacNeil
Shawn Brenneman 4-0 Larry Butler
David Fatum 4-2 Daniel Lauby
Chris White 4-1 Kevin Luke
Semi-Finals
Dennis Sayre 4-3 Shawn Brenneman
Chris White 4-3 David Fatum
Final
Chris White 4-3 Dennis Sayre
Qualifier Two
Last 16
Adam Stella 4-1 Kiley Edmunds
Chad Ernst 4-3 Joseph Newman
Willard Bruguier 4-1 Elliot Milk
Dawson Murschell 4-1 David Flowers
Shawn Brenneman 4-3 Robert Sinnaeve
Jayson Barlow 4-2 Josh Daynes
Leonard Gates 4-2 Jim Widmayer
Jim Long 4-3 Timmy O'Brien
Quarter-Finals
Adam Stella 4-1 Chad Ernst
Willard Bruguier 4-0 Dawson Murschell
Shawn Brenneman 4-1 Jayson Barlow
Jim Long 4-3 Leonard Gates
Semi-Finals
Willard Bruguier 4-1 Adam Stella
Shawn Brenneman 4-2 Jim Long
Final
Willard Bruguier 4-0 Shawn Brenneman