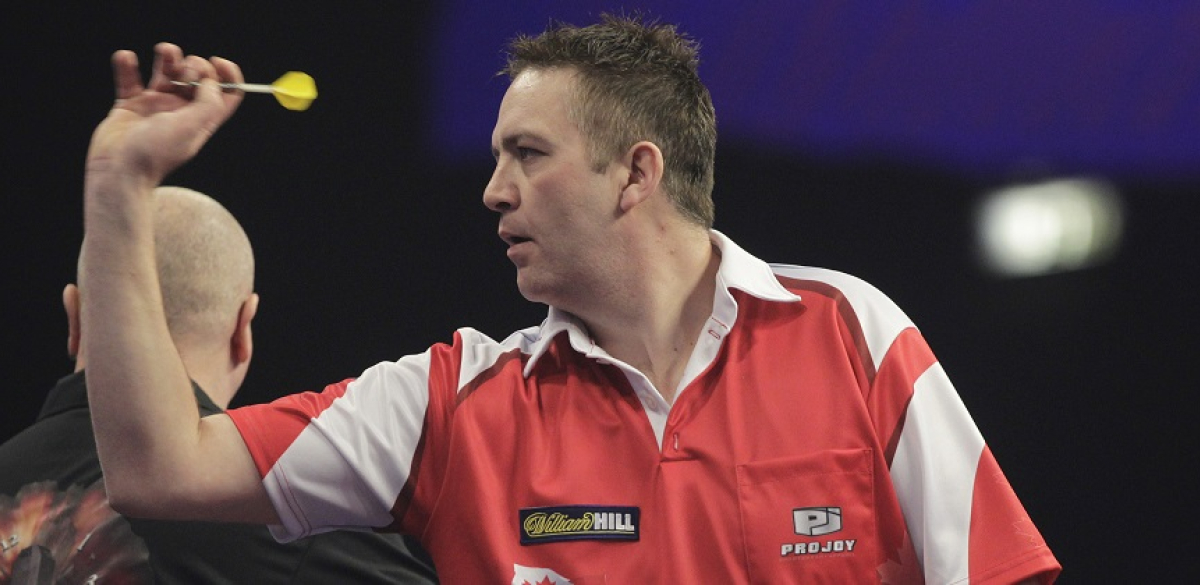 DAVE RICHARDSON and David Cameron won the final two Qualifiers in Las Vegas as the eight players to compete in the North American Championship and U.S. Darts Masters were finalised on Wednesday.
Chris White and Willard Bruguier had already confirmed their spots in the stage events at the Tropicana Las Vegas after picking up wins in the first two qualifying events on Tuesday.
Former World Championship qualifier Richardson, who was born in Scotland but is based in Owen Sound, Canada, was the winner of Qualifier Three as he overcame Dawson Murschell in the final.
Later on Wednesday, Nova Scotia's David Cameron secured his place by winning Qualifier Four with a 4-2 win over Chuck Puleo in their decider.
The four automatic qualifiers were joined in progressing to compete in the North American Championship and U.S. Darts Masters by the top four players from the Qualifiers Order of Merit.
Canadian youngster Murschell will make his TV debut after qualifying, while Princeton-based Shawn Brenneman - a Las Vegas Desert Classic qualifier in 2008 - returns to the big stage after reaching one final and two semi-finals in the four Qualifiers.
Canada's Jayson Barlow and Ohio's Dennis Sayre were the other two players to progress from the Qualifiers' Order of Merit following their performances over the two days.
However, there was disappointment for three-time World Champion John Part, Canada's former Lakeside Championship finalist Jeff Smith and top American duo Darin Young and Larry Butler, who all missed out on qualification.
The eight players will now face off on Thursday in the $25,000 North American Championship, which will see the winner pocket a $10,000 top prize and a place in the William Hill World Darts Championship.
They will also return to the stage at the Tropicana Las Vegas on Friday to compete in the U.S. Darts Masters against eight top stars in the PDC World Series of Darts event, which concludes on Saturday.
Play on Thursday, Friday and Saturday will commence at 12pm local time in the Trinidad Pavilion at the Tropicana Las Vegas - A Doubletree by Hilton.
Worldwide TV coverage will include broadcasts on Fox Sports in America as well as live on ITV4 in the UK from 8pm BST, as well as through PDCTV-HD for Rest of the World Subscribers (outside of the UK, Ireland and Netherlands.
Las Vegas Qualifiers
Qualifier One: Chris White
Qualifier Two: Willard Bruguier
Qualifier Three: Dave Richardson
Qualifier Four: David Cameron
Order of Merit: Jayson Barlow, Shawn Brenneman, Dawson Murschell, Dennis Sayre
2017 North American Championship
Thursday July 13, 12pm local time (8pm BST)
Quarter-Finals
Jayson Barlow v Chris White
Dave Richardson v Shawn Brenneman
Dennis Sayre v Willard Bruguier
David Cameron v Dawson Murschell
Semi-Finals
Barlow/White v Richardson/Brenneman
Sayre/Bruguier v Cameron/Murschell
Final
v
All games are the best of 11 legs
Friday July 14, 12pm local time (8pm BST)
U.S. Darts Masters
First Round
Draw to be made between semi-finals and final of North American Championship
Saturday July 15, 12pm local time (8pm BST)
U.S. Darts Masters
Quarter-Finals, Semi-Finals & Final
Best of 15 legs
TO SEE FULL RESULTS FROM QUALIFIER THREE & QUALIFIER FOUR, SEE OUR MATCH CENTRE AT THIS LINK
Qualifier Three
Last 16
Chris Lim 4-0 Jayson Barlow
William Squires 4-1 Ken MacNeil
Nick Linberg 4-0 Paul Schwindamann
Dawson Murschell 4-2 Dennis Sanden
Jim Widmayer 4-3 Darin Young
Dave Richardson 4-2 John Part
Jeff Smith 4-1 Thomas Curtin
Adam Stella 4-1 Michael Neubert
Quarter-Finals
William Squires 4-3 Chris Lim
Dawson Murschell 4-2 Nick Linberg
Dave Richardson 4-1 Jim Widmayer
Jeff Smith 4-2 Adam Stella
Semi-Finals
Dawson Murschell 4-0 William Squires
Dave Richardson 4-3 Jeff Smith
Final
Dave Richardson 4-0 Dawson Murschell
Qualifier Four
Last 16
Dennis Sayre 4-3 Dan Olson
Shawn Brenneman 4-2 David Fatum
David Cameron 4-1 Gary Broomhead
Tom Sawyer 4-3 Stan Perry
Ruben Herrera 4-3 Nick Selepec
Jayson Barlow 4-3 Larry Butler
Chuck Puleo 4-1 Brad Oxendine
Leonard Gates 4-0 Alex Reyes
Quarter-Finals
Shawn Brenneman 4-2 Dennis Sayre
David Cameron 4-1 Tom Sawyer
Jayson Barlow 4-2 Ruben Herrera
Chuck Puleo 4-2 Leonard Gates
Semi-Finals
David Cameron 4-2 Shawn Brenneman
Chuck Puleo 4-0 Jayson BarlowFinal
David Cameron 4-2 Chuck Puleo