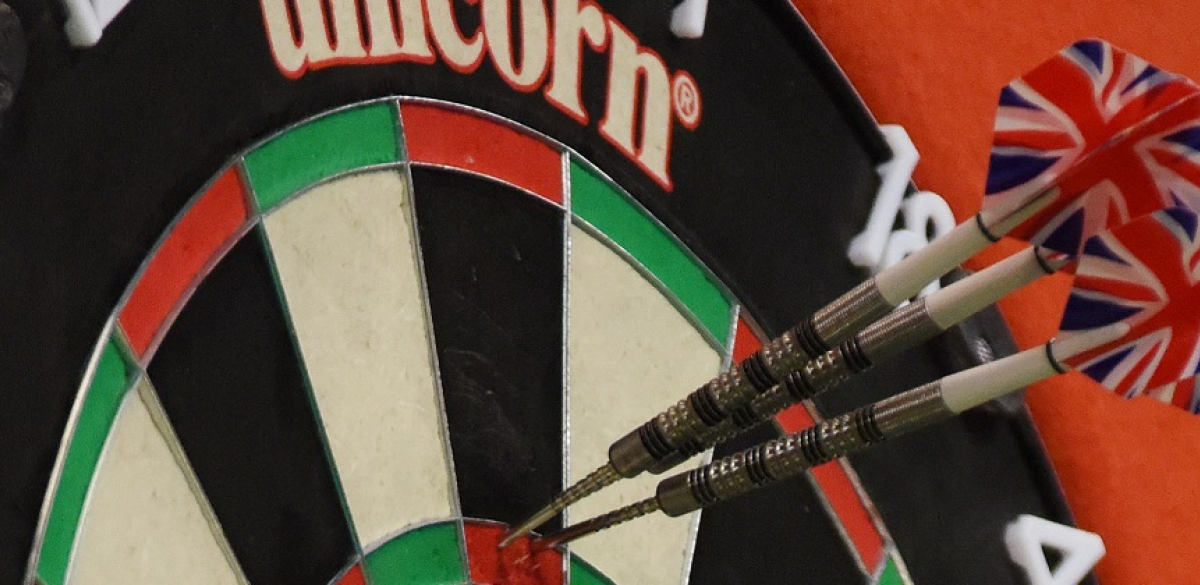 THE entries for the Players Championship double-header on August 5-6 have been confirmed.
The pair of £75,000 tournaments will be held at the Barnsley Metrodome, as 128 players compete in the latest ProTour weekend.
The weekend will begin on Friday August 4 with the UK Qualifier for European Tour events Ten and 11, the HappyBet German Darts Grand Prix and HappyBet International Darts Open. Entries will be confirmed in due course.
The Players Championship double-header will be streamed live at PDCTV-HD and a series of bookmakers' websites, with coverage from two boards simultaneously throughout the weekend.
Players Championship 17
Saturday August 5, Barnsley Metrodome
Antonio Alcinas
Kyle Anderson
Nathan Aspinall
Jamie Bain
Ronnie Baxter
Steve Beaton
Andy Boulton
John Bowles
Jim Brown
Keegan Brown
Lee Bryant
Stephen Bunting
Richie Burnett
Stephen Burton
Ray Campbell
Jamie Caven
Dave Chisnall
Matt Clark
Jonny Clayton
Richie Corner
Rob Cross
Joe Cullen
Scott Darbyshire
Mike De Decker
Jeffrey de Graaf
Bryan de Hoog
Jeffrey de Zwaan
Jan Dekker
Matthew Dennant
Chris Dobey
Brendan Dolan
Matthew Edgar
Ritchie Edhouse
Ricky Evans
Ted Evetts
Andrew Gilding
Robbie Green
Sven Groen
Daryl Gurney
Andy Hamilton
Paul Harvey
John Henderson
Jimmy Hendriks
Steve Hine
Max Hopp
Peter Hudson
Adam Hunt
Kim Huybrechts
Ronny Huybrechts
Peter Jacques
Andy Jenkins
Prakash Jiwa
Darren Johnson
Wayne Jones
Vincent Kamphuis
Stuart Kellett
Mervyn King
Aden Kirk
Christian Kist
Jelle Klaasen
Maik Langendorf
Steve Lennon
Zoran Lerchbacher
Adrian Lewis
Jamie Lewis
Mickey Mansell
Mick McGowan
Yordi Meeuwisse
Ryan Meikle
Ron Meulenkamp
John Michael
Joe Murnan
Tony Newell
Wes Newton
Paul Nicholson
Alan Norris
Richard North
William O'Connor
Robert Owen
Kevin Painter
David Pallett
Ryan Palmer
John Part
Josh Payne
Devon Petersen
Justin Pipe
Diogo Portela
Simon Preston
Gerwyn Price
Chris Quantock
Madars Razma
Cristo Reyes
James Richardson
Harry Robinson
Rowby-John Rodriguez
Paul Rowley
Callan Rydz
Warrick Scheffer
Martin Schindler
Ryan Searle
Kirk Shepherd
Dennis Smith
Michael Smith
Simon Stevenson
Mensur Suljovic
Scott Taylor
Terry Temple
Robert Thornton
Mick Todd
Ross Twell
Benito van de Pas
Dimitri Van den Bergh
Vincent van der Voort
Dirk van Duijvenbode
Berry van Peer
James Wade
Jim Walker
Mark Walsh
Jermaine Wattimena
Darren Webster
Mark Webster
Steve West
Ian White
Simon Whitlock
Ricky Williams
James Wilson
Brian Woods
Jonathan Worsley
Players Championship 18
Sunday August 6, Barnsley Metrodome
Antonio Alcinas
Kyle Anderson
Nathan Aspinall
Jamie Bain
Ronnie Baxter
Steve Beaton
Andy Boulton
John Bowles
Jim Brown
Keegan Brown
Lee Bryant
Stephen Bunting
Richie Burnett
Stephen Burton
Ray Campbell
Jamie Caven
Dave Chisnall
Matt Clark
Jonny Clayton
Richie Corner
Rob Cross
Joe Cullen
Scott Darbyshire
Mike De Decker
Jeffrey de Graaf
Bryan de Hoog
Jeffrey de Zwaan
Jan Dekker
Matthew Dennant
Chris Dobey
Brendan Dolan
Matthew Edgar
Ritchie Edhouse
Ricky Evans
Ted Evetts
Andrew Gilding
Robbie Green
Sven Groen
Daryl Gurney
Andy Hamilton
Paul Harvey
John Henderson
Jimmy Hendriks
Steve Hine
Max Hopp
Peter Hudson
Adam Hunt
Kim Huybrechts
Ronny Huybrechts
Peter Jacques
Andy Jenkins
Prakash Jiwa
Darren Johnson
Wayne Jones
Vincent Kamphuis
Stuart Kellett
Mervyn King
Aden Kirk
Christian Kist
Jelle Klaasen
Maik Langendorf
Steve Lennon
Zoran Lerchbacher
Adrian Lewis
Jamie Lewis
Mickey Mansell
Mick McGowan
Yordi Meeuwisse
Ryan Meikle
Ron Meulenkamp
John Michael
Joe Murnan
Tony Newell
Wes Newton
Paul Nicholson
Alan Norris
Richard North
William O'Connor
Robert Owen
Kevin Painter
David Pallett
Ryan Palmer
John Part
Josh Payne
Devon Petersen
Justin Pipe
Diogo Portela
Simon Preston
Gerwyn Price
Chris Quantock
Madars Razma
Cristo Reyes
James Richardson
Harry Robinson
Rowby-John Rodriguez
Paul Rowley
Callan Rydz
Warrick Scheffer
Martin Schindler
Ryan Searle
Kirk Shepherd
Dennis Smith
Michael Smith
Simon Stevenson
Mensur Suljovic
Scott Taylor
Terry Temple
Robert Thornton
Mick Todd
Ross Twell
Benito van de Pas
Dimitri Van den Bergh
Vincent van der Voort
Dirk van Duijvenbode
Berry van Peer
James Wade
Jim Walker
Mark Walsh
Jermaine Wattimena
Darren Webster
Mark Webster
Steve West
Ian White
Simon Whitlock
Ricky Williams
James Wilson
Brian Woods
Jonathan Worsley