PETER WRIGHT and Simon Whitlock both snatched victory from the jaws of defeat in dramatic first round contests at the Unibet World Grand Prix on Monday, as Richard North made a dream Dublin debut.
World number three Wright had been installed as the new tournament favourite with sponsors Unibet following Sunday's defeat for Michael van Gerwen and the withdrawal of expectant father Gary Anderson.
However, Bunting threatened an upset when he claimed the opening set of their tie 3-1, holding off Wright's fightback as the Scot won the second set without reply to move to the brink of victory in the deciding set.
Leading 2-1, Bunting missed two match darts at double 16 as Wright scrambled home double 11 to force a sudden-death leg, and a 177 score helped set up tops to complete a gutsy comeback.
"It was close and I'm relieved to get through that," said Wright. "I've had many great battles with Stephen and it's often a close game and this was another one of those.
"I'm just glad to be through and still in the tournament because it's always nervy playing over that short distance and with the double-start format."
Wright now faces Mervyn King in round two, after the 2012 World Grand Prix finalist progressed with a straight sets defeat of Ronny Huybrechts, who suffered defeat on his debut in the double-start format.
The Belgian hit back from 2-0 down in the opening set to force a decider, which King claimed before coming from a leg down in the second to claim the set 3-1 and a spot in the last 16.
"I love it over here and this is a good win for me," said King. "The first set was arduous - I put myself in a lovely position and mark hard work of it but I managed to get the job done in the second set.
"I've practised hard before this and hopefully the darts will come good this week."
Simon Whitlock joined Wright in surviving a missed match dart as he claimed victory over Christian Kist in the sudden-death leg of their clash by taking out 108 to claim a last 16 spot.
Kist edged the game's opening set 3-2 before the Australian ace took the second 3-1 to level, punishing 14 missed opening doubles from the Dutchman in one leg.
Whitlock then opened the deciding set with a 153 checkout, only to see Kist move 2-1 up.
Double 16 from the Australian saved the game and created a one-leg shoot-out in which he landed a 180, and when Kist missed a dart at tops for victory Whitlock stepped in to finish 108 on double 16.
"I was under the pump and I got lucky and hit the 108 finish," said Whitlock. "It was a great match and I loved it, but I like this tournament.
"It's a great chance but I look at one match at a time and you can't look too far ahead otherwise you're in trouble, so we'll see what happens in the second round."
Emerging star North enjoyed a dream debut on the big stage with a straight sets win over Mark Webster, who stepped into the tournament on Sunday night following the withdrawal of expectant father Gary Anderson.
Hampshire-based North only turned professional in January when he won a PDC Tour Card at Qualifying School, but marked his continued rise with the biggest win of his career.
He claimed the opening set without reply, taking out a brilliant 145 checkout in leg two, before coming from a leg down in set two to claim victory.
"I was preparing to play Gary but then it got changed to Mark and it scared me - my preparation was out of the window," admitted North. "I sneaked a few doubles and hit the right scores at the right time and I got the win.
"When I won my Tour Card in January I wanted to try and get into one TV event and reach a quarter-final and I've done that, but it's more than I expected."
North will now meet Simon Whitlock in the second round on Wednesday, with the Australian having encouraged the 27-year-old to join the circuit on a full-time basis.
"If it wasn't for Simon I wouldn't be here," added North. "He gave me the confidence to do what I'm doing now, saying I was good enough and pushing me on so it will be hard playing Simon.
"We practised together before this game and we both knew we could meet in the second round, and we know each other's games inside out - but I don't think it will affect us.
"I've beaten him twice on the ProTour but that won't mean anything because he's a TV player. He's got all the experience but I just want to enjoy it - it should be interesting and a close game."
Gerwyn Price gained revenge for his first round loss to Michael Smith at the 2015 World Grand Prix by defeating the former World Youth Champion 2-1 in their rematch on the Citywest Hotel stage.
Price came from a leg down to take the opening set 3-1, finishing 105, 86 and tops to lead before the roles were reversed as Smith took out 72 and 92 as he claimed set two to level.
The Welsh ace then took out 88 and tops to lead 2-0 in the third, and though Smith responded with a 98 checkout, Price posted a 180 and tops to seal his second round spot.
"I was a bit nervous," admitted Price, who now faces Benito van de Pas. "I got a set up and then halfway through the second set I couldn't gut anything, but thankfully I scraped over the line.
"My starting doubles were okay but my scoring wasn't great so I want to improve that in the next round.
"Overall I'm happy, though, and hopefully I can push on from here now. Benito beat me last year but anything can happen on Wednesday."
Van de Pas came through a three-set tie with Cristo Reyes to book his spot in the last 16 at the Citywest Hotel with a 2-1 triumph over the emerging Spanish star.
Van de Pas led 2-1 in the opening set before Reyes forced a decider, but the Dutch youngster punished his rival for a miss at double 19 for a 155 finish by taking out a superb 144 checkout to claim the lead.
Reyes took the second set 3-1 with the aid of a 104 finish, but Van de Pas took the third set's opening two legs before completing victory on double ten.
"It was really tough but I'm happy," said Van de Pas. "The 144 in the first set was a great finish and the first set was good but I was poor in the second set and I've got to improve on that.
"Every game for me is a new match and I can look forward to the second round now and hopefully play a good game on Wednesday."
Steve West's giant-killing exploits at the Unibet World Grand Prix continued as he knocked out two-time champion James Wade 2-0 in their first round tie on Monday night.
Essex thrower West had overcome 11-time winner Phil Taylor in last year's first round at the Citywest Hotel, and guaranteed another last 16 spot by hitting three ton-plus finishes as he claimed both sets 3-1.
Wade led in both sets - landing a 13-darter to begin set two - but saw his opponent seal the opener with a 101 checkout before taking out 114 and another 101 finish in the second to progress.
"It's another big win for me and I love this event," said West. "It's always tricky against James but he didn't play quite like James does.
"I've got great memories but I want to build on this now. It's wide open now but I've got to focus on the next game and see what happens.
Last month's Champions League of Darts winner Mensur Suljovic came from a set down as he overcame Ian White 2-1 to book his second round place against West with a strong fightback.
White finished 160, 84 and 71 as he claimed the opening set 3-1 with some fine checkouts, and came from 2-0 down in the second to force a deciding leg, only to see Suljovic finish double ten to take the match into the third set.
There, the Austrian ace finished tops and a 14-darter to lead 2-0 before sealing victory with another double top checkout.
"I'm happy," said Suljovic. "I didn't start well on double 14 but I won and maybe in the next round I will be more focused and play better."
The second round of the Unibet World Grand Prix begins on Tuesday with the opening four matches, including the eagerly-awaited clash between former World Champions Raymond van Barneveld and Steve Beaton.
John Henderson - who knocked out reigning champion Michael van Gerwen on Sunday - takes on Alan Norris, Dave Chisnall faces 2015 World Grand Prix winner Robert Thornton and Northern Ireland's Daryl Gurney meets Joe Cullen.
Monday's winners will be in second round action on Wednesday as they bid to continue their challenge for the £100,000 title at the Citywest Hotel.
The Unibet World Grand Prix will be broadcast live on Sky Sports and worldwide through the PDC's series of international broadcast partners, as well as at PDCTV-HD for Rest of the World Subscribers.
For tickets, visit www.ticketmaster.ie, call 00353 (0)1 401 0505 or email darts17@citywesthotel.com.
CLICK HERE FOR MATCH STATS IN THE MATCH CENTRE
2017 Unibet World Grand Prix
Monday October 2
First Round
Benito van de Pas 2-1 Cristo Reyes
Mervyn King 2-0 Ronny Huybrechts
Steve West 2-0 James Wade
Simon Whitlock 2-1 Christian Kist
Mensur Suljovic 2-1 Ian White
Michael Smith 1-2 Gerwyn Price
Mark Webster 0-2 Richard North
Peter Wright 2-1 Stephen Bunting
Tuesday October 3 (7pm)
Second Round x4
Dave Chisnall v Robert Thornton
Daryl Gurney v Joe Cullen
John Henderson v Alan Norris
Raymond van Barneveld v Steve Beaton
Wednesday October 4 (7pm)
Second Round x4
Gerwyn Price v Benito van de Pas
Mensur Suljovic v Steve West
Richard North v Simon Whitlock
Peter Wright v Mervyn King
Second Round: Best of five sets, best of five legs per set. All legs must begin and end with a double, meaning that a player must hit a double before he can begin scoring in each leg.
Benito van de Pas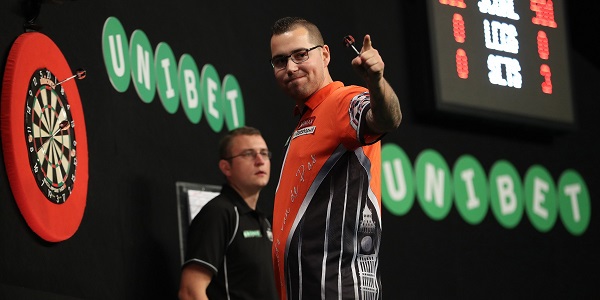 Mervyn King
Steve West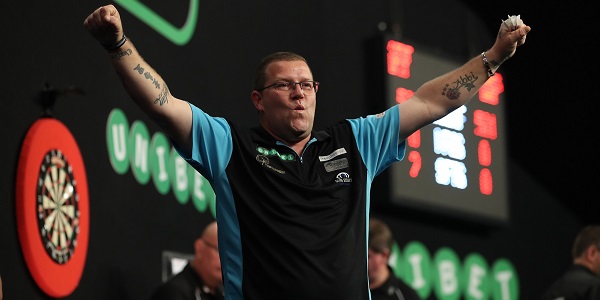 James Wade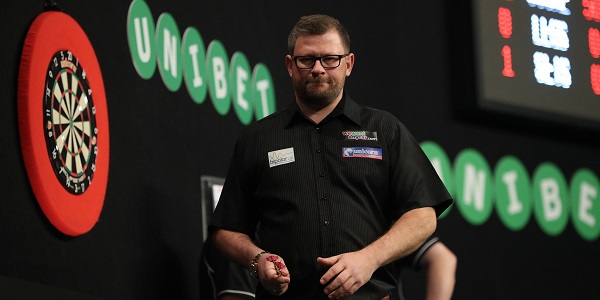 Simon Whitlock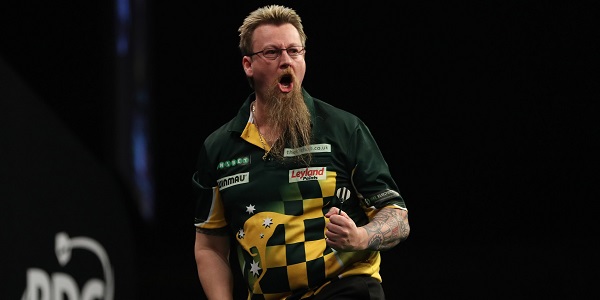 Mensur Suljovic
Gerwyn Price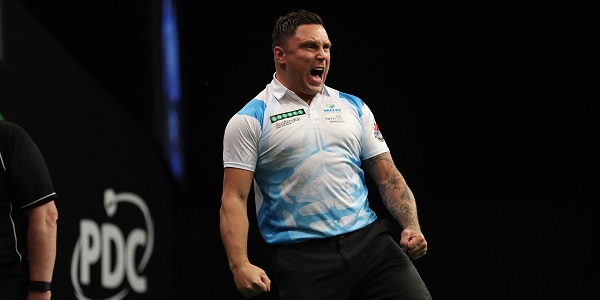 Richard North