MICHAEL VAN GERWEN retained the bwin Grand Slam of Darts title and extended his winning streak in Wolverhampton to three years with a brilliant 16-12 success against Peter Wright in Sunday's final.
The Dutchman had been in dominant form in Sunday afternoon's high-profile semi-final with Phil Taylor as he ended the six-time Grand Slam champion's hopes of a farewell triumph at the Wolves Civic with a 16-8 success.
He then denied Wright a third TV title of the year as he scooped a £112,500 winner's cheque by continuing his Grand Slam dominance in outlasting Wright in the final.
The colourful Scot, who claimed his first TV title at March's UK Open amongst 11 tournament wins so far in 2017, shared the opening 20 legs with Van Gerwen but was powerless to stop the Dutchman pulling away for glory.
"To win a tournaments like this is always nice, especially in a game like that," said Van Gerwen, who landed four ton-plus checkouts and averaged over 102 in the final.
"It was a final and there was pressure on us. You want to perform at as high a level as possible and I think I had a fantastic tournament.
"After ten-ten I had a little turbo, but maybe we were trying too hard and we didn't want to lose to each other. Sooner or later Peter will stop me in a final but I'm over the moon that I won.
"I feel great and winning a tournament like this is always nice, good for your confidence and I think I also deserved it with the way I played, the average I threw, the 180s and the good scores."
Van Gerwen was joined on stage by baby daughter Zoe as he celebrated the win, and he admitted: "Winning tournaments is nice, trying to be the best in the world is nice but nothing beats this."
Wright took out an early 120 and hit back after Van Gerwen edged 3-2 and 4-3 up by regaining the edge as the pair traded legs, with the World Champion hitting two 12-darters, a 13-darter and six perfect darts in response.
Wright took out finishes of 156 and 149 as he led 10-9, but Van Gerwen crucially checked out 146 and 100 in a run of four successive legs to finally assert his dominance.
Number two seed Wright hit back on tops and double one to claim two of the next three, but tops moved Van Gerwen 15-12 up before he sealed the title with double 16.
Van Gerwen is now unbeaten since October's World Grand Prix, having since retained the European Championship, World Series of Darts Finals and now the Grand Slam of Darts in an imperious month.
"I'm glad I won another trophy," said Van Gerwen. "When you have a period like this it's good for you and for your confidence, especially for the World Championship which is coming up.
"I'll have a rest now because next week is the Players Championship Finals and I want to win that too."
Wright had made a brilliant comeback from 14-8 down to win his semi-final against Gary Anderson 16-15 before losing out in the decider, and conceded: "I'm gutted.
"I had my chance and didn't take it, and that's why he is number one in the world.
"Neither of us played our top game in the final and I was struggling throughout the match, but the best player won on the day.
"I had plenty of chances and didn't play well in the final. I struggled through the whole game, I wasn't good enough and I'm disappointed with the way I played - but I got to the final.
"I played some really nice games this week, and I can take positives from this."
SEE STATS IN THE MATCH CENTRE AT THIS LINK
bwin Grand Slam of Darts
Sunday November 19
Afternoon Session
Semi-Finals
Peter Wright 16-15 Gary Anderson
Michael van Gerwen 16-8 Phil Taylor
Evening Session
Final
Michael van Gerwen 16-12 Peter Wright
Peter Wright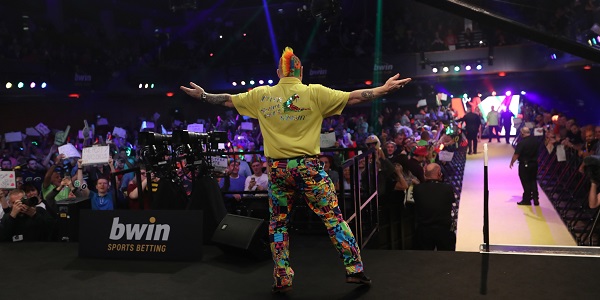 Peter Wright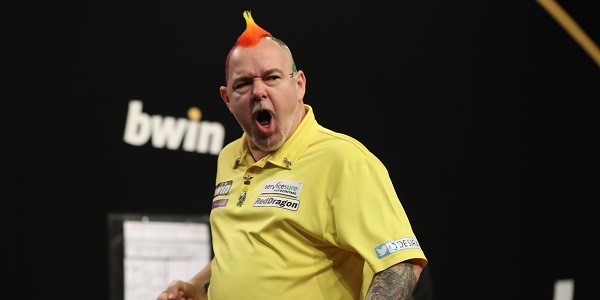 Michael van Gerwen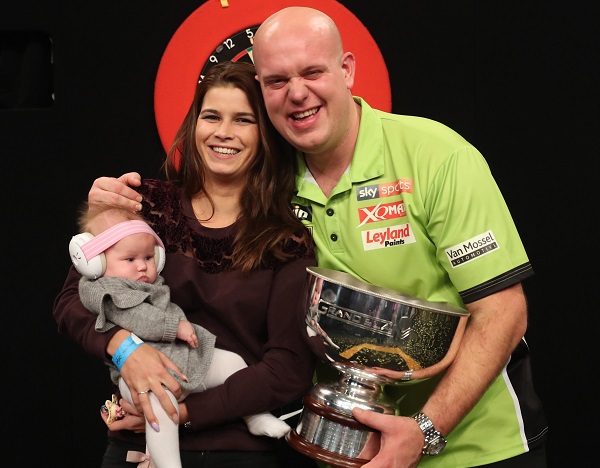 Michael van Gerwen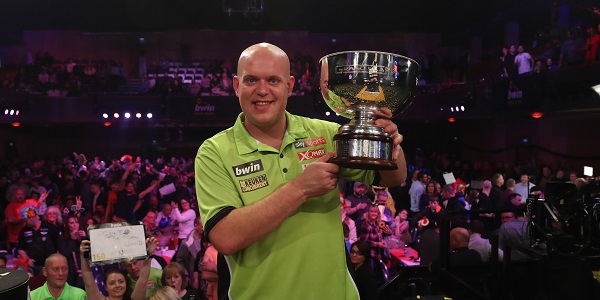 Peter Wright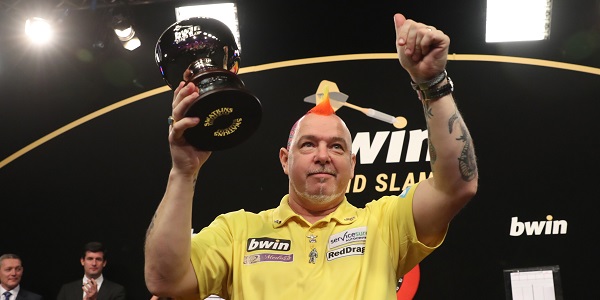 SEMI-FINALS
PETER WRIGHT made an incredible comeback from 14-8 down to reach the bwin Grand Slam of Darts final with a deciding-leg 16-15 win over Gary Anderson in a Wolves Civic thriller.
The UK Open champion had looked set to miss out on a first appearance in the Wolverhampton final when 2011 runner-up Anderson pulled clear from 7-6 to lead 14-8.
However, Wright changed darts before clawing his way back into the contest to finally level in leg 30 as Anderson missed one match dart, and then completed his comeback by taking out 64 for victory.
"I'm over the moon and I'll still be on a high for the final," said Wright. "It's my best win against Gary because being that far behind against a player of that calibre.
"It felt like a final for me because I class him as the second-best player in the world but I got over the line.
"I changed my darts halfway through because the other ones were not working. Deep down I believed that these darts can win me the tournament if I stick with them, and they still could."
Anderson punished two missed doubles from Wright to win the opening leg with a break of throw, and led 2-0 and 3-1 before an 11-darter created a 6-3 cushion.
Wright responded and landed a brilliant ten-darter as he reduced the gap to one leg at 7-6, only for Anderson to land a trio of double eight finishes to edge away before taking out 110, 86 and 119 as he created a 13-7 cushion.
The next two were shared as Anderson retained a six-leg lead at 14-8, only for Wright to take five successive legs, including an 84 finish on the bull, to pull back to trail by just one leg.
A miss at tops to level in leg 28 allowed Anderson back in one double five as he moved to the brink of victory at 15-13, but Wright followed an 11-darter by punishing his rival's one missed match dart - at double seven - to force a decider with a second successive 81 finish.
Anderson kicked off the 31st leg with a 180 and left 82 following 12 darts, but Wright clinically closed out victory by finishing 64 to progress to the final.
Reigning champion Michael van Gerwen secured his place in the final for a third successive year by continuing his title defence with a superb 16-8 win over Phil Taylor.
Six-time champion Taylor was aiming to claim a farewell title in Wolverhampton, but saw his hopes ended as Van Gerwen averaged almost 107 and finished 50 percent of his chances at a double in a clinical display.
Taylor held an early advantage with finishes of 68 and 60, but Van Gerwen took out 117 and 106 before coming from 3-2 down to win four successive legs as he took a 6-3 lead.
Taylor cut the gap to one leg before Van Gerwen piled home a 164 checkout on his way to a 9-5 lead, while the Dutchman's 96 checkout was bettered by a 97 combination from the 57-year-old as he pulled back to 10-7.
Van Gerwen restored a four-leg lead with a 71 checkout, and after Taylor hit back with a 13-darter the reigning champion produced two 74 finishes, a 63 checkout and double four to move 15-8 up before closing out the win on double 16.
"I think I played really well," said Van Gerwen. "To beat Phil Taylor is always nice and to get into the final is amazing.
"It's only a semi-final and I've not won anything yet. I don't like runner-up trophies but I still have to play well to beat Peter Wright.
"I feel confident and I believe in my ability. I still have to do it later on but my aim is to win it."
Peter Wright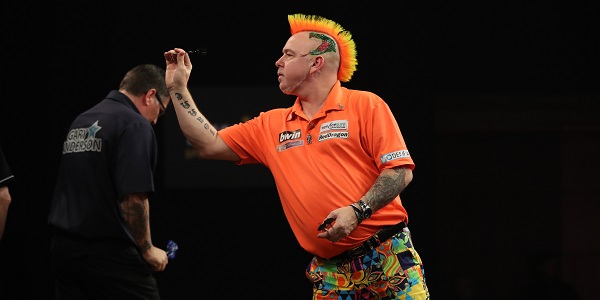 Gary Anderson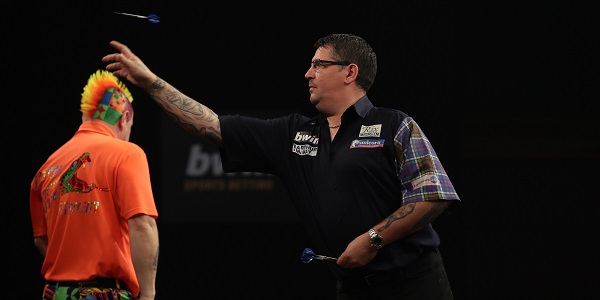 Peter Wright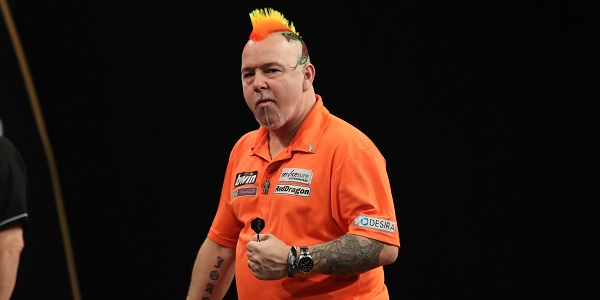 Gary Anderson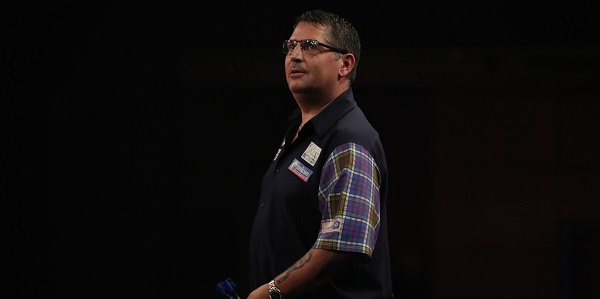 Michael van Gerwen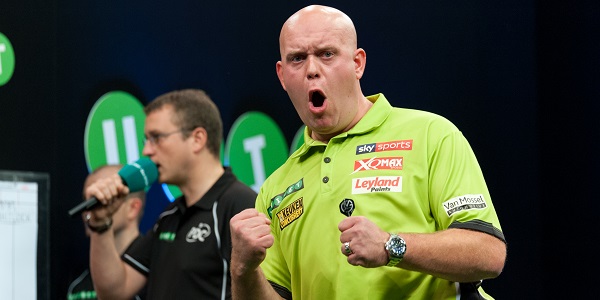 Phil Taylor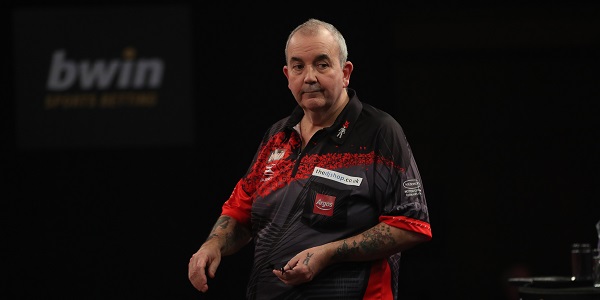 Michael van Gerwen & Phil Taylor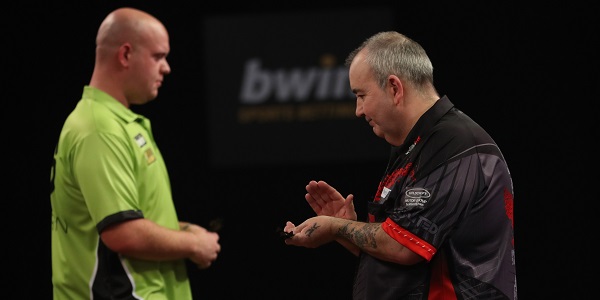 Pictures by Lawrence Lustig