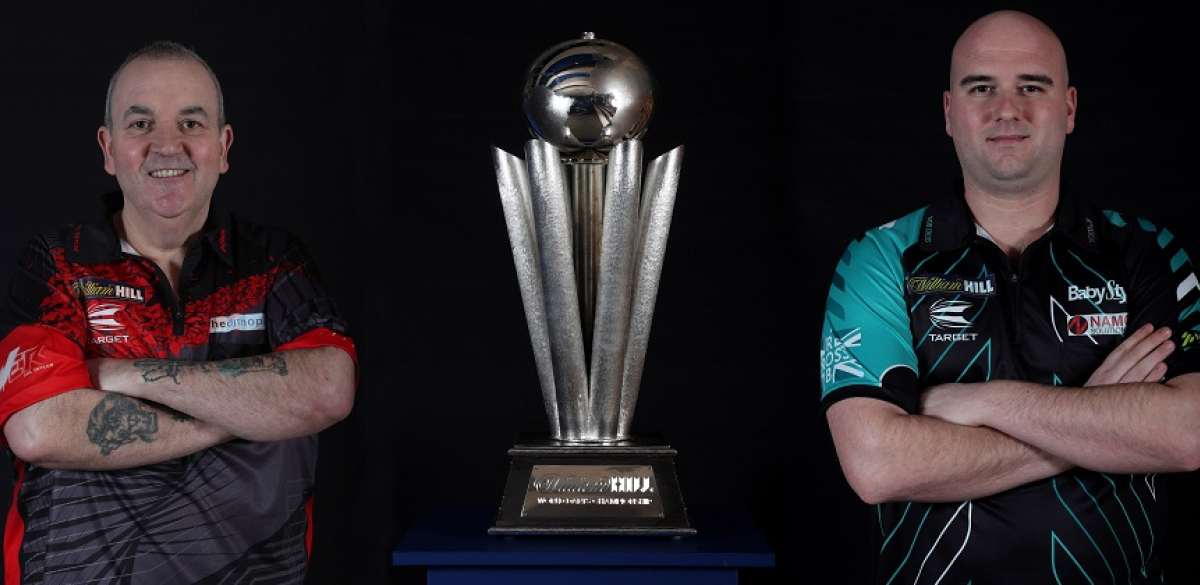 PHIL TAYLOR'S career will end the only way it possibly could as he takes on new rising superstar Rob Cross in the William Hill World Darts Championship final at Alexandra Palace.
It's a dream final for both men - one trying to write a Hollywood blockbuster ending to the final chapter of his career while the other is looking to complete a Cinderella story of darting rags to riches in the space of a year.
Each one of those fairy-tales is now just one match away from becoming reality at Alexandra Palace on New Year's Day.
As darting legend Taylor brings the curtain down on the greatest career in the sport's history with a 21st and last World Championship final, we could be witnessing the crowning of another superstar as the 57-year-old faces a man who has taken the event by storm on his first visit to Alexandra Palace.
There could hardly be a bigger gulf in terms of experience, with Taylor a 16-time World Champion who boasts over 100 TV tournament wins as opposed to Cross' solitary appearance in the European Championship final in October.
They pair, though, may have more in common that most would think given the plaudits Cross has been receiving this year on his meteoric rise to fame.
The 27-year-old from Hastings watched last year's final at home and didn't throw a dart on the ProTour until February 2017, but he's already been likened to Taylor - even by the man himself - so it seems fitting he will be the Stoke legend's last ever opponent.
Few people thought that 57-year-old Taylor would be able to take his swansong all the way to the final - and even the man himself said that he wasn't playing well enough at the start of the event.
However, the stars have aligned and a send-off in the biggest final in the sport is a fitting farewell to a legend.
"It's surreal to be honest with you, it's like I'm not even here," said Taylor. "It's like winning the lottery for me.
"I never expected to beat Gary Anderson [in the quarter-finals], and the way Jamie [Lewis, in the semi-finals] was playing I thought I was going to be 4-0 down.
"It's a bit like John Part when he beat Kirk Shepherd in the final [in 2008], I'm just picking up the pieces to be honest with you."
Cross is the top 180 hitter of the tournament with 55 to his name - over twice as many as Taylor with just 26 - but he's only half a point better off in the tournament averages due to his rival's clinical finishing after hitting 52 percent of his doubles.
Hitting the right shots at the right times will also be a key factor and nobody does that better than Taylor - who won nine out of ten legs when Lewis was throwing for a set in their semi-final.
Cross also stepped up at the right times against Michael van Gerwen in his epic sudden death victory, most notably when taking out 126 and a brilliant 161 as set-clinching visits in Taylor-esque fashion.
With a 30-year age gap between the two, Taylor is glad to have a day off on New Year's Eve to recharge the batteries ahead of his big final farewell to darts.
"It will be massive," he added. "And the best thing for me, I've got a day off so I can rest up. I'm shattered, two games on the trot under pressure is hard work so I'm thankful for a day off. Thank you for New Year's Eve!
"I'm not going to practice, I'm just going to relax and get ready for the next day. Energy is all I need now. It's hard, it really is.
 
"I'm still playing okay, but not good enough really - I can play better."
The rise of Cross to the top table of darts has been meteoric to say the least; with the 27-year-old having only turned pro at the start of the year and pocketing his first professional winnings in February he now plays the best player ever to pick up a dart in his last ever match - which just happens to be the World Championship final.
It's a lot to take in but little seems to faze Cross, whose inner belief in his own ability seems to galvanise him even under the stresses and strains of tight matches on the big stage.
As Cross prepares to take on his 'favourite player' his Cinderella story could be a sign of things to come as he has proven that anyone with talent and hard work can get themselves to the higher echelons of darts.
"Actually, Phil said to me at the Grand Slam "me and you in the final" and now that's come true," revealed Cross, who is facing Taylor in competition for the first time.
"He's my favourite player. He's been dominant and now he's leaving it's going to be special for him but at the same time I've got to do my own job and do what I need to do to win that game.
"It's amazing, I never expected this rise. I'm just a working boy from a normal household. I believe in my ability and that's how I got here.
"But who's to say there's not another person out there who can come and do all this, because it's possible - anything's possible.
"So I've just got to get my head down now and focus on that game, because there's just one game left to win the Worlds - it's amazing."
William Hill World Darts Championship
Monday January 1 (8pm)
Final
Rob Cross v Phil Taylor
Best of 13 sets
CLICK HERE FOR MATCH STATS FROM SPORTRADAR
CLICK HERE TO SEE FULL EVENT INFORMATION
WATCH LIVE
The William Hill World Darts Championship will be broadcast live worldwide through the following broadcast partners:
PDCTV-HD - PDC Website for Rest of the World Subscribers
Sky Sports - UK & Ireland – dedicated "Sky Sports Darts" channel
RTL7 - Netherlands
Sport1 - Germany
DAZN - Germany, Austria, Switzerland Japan, Canada
Fox Sports - Australia
Sky - New Zealand
Nova - Czech Republic
Viasat - Denmark, Norway, Sweden, Finland, Bulgaria, Baltic States
Pragosport - Hungary
OSN - Middle East & North Africa
Kwese - South Africa & Sub-Saharan Africa
Eleven Sports - Belgium
BBC America - North America (excluding Canada)
Fox - Italy, Greece, Turkey, Malta, Israel
TVP - Poland
CCTV - China
RTL - Croatia (Dec 28 onwards)
Eurosport - France, Romania, Spain
Eurosport Player - Andorra, Estonia, France & Monaco, Georgie, Israel, Latvia, Portugal, Romania, Spain, Turkey & CIS (Armenia, Azerbaijan, Belarus, Kazakhstan, Kyrgystan, Moldova, Russia, Tajikistan, Turkmenistan, Ukraine, Uzbekistan)
Facebook Live via OfficialPDC page - for Caribbean & South America
LISTEN LIVE
Commentary of the remainder of the William Hill World Darts Championship will be broadcast live on talkSPORT and talkSPORT2 - click here for further details.