MARTIN SCHINDLER was victorious in the Pro7 Pro-Celebrity event held at the Castello Arena in Dusseldorf on Saturday, which also saw Rob Cross make his first appearance as World Champion.
Berlin's Schindler was joined by German YouTube star Marcel Scorpion to compete in the popular eight-team event, broadcast live by Pro7.
Reigning champions Michael van Gerwen and Tim Wiese, the former German goalkeeper and WWE wrestler, lost out in the round-robin group phase as they defended their title in Dusseldorf.
New World Champion Cross partnered Brazilian singer Fernanda Brandao as they won through to the semi-finals, qualifying from Group A alongside Gary Anderson and German gymnast Fabian Hambüchen, a 2016 Rio Olympics gold medallist.
Peter Wright and German TV presenter Ruth Moschner qualified from Group B alongside Schindler and Scorpion, who took victory when the two pairs clashed in Saturday's final.
Former World Youth Champion Max Hopp partnered former German footballer Stefan Effenberg, 16-time World Champion Phil Taylor was joined by two-star Michelin Chef Frank Rosin and Raymond van Barneveld was teamed up with H-P Baxter, the lead singer of Scooter.
The sport's biggest names will return to the Pro7 television screens on Friday May 25, with the 2018 PDC World Series of Darts beginning with the German Darts Masters.
For full details, click here.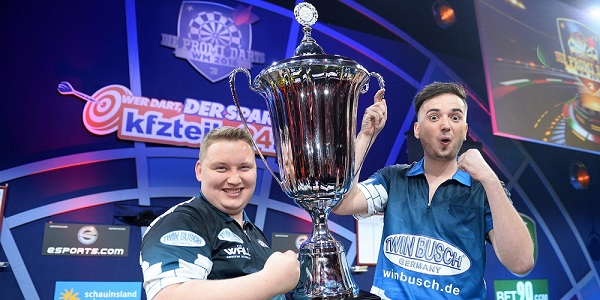 Pro7 Pro-Celebrity World Championship
Group A
Rob Cross/Fernanda Brandao 2-1 Michael van Gerwen/Tim Wiese
Gary Anderson/Fabian Hambüchen 2-1 Max Hopp/Stefan Effenberg
Rob Cross/Fernanda Brandao 2-1 Max Hopp/Stefan Effenberg
Gary Anderson/Fabian Hambüchen 2-1 Michael van Gerwen/Tim Wiese
Gary Anderson/Fabian Hambüchen 2-1 Rob Cross/Fernanda Brandao
Michael van Gerwen/Tim Wiese - Max Hopp/Stefan Effenberg (not necessary)
Group B
Raymond van Barneveld/H-P Baxxter 2-1 Phil Taylor/Frank Rosin
Peter Wright/Ruth Moschner 2-1 Martin Schindler/Marcel Scorpion
Martin Schindler/Marcel Scorpion 2-0 Raymond van Barneveld/H-P Baxxter
Phil Taylor/Frank Rosin 2-0 Peter Wright/Ruth Moschner
Martin Schindler/Marcel Scorpion 2-1 Phil Taylor/Frank Rosin
Peter Wright/Ruth Moschner 2-1 Raymond van Barneveld/H-P Baxxter
Semi-Finals
Peter Wright/Ruth Moschner 2-1 Gary Anderson/Fabian Hambüchen
Martin Schindler/Marcel Scorpion 2-1 Rob Cross/Fernanda Brandao
Final
Martin Schindler/Marcel Scorpion 2-0 Peter Wright/Ruth Moschner
Images courtesy Willi Weber, Pro7