CANADA'S Dawson Murschell, teenager Bradley Brooks and Germany's Gabriel Clemens were the automatic PDC Tour Card winners on the final day of of the 2018 PDC Qualifying Schools, as a dramatic Sunday saw a further 21 Tour Cards allocated.
The 128 PDC Tour Card Holders for 2018 were finalised following the fourth day of action at Wigan's Robin Park Tennis Centre and Halle 39 in Hildesheim saw the biggest-ever Qualifying School conclude.
The final three automatic Tour Cards were handed out to Brooks, Murschell and Clemens as they won through their events.
The remaining 21 Tour Cards were awarded to the top 15 players on the UK Qualifying School Order of Merit and leading six players from the European Qualifying School Order of Merit, with points allocated for wins earned over the four days of competition.
Ross Smith, Terry Temple, Simon Stevenson, Ryan Meikle and Tony Newell all secured an immediate return to the PDC ProTour as they won back their Tour Cards, while Ryan Harrington - the son of former World Matchplay champion Rod - secured his Tour Card for the first time.
Former Lakeside Championship finalist Danny Noppert headlined the Tour Card winners from the European Qualifying School, alongside Croatian-born Robert Marijanovic, , Dutch duo Dirk van Duijvenbode and Vincent Kamphuis, Spain's Jose Justicia and Belgian Davy Van Baelen.
The day saw joy for Canadian youngster Murschell, who competed in the 2017 U.S. Darts Masters in Las Vegas, as he followed up some strong form on the opening three days to secure his Tour Card.
The Canadian began the day with a 5-2 win over Ben Simpson, before needing a deciding leg to overcome Ronnie Roberts.
Impressive wins over Luke Woodhouse - who also secured a Tour Card from the Order of Merit - and Matt Dicken followed before another deciding leg victory, this time against Keith Geraghty, moved the 22-year-old in to the last eight.
Matthew Edgar, another who claims a Tour Card by virtue of securing enough Order of Merit points, was unable to halt Murschell, who moved into the decider with a 5-2 win.
Murschell's final opponent was Terry Temple, with the Canadian taking victory in a deciding ninth leg to secure his Tour Card automatically, while the York ace will also compete as a professional this year after securing his Tour Card from the rankings.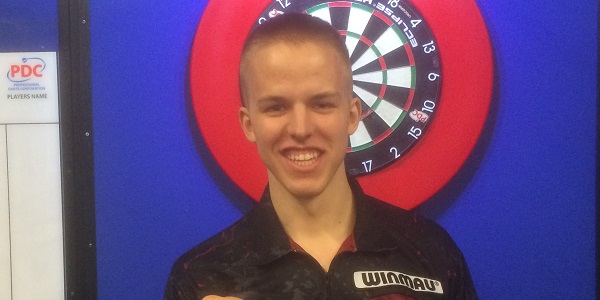 "I knew I was in a good position but I wanted to win it outright, so I'm really glad to do that," said Murschell.
"I felt the pressure but once I got going I came out swinging and started to play well."
Murschell will now move to England to compete on the professional circuit and spoke of his ambition after a momentous day in Wigan, adding: "The only goal I have ever set myself is to become World Champion, so I'm going to give it my all and see what happens."
The other automatic Tour Card handed out in Wigan on the final day went to Bradley Brooks.
The 17-year-old, who has competed on both the PDC Unicorn Development Tour and Junior Darts Corporation circuit, defeated Dennis Smith 5-3 to open his account for the day before going on to claim comfortable wins over Alan Tabern Jnr, Stuart Comerford and Haruki Muramatsu.
A 5-0 win over Darren Place moved the young Englishman in to the last 16, where a 5-3 triumph over Simon Stevenson moved Brooks closer to the finish line.
Brooks progressed again, beating Ricky Williams 5-2 before a superb 5-1 victory over John Goldie secured him his Tour Card.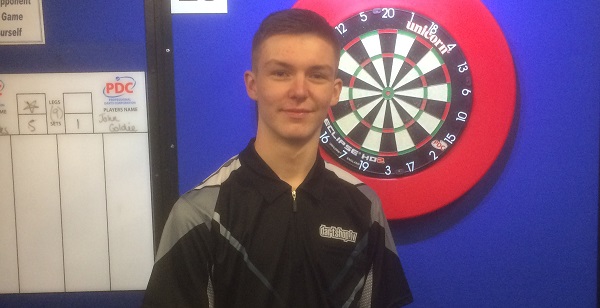 "It feels so amazing, I can't believe what I've done," offered Brooks. "I did OK on the first day but played really well on Day Two so I felt relaxed from there on."
Brooks will now get the chance to play against the world's best players on the professional tour, a challenge the young man is relishing.
"I can't wait to play against the best," he added. "Playing against the likes of Michael van Gerwen will only make me better and I can't wait."
Former World Youth Championship finalist Nathan Aspinall topped the UK Qualifying School Order of Merit, while Gary Eastwood, John Goldie, Ryan Joyce, Kevin Burness, Peter Hudson and Mark Wilson also secured Tour Cards.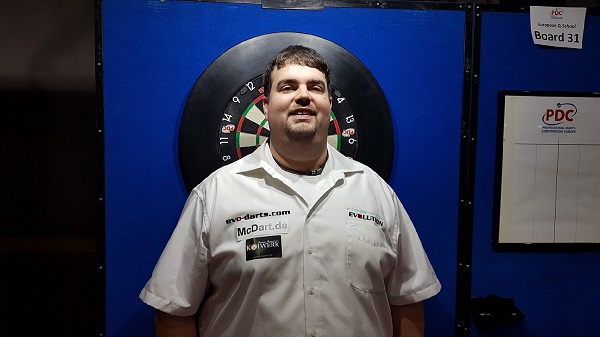 The final automatic Tour Card from the European Qualifying School went to Gabriel Clemens as the German - a two-time European Tour qualifier previously - secured his spot on the professional circuit.
Clemens started the final day well, beating Michel Furlani 5-2, Christopher Haensch 5-1 and then picking up another 5-2 win, this time over Armin Glanzer.
The 34-year-old was then pushed by Tom Burquel, who took Clemens to a deciding leg, before a 5-2 win over 2017 UK Open competitor Yordi Meeuwisse followed.
Impressive victories over Robert Marijanovic and Boris Koltsov came next, with Clemens eventually claiming his Tour Card against Vincent Kamphuis in the final with a 5-3 win.
Kamphuis and Van Duijvenbode secured their returns to the PDC ProTour immediately after losing their Tour Cards at the end of 2017.
Former Lakeside Championship finalist Danny Noppert, a two-time Grand Slam of Darts competitor, topped the European Qualifying School Order of Merit to secure his spot on the PDC circuit this year.
Marijanovic, Justicia and Van Baelen will also compete on the PDC ProTour in 2018 after they secured Tour Cards from the rankings in Germany.
There was disappointment, though, for Brazil's Diogo Portela and Poland's Krzysztof Ratajski - who both recently competed in the World Championship - as they missed out on Tour Cards by one ranking point.
UK Qualifying School Tour Card Winners
Day One: Corey Cadby & Eddie Dootson
Day Two: Robert Owen & Alan Tabern
Day Three: Arron Monk & George Killington
Day Four: Bradley Brooks & Dawson Murschell

UK Qualifying School Order of Merit Tour Card winners:
Nathan Aspinall, Ross Smith, Terry Temple, Ryan Harrington, Simon Stevenson, Gary Eastwood, John Goldie, Matthew Edgar, Ryan Meikle, Ryan Joyce, Kevin Burness, Tony Newell, Luke Woodhouse, Peter Hudson, Mark Wilson
European Qualifying School Tour Card Winners
Day One: Jeffrey de Zwaan
Day Two: Mario Robbe
Day Three: Tytus Kanik
Day Four: Gabriel Clemens

European Qualifying School Order of Merit Tour Card winners:
Danny Noppert, Robert Marjanovic, Dirk van Duijvenbode, Vincent Kamphuis, Jose Justicia, Davy van Baelen
SEE FULL RESULTS IN THE MATCH CENTRE AT THIS LINK.
CLICK HERE FOR FINAL QUALIFYING SCHOOL ORDERS OF MERIT.
UK Qualifying School Day Four
Last 16
Ricky Williams 5-0 Kevin Burness
Bradley Brooks 5-3 Simon Stevenson
Niall Culleton 5-2 Daniel Ayres
John Goldies 5-2 Ross Smith
Dawson Murschell 5-4 Keith Geraghty
Matthew Edgar 5-4 Ryan Joyce
Terry Temple 5-2 Ryan Meikle
Jason Cullen 5-3 Nathan Aspinall
Last Eight
Bradley Brooks 5-2 Ricky Williams
John Goldie 5-4 Niall Culleton
Dawson Murschell 5-2 Matthew Edgar
Terry Temple 5-2 Jason Cullen
Last Four
Bradley Brookes 5-1 John Goldie
Dawson Murschell 5-4 Terry Temple
European Qualifying School Day Four
Last Eight
Diogo Portela 5-4 Danny Noppert
Vincent Kamphuis 5-3 Krzysztof Ratajski
Gabriel Clemens 5-3 Robert Marijanovic
Boris Koltsov 5-2 Manfred Bilderl
Last Four
Vincent Kamphuis 5-2 Diogo Portela
Gabriel Clemens 5-0 Boris Koltsov
Final
Gabriel Clemens 5-3 Vincent Kamphuis