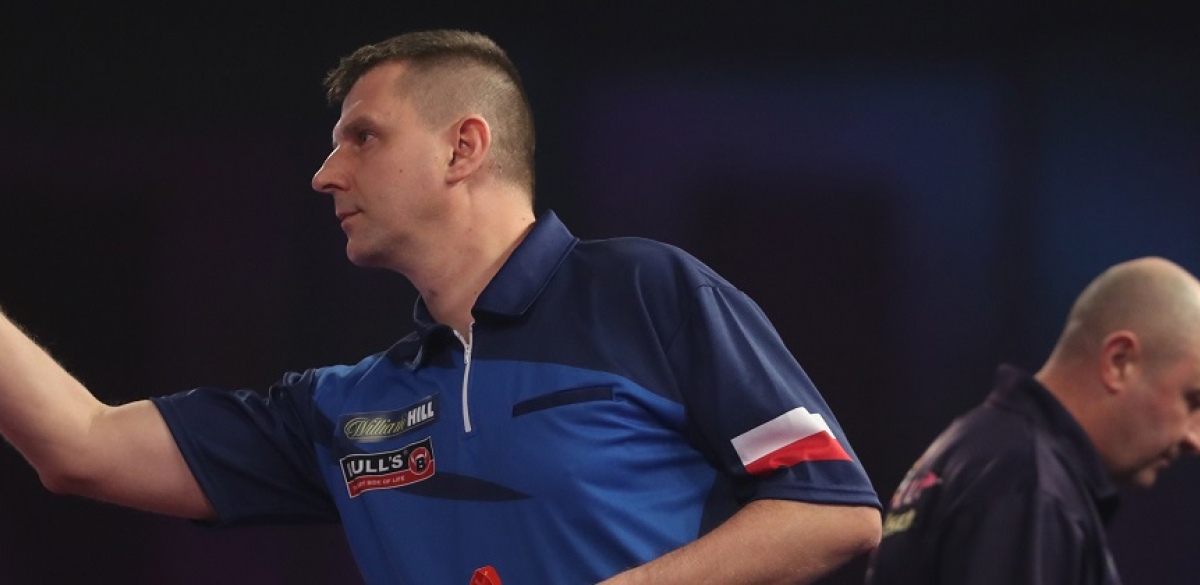 KRZYSZTOF RATAJSKI became the first Polish winner of a PDC event as he defeated Daryl Gurney 6-4 to win Coral UK Open Qualifier Six at the Robin Park Tennis Centre.
Ratajski has emerged over the past 12 months, with his strong performances on the 2017 European Tour being followed by his World Masters triumph and appearances in the European Championship and World Championship.
Despite missing out on winning a PDC Tour Card at Qualifying School last month, Ratajski showed his class by winning Sunday's final £60,000 UK Open Qualifier in Wigan.
The Polish ace had already secured his place in next month's Coral UK Open after reaching two quarter-finals in the past five events, but will be the third seed in Minehead following his £10,000 title.
A whitewash of Eddie Dootson in his opening game proved to be Ratajski's most comfortable victory, with his next seven matches going at least ten legs as he battled his way to the title.
He overcame Rene Berndt, Robert Owen, Carl Wilkinson and Saturday's Qualifier Five winner Corey Cadby by 6-4 scorelines, and was a deciding-leg winner against Ian White and - in a semi-final thriller - as he overcame World Champion Rob Cross.
Ratajski's final with Gurney also proved to be a tight affair, although his early 2-0 lead proved crucial.
World Grand Prix champion Gurney took out 101 as he pulled back to 3-2, but Ratajski took out 72 and a 14-darter to open up a 5-2 cushion.
Gurney won the eighth and punished three missed match darts from Ratajski to keep his hopes alive at 5-4, but a missed bull to force a deciding leg on a 161 finish allowed the Polish star back in for victory.
Ratajski follows Cadby in claiming his maiden PDC ProTour title this weekend, while the success also improves his chances of qualifying for the World Matchplay, World Grand Prix and World Championship later this year.
Gurney was bidding to win his third PDC ranking title as he won through to the final, his first on the circuit since October's World Grand Prix triumph.
The Northern Irish ace defeated Mark Wilson, Jimmy Hendriks, Stuart Kellett, Jonny Clayton, Danny Noppert and Peter Wright on the day, as he claimed £5,000 in prize money.
Reigning UK Open champion Wright was a semi-finalist for the fourth time in six Qualifiers as he progresses to defend his title at the Butlin's Minehead Resort next month.
Cross, meanwhile, completed a superb weekend with a second semi-final finish to add to Saturday's appearance in the final, claiming £10,000 as he took fifth place on the final UK Open Order of Merit.
Cadby's quarter-final saw him follow up Saturday's maiden ProTour win with a strong display as he ends fourth on the final rankings, while John Goldie will also make his UK Open debut next month.
Dutchman Danny Noppert and Scotland's John Goldie sealed their UK Open debuts with runs to the quarter-finals on Sunday - having only picked up £250 apiece in prize money in the previous five events.
David Pallett, a Qualifier Three semi-finalist, was also amongst the last eight on Sunday as he ensured his UK Open spot despite losing his PDC Tour Card at the end of 2017.
With the top 96 players progressing to compete, alongside 32 Rileys Amateur Qualifiers, in March's Coral UK Open TV Finals, a Play-Off was needed to split the players tied for the final qualifying place, as per PDC Rule 3.2.
Adam Hunt and George Killington were the two players to qualify, with Jeff Smith, Jim Walker, Kevin Garcia, Richie Corner and Rees Hall missing out in the Play-Off.
In a Play-Off to decide 64th place, Ted Evetts defeated Michael Rasztovits 6-1 to secure that he begins the UK Open at the second round stage, with the Austrian entering in the first round.
See full results in the Match Centre.
Coral UK Open Qualifier Six
Last 16
Rob Cross 6-4 Ted Evetts
John Goldie 6-2 Michael Smith
Krzysztof Ratajski 6-4 Carl Wilkinson
Corey Cadby 6-2 Kim Huybrechts
Daryl Gurney 6-4 Jonny Clayton
Danny Noppert 6-1 Steve West
David Pallett 6-3 Mike Norton
Peter Wright 6-5 Simon Stevenson
Quarter-Finals
Rob Cross 6-3 John Goldie
Krzysztof Ratajski 6-4 Corey Cadby
Daryl Gurney 6-2 Danny Noppert
Peter Wright 6-4 David Pallett
Semi-Finals
Krzysztof Ratajski 6-5 Rob Cross
Daryl Gurney 6-3 Peter Wright
Final
Krzysztof Ratajski 6-4 Daryl Gurney
Following Qualifier Six, the top 96 players from the UK Open Order of Merit progress to play in the Coral UK Open from March 2-4 at the Butlin's Minehead Resort.
Play-Off For 64&65th Places
Ted Evetts 6-1 Michael Rasztovits
Play-Off For 95&96th Places
Quarter-Finals
Bye - Jeff Smith
Adam Hunt 6-2 Kevin Garcia
Jim Walker 6-4 Richie Corner
George Killington 6-4 Rees Hall
Semi-Finals
Adam Hunt 6-4 Jeff Smith
George Killington 6-3 Jim Walker
Both winners qualify
Final
Adam Hunt 6-4 George Killington
To determine draw numbers - Adam Hunt 95, George Killington 96
SEE THE EVENT INFORMATION PAGE FOR DETAILS OF THE PLAY-OFF
Final 2018 Coral UK Open Order of Merit