THE battle to avoid elimination from the Unibet Premier League steps up on Thursday as the tournament visits Nottingham's Motorpoint Arena.
With only four games remaining before the bottom two players are eliminated on Judgement Night, the season's sixth league night sees five crucial matches taking place.
Just four points separate the players from third to tenth in the league table, meaning that victory in Nottingham could prove crucial to a players' chances of staying in the tournament to challenge for the title.
World Champion Rob Cross jumped up to fourth place as he claimed a third successive win by overcoming Michael Smith in Leeds last week, and will take on resurgent Mensur Suljovic in their sixth Premier League game.
"Mensur's playing great and I have to admit that I'm really looking forward to the game," said Cross.
"He's a little bit slower, a little bit more quirky than most people that you play on the tour but he's a fantastic player - I get on with him and we usually practice together.
"His averages are probably better than mine at the minute and he beat me last time we played so I want to get that one back.
"I've been getting the wins lately, my confidence is growing and the belief is back. The timing, especially towards the end against Michael Smith last week, was special and you need to be doing it at pivotal points.
"I'm a bit edgy when I'm starting and that's got to change, I'm not sharp enough at the minute and I've got to be pressing throughout.
"It doesn't matter how you win, as long as you get the win. I'm feeling a lot happier at the moment and I'll keep getting better."
Suljovic has won his last two matches and continued his strong form this season with a 7-1 win over world number two Peter Wright in Leeds last Thursday.
"In the first games I wasn't ready, but in the last two games I feel good," said Suljovic.
"I'm happy that I'm playing in the Premier League. It's the best tournament in the world. It was a brilliant feeling last week and a big win for me."
League leader Michael van Gerwen, who sits above Smith on leg difference, takes on winless Gerwyn Price, with the league's bottom player having never previously defeated the Dutchman in a dozen competitive meetings.
"I've got a great record against Gerwyn but I won't be taking anything for granted," said Van Gerwen, who has never even faced match darts previously against Price.
"Each win is important and I know I've not played my best recently so I've got to make sure I'm prepared for Gerwyn. I've had a few days' rest because I didn't play last weekend, and I'm feeling good."
Two former champions meet as Raymond van Barneveld takes on Gary Anderson, who followed up his UK Open win and a draw with Daryl Gurney in Leeds by winning both Players Championship events held last weekend.
"I scraped the point last week and I've had no consistency in the Premier League so far," admitted Anderson. "I've had a good couple of weeks and I want to keep that going because there's still a long way to go.
"I'm battling and if people miss their doubles I'll be trying to pinch it. There's still four or five weeks to go [to Judgement Night] and I'll keep plodding on."
Van Barneveld defeated Price 7-5 last week to move onto five league points, but is expecting another testing battle as he meets the two-time World Champion.
"There's pressure every week and it's tough," he said. "I can't name you any game without pressure, and if you have your chances you have to take them.
"It's the best ten players in the world and we can beat each other every week. To beat the best players in the world everything has to be correct and you can't afford to miss."
The night in Nottingham also sees Smith - who suffered his first defeat of the season in Leeds - take on Wright, while third-placed Whitlock comes up against second-bottom Gurney.
Gurney has defeated Whitlock in their last six meetings, including October's World Grand Prix final, and he said: "Me and Simon are good friends and I'm looking forward to that game.
"I look forward to playing in every single game because I'd love to play in the Premier League every single week. If don't enjoy crowds like we had in Leeds or every other night then you shouldn't be playing darts.
"I'm not playing my best but I'm still giving myself opportunities."
A small number of tickets for Thursday's Unibet Premier League at the Motorpoint Arena in Nottingham are still available and can be purchased by calling 0843 373 3000.
The Unibet Premier League will be broadcast live on Sky Sports from 7pm on Thursday nights and shown worldwide through the PDC's international broadcast partners.
In addition, the Unibet Premier League will feature radio commentary throughout the season on talkSPORT and talkSPORT2. For further details of coverage, please visit www.talksport.co.uk.
Unibet Premier League
Night Six - March 15
Motorpoint Arena, Nottingham
Michael Smith v Peter Wright
Simon Whitlock v Daryl Gurney
Mensur Suljovic v Rob Cross
Gerwyn Price v Michael van Gerwen
Raymond van Barneveld v Gary Anderson
Tickets via 0843 373 3000
League Table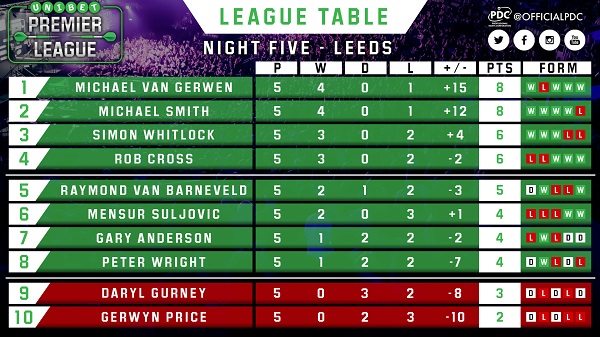 Players tied on Points are then split by Leg Difference (+/-), Legs Won Against Throw and, if necessary, Tournament Average.
Unibet Match Odds - Night Six Nottingham
43/20 Michael Smith
33/10 Draw
19/20 Peter Wright
43/20 Simon Whitlock
33/10 Draw
10/11 Daryl Gurney
5/2 Mensur Suljovic
33/10 Draw
4/5 Rob Cross
14/1 Gerwyn Price
17/2 Draw
1/9 Michael van Gerwen
7/2 Raymond van Barneveld
4/1 Draw
13/25 Gary Anderson
Odds courtesy www.unibet.co.uk and correct at time of writing. Subject to fluctuation.