Christopher Kempf, the statistical analyst of the PDC, looks at an extraordinarily understated, masterful title run by Mickey Mansell.
EVEN today, it seems so unlikely that Mickey Mansell could have won Players Championship Eight, blasting his way through a talented field of World Champions and top 16 players to claim his first PDC title.
After all, this is the same Mickey Mansell who has not even made a quarter-final for the better part of four years.
The £10,000 earned by the Northern Irishman in his debut win, while all but securing a Tour Card for the 2019 season, does not even put him into the top 64 in the world.
How, then, do we account for the fact that Mansell dispatched his opposition by a combined score of 42-11, never allowing any opponent to throw match darts? How does a player so unheralded make such quick work of four Premier League alumni?
The answer is consistency. Of those 42 legs won by the left-hander, 39 were finished in 18 darts or less.
Almost irrespective of his foes' output, Mansell's average remained in the mid-90s for leg after leg as the man from County Tyrone dished out 15 and 17 darters, hour after hour.
Moreover, if his record of 19 checkouts in 24 attempts (79%) in which he had three darts at a double placed him at the level of the world's top players, his achievement of 23 two-dart checkouts (3-39 odd, 41-98, 100) in 35 attempts placed him well above it.
Outshots like 81 in three darts, 80 in two, 71 in three, 64 in three may seem unspectacular to the average darts fan, but they were spectacularly effective for Mansell, who deployed their like multiple times in each match to deny opponents dozens of darts at doubles.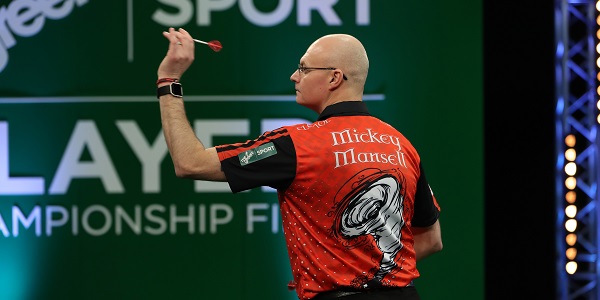 All of the exciting and statistically notable features of darts - the 180s, the high checkouts, the 11- and 12-dart legs - are entirely superfluous to a player who plays with wuch consistency.
And in fact, Mansell had no finishes of 101 or greater, resulting from 30 attempts; only three legs in the tournament won in four visits to the board, and a mere 11 180s scored in 53 legs.
Perhaps a few stylish visits would have boosted his average or given the commentators something to laud, but one cannot win by a larger margin than a 6-0 whitewash, and Mansell had three of those on Sunday.
What need had he to run up the score even further?
Mansell's triumph may be the clearest indication yet seen of the effectiveness of 140s in winning legs.
The second treble hit in a visit to the board (yielding a 140) gives the biggest boost, in terms of number of darts needed to reach a finish, a double, or win the leg, to a player's fortunes.
The third treble is, of course, always welcome, but the extra benefit tends to be wasted in a leg that the player will win anyway if he hits a 140.
Even 100s, which Mansell also recorded at a prodigious rate, when backed up by solid combination finishing, put just enough pressure on opponents by limiting the number and increasing the difficulty of finishes they can attempt.
With 52 100s and 52 140s in 53 legs - very nearly one of each per leg - Mansell wrung every last bit of effectiveness out of each treble scored.
Rarely does a player record an average of nearly 107 with his first nine darts of the leg whilst hitting so few 180s, as Mansell did on Sundays - but if so few 180s resulted in a leg difference of +31 for the day, they were not missed.
If you like your darts fast and furious, replete with 110+ averages and 170 checkouts, Mickey Mansell may not be the player for you.
In that respect, normal service will resume on the PDC circuit once the likes of Michael van Gerwen and Rob Cross return for the Unibet Premier League on Thursday and for this weekend's German Darts Open.
But the fact that Mansell is not the best player in the world is perhaps even more a testament to his achievement in Barnsley on Sunday.
The world number 66 managed to win a tournament by the widest possible margin with a minimum of effort - a feat almost without precedent in the current era of professional darts.