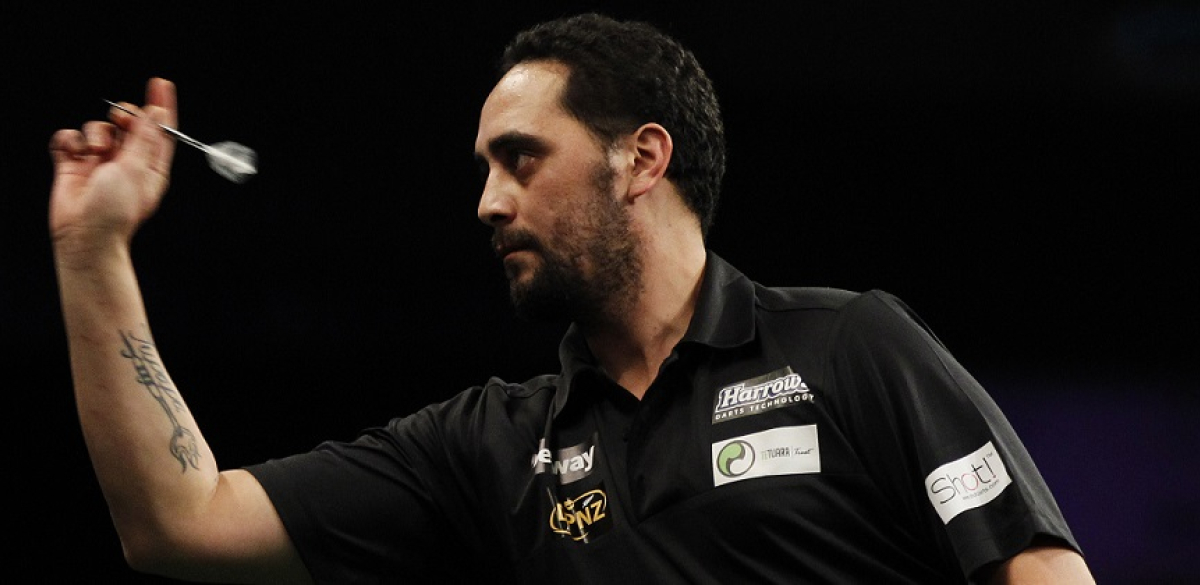 CODY HARRIS and Michael Barnard enjoyed PDC Unicorn Challenge Tour victories as the year's third double-header weekend began in Wigan on Saturday.
Harris became the ninth different winner in as many events so far in 2018, before Barnard became the first player to claim two titles this year in the day's second event.
New Zealand ace Harris, a 2018 World Championship before joining the PDC circuit full-time, defeated Yordi Meeuwisse 5-2 as he claimed his first Challenge Tour success.
The 32-year-old began the day with a 5-1 win over David Edwards, followed by victories over Jamie Kelling, Matt Jackson, Reece Robinson and Nick Fullwell as he progressed to the quarter-finals.
There he cruised past Simon Preston 5-0 before a resounding 5-1 triumph over Jason Cullen in the semi-finals moved him into the decider against Meeuwisse.
In Event Ten, Barnard impressively saw off Wigan's Martin Atkins – winner of Event Three – 5-1 in the final to lift his second Challenge Tour title.
The 41-year-old, who won Event Six in March, began his route to the £25,000 title with a 5-0 win over Steven Kirkby.
He went on to whitewash Damian Smith, then beat John Davey 5-1 before enjoying another 5-0 win over Christoff Van De Wal, and then picked up a 5-2 victory over Jarred Cole to reach the quarter-finals.
Barnard beat Curtis Hammond 5-0 to reach the last four before seeing off Matthew Dennant 5-3 to book a date with Atkins in the final.
Event Ten also saw Swedish star Dennis Nilsson throw a nine-dart leg in his last 16 clash with Kevin Dowling, which he won 6-5.
The PDC Unicorn Challenge Tour will continue on Sundat as Events 11 and 12 take place at the Robin Park Tennis Centre in Wigan.
SEE FULL RESULTS IN THE MATCH CENTRE AT THIS LINK
PDC Unicorn Challenge Tour
Saturday May 5, Robin Park Tennis Centre, Wigan
Event Nine
Last 16
Boris Koltsov 5-1 Adam Huckvale
Jason Cullen 5-4 Kelvin Self
Cody Harris 5-4 Nick Fullwell
Simon Preston 5-2 Tom Lonsdale
Yordi Meeuwisse 5-3 Harry Ward
Robert Rickwood 5-4 Cameron Menzies
Michael Rasztovits 5-4 Darren Beveridge
Wilco Vermeulen 5-3 Jim Walker
Quarter-Finals
Jason Cullen 5-4 Boris Koltsov
Cody Harris 5-0 Simon Preston
Yordi Meeuwisse 5-0 Robert Rickwood
Michael Rasztovits 5-3 Wilco Vermeulen
Last Four
Cody Harris 5-1 Jason Cullen
Yordi Meeuwisse 5-0 Michael Rasztovits
Final
Cody Harris 5-2 Yordi Meeuwisse
Event Ten
Last 16
Martin Atkins 5-2 Robert Rickwood
Dennis Nilsson 5-4 Kevin Dowling
Barry Lynn 5-3 Dave Prins
Ted Evetts 5-1 Kim Viljanen
Michael Barnard 5-2 Jarred Cole
Curtis Hammond 5-3 Geert Nentjes
Adam Smith-Neale 5-1 Reece Robinson
Matthew Dennant 5-3 Nathan Rafferty
Quarter-Finals
Martin Atkins 5-3 Dennis Nilsson
Ted Evetts 5-3 Barry Lynn
Michael Barnard 5-0 Curtis Hammond
Matthew Dennant 5-1 Adam Smith-Neale
Semi-Finals
Martin Atkins 5-1 Ted Evetts
Michael Barnard 5-3 Matthew Dennant
Final
Michael Barnard 5-1 Martin Atkins