JOSH PAYNE is determined to make an impact in televised tournaments following his Players Championship 12 victory.
The PDC Unicorn World Youth Championship finalist picked up his second ranking title in Milton Keynes on Sunday with a thrilling 6-5 win over Peter Wright in the final.
Payne is now hoping to use his Players Championship triumph as a springboard to more success throughout the rest of the year, including making his mark on TV.
"I want to keep progressing and picking up more titles because I know I can do it," said Payne, who played in the 2016 BetVictor World Matchplay.
"I find TV tournaments very different to the floor events, so for me it's about adjusting to them and being ready for the next one.
"I know I am good enough to make a big mark on TV, it's just a matter of everything coming together on the day.
"I never just turn up and see what happens, I don't want to be an extra. I'm here to show who I am, do my thing and win."
Since making his William Hill World Championship debut at the start of 2017, Payne's form dipped throughout the rest of the year and he failed to qualify for any further televised tournaments last year.
However, the Gravesend thrower has enjoyed a bright start to this year, having already made a semi-final on the ProTour in April, before going all the way in Sunday's event.
"I had a tough year last year, and since then I've really put the work in and dug deep so to see it paying off makes me really happy," Payne added.
"Every part of my preparation is important – it's a mental and physical game.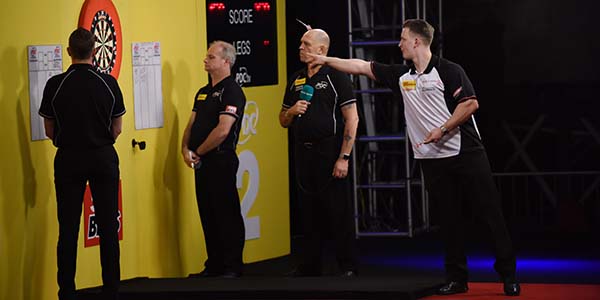 "I've knuckled down, stuck to my guns and I'm delighted that my hard work is paying off.
"My last ProTour win felt a lot different to this one, last time I was just playing the game and enjoying it – everything felt good.
"This time I had to push myself to get the win, but I felt mentally strong in the deciding leg."
Payne recorded wins over Steve West, Zoran Lerchbacher, Christian Kist, Mervyn King, Jonny Clayton, Ian White and Wright en route to clinching the £10,000 top prize.
"Peter is a good friend of mine but I had to put that aside for the final," said Payne, who also has two PDC Unicorn Development Tour titles to his name.
"I played some really good darts all day which was very pleasing for me.
"I hit some big scores and took out some big finishes all day and I had to hold it together in that final leg."
Payne will be hoping to add to his tally of ProTour titles as the next Players Championship events will be held on June 16-17 at Robin Park Tennis Centre in Wigan and will be streamed live on PDCTV-HD across both days.