JOHN PART is relishing the chance to represent Canada for an eighth successive time at the 2018 Betway World Cup, which begins at the Eissporthalle in Frankfurt on Thursday.
The three-time World Champion has been a World Cup ever-present since the tournament's inception in 2010, with Canada's best performance coming in 2016 when they reached the quarter-finals.
Part rolled back the years earlier this year as he won through to the last eight of the UK Open Finals, and is now hoping to continue his renaissance in Germany alongside World Cup debutant Dawson Murschell.
"I'm looking forward to this one a lot," said Part, who will be teaming up with his fifth different World Cup partner.
"I've had many good experiences in the tournament so I'm confident I will come to life here again.
"Every time I represent my country I want to give it my very best shot and we believe anything is possible.
"I would like to play as well as I did a couple of years ago when we reached the quarter-finals, I'm feeling 100 per cent now and believe I can rise to the occasion."
Last year's World Cup saw Part team up with John Norman as Canada defeated Hungary in round one before going down to Austria in the last 16.
Part and Murschell will face Italy's Michel Furlani and Alessio Medaina in the opening round of this year's tournament, and the 51-year-old insists the Canadian pair will be well prepared.
"The draw could've been worse for us if we had drawn a seed but Italy could rise to the occasion," Part added.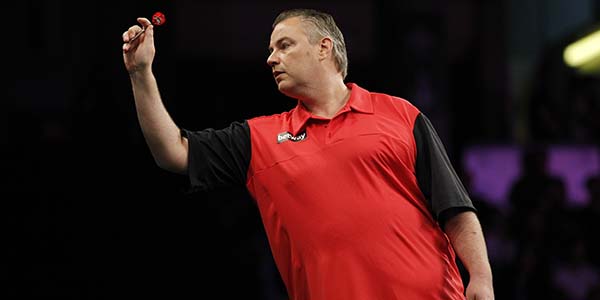 "What you don't know can be a dangerous thing and, of course, anything can happen.
"The tournament is fun because there are so many upsets, which is what makes it so entertaining, but as well as looking to pull off an upset you want to make sure you don't become the upset."
Murschell impressed on his PDC televised debut last year at the US Darts Masters, and Part believes their blend of youth and experience will serve them well in Frankfurt.
"Dawson and myself are at opposite ends of our careers but we have similar styles and if we're both firing we're capable of upsetting anybody," said Part.
"He's had enough experience and is pretty much a full-time pro now.
"Even though he's quite young and may put a bit of pressure on himself, I think he will do just fine and impress a few people.
"Hopefully we can perform well together and get some good results to show for it."
The Betway World Cup of Darts will be broadcast live on Sky Sports and through the PDC's series of international broadcast partners, as well as via PDCTV-HD for International Pass subscribers. For ticket information, please visit www.pdc-europe.tv.
For tickets, visit www.pdc-europe.tv/tickets.
2018 Betway World Cup of Darts
Schedule of Play
Thursday May 31 (7pm local time, 6pm BST)
First Round
Italy v Canada
Russia v Spain
Switzerland v China
Denmark v Brazil
Wales v Thailand
Australia v Hong Kong
Scotland v United States of America
Austria v Japan
Friday June 1 (7pm local time, 6pm BST)
First Round
New Zealand v Singapore
Greece v Finland
Northern Ireland v Poland
Hungary v South Africa
Belgium v Republic of Ireland
England v Czech Republic
Sweden v Germany
Netherlands v Gibraltar
Saturday June 2
Afternoon Session (1.30pm local time, 12.30pm BST)
Second Round
Wales/Thailand v Switzerland/China
Australia/Hong Kong v Russia/Spain
Austria/Japan v Italy/Canada
Scotland/USA v Denmark/Brazil
Evening Session (7pm local time, 6pm BST)
Second Round
Belgium/Republic of Ireland v Greece/Finland
England/Czech Republic v New Zealand/Singapore
Northern Ireland/Poland v Sweden/Germany
Netherlands/Gibraltar v Hungary/South Africa
Sunday June 3
Afternoon Session (1pm local time, 12pm BST)
Quarter-Finals
Evening Session (7pm local time, 6pm BST)
Semi-Finals
Final
Competing Nations
Seeded Nations
1 Scotland - Peter Wright & Gary Anderson
2 England - Rob Cross & Dave Chisnall
3 Netherlands - Michael van Gerwen & Raymond van Barneveld
4 Australia - Simon Whitlock & Kyle Anderson
5 Wales - Gerwyn Price & Jonny Clayton
6 Northern Ireland - Daryl Gurney & Brendan Dolan
7 Belgium - Kim Huybrechts & Dimitri Van den Bergh
8 Austria - Mensur Suljovic & Zoran Lerchbacher
Other Nations
Brazil - Diogo Portela & Bruno Rangel
Canada - John Part & Dawson Murschell
China - Momo Zhou & Xiaochen Zong
Czech Republic - Roman Benecky & Karel Sedlacek
Denmark - Per Laursen & Henrik Primdal
Finland - Kim Viljanen & Marko Kantele
Germany - Max Hopp & Martin Schindler
Gibraltar - Dyson Parody & Justin Broton
Greece - John Michael & Veniamin Symeonidis
Hong Kong - Royden Lam & Ho Yin Shek
Hungary - Tamas Alexits & Nandor Bezzeg
Italy - Michel Furlani & Alessio Medaina
Japan - Seigo Asada & Haruki Muramatsu
New Zealand - Cody Harris & Warren Parry
Poland - Krzysztof Ratajski & Tytus Kanik
Republic of Ireland - Steve Lennon & William O'Connor
Russia - Boris Koltsov & Aleksandr Oreshkin
Singapore - Paul Lim & Harith Lim
South Africa - Devon Petersen & Liam O'Brien
Spain - Cristo Reyes & Toni Alcinas
Sweden - Daniel Larsson & Dennis Nilsson
Switzerland – Alexander Fehlmann & Andreas Bless
Thailand - Thanawat Gaweenuntavong & Attapol Eupakaree
United States of America - Larry Butler & Darin Young
Prize Fund
Winners (Per Player) £30,000
Runner-Up (Per Player) £16,000
Semi-Finalists (Per Player) £10,000
Quarter-Finalists (Per Player) £7,000
Second Round Losers (Per Player) £4,000
First Round Losers (Per Player) £1,500
Total £300,000
Format
First Round
Best of nine legs Doubles
Second Round, Quarter-Finals & Semi-Finals
The Second Round, Quarter-Finals & Semi-Finals will be played as two best of seven leg 501 Singles matches, with both nations nominating the order in which their players play. In the event of both nations winning one Singles match apiece, a best of seven leg 501 Doubles match will be played to decide the tie.
Final
The Final will be played as two best of seven leg 501 Singles matches, with both nations nominating the order in which their players play the first two matches, followed by a best of seven leg 501 Doubles match and then Reverse Singles matches. The first team to win three games is declared the winner.