Christopher Kempf, the statistical analyst of the PDC, takes a look at Jeffrey de Zwaan's magnificent run at the BetVictor World Matchplay.
If you only follow darts' big televised events, Jeffrey de Zwaan's name may not have been very familiar to you before the BetVictor World Matchplay.
Coming into this year, De Zwaan's only win on TV had come in meaningless fashion at the 2017 Grand Slam, in which he beat Chisnall by a margin too small to prevent him from being eliminated from his first-round group.
Unable to remain among the PDC's top 64 players by the end of that year, he lost his PDC Tour Card in January and had to regain it at Qualifying School.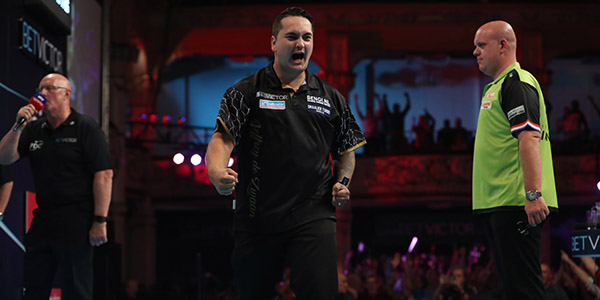 The 22-year-old Dutchman, while still very much in the earliest stages of his career, had very little on his CV to indicate great promise in long-format televised darts.
Victory over Michael van Gerwen at the UK Open was an indication of De Zwaan's potential as he braved the winter storm with a brilliant upset in Minehead.
And after a 16-8 thrashing of world number nine Dave Chisnall, however, the darts world is very much in awe of his impeccably smooth throw, focus under pressure and world-class accuracy around the board.
Drawing comparisons to Dutch masters Michael van Gerwen and Raymond van Barneveld, De Zwaan is not only emulating the performances one would expect from those two, but is within reach of the glory that those two have so often attained.
Even before the World Matchplay began, Van Gerwen would have realized how difficult his first-round draw would be, despite his adversary's lowly #68 ranking in the world.
After all, he had already lost to him over the same format (best of 19 legs) at the UK Open in March.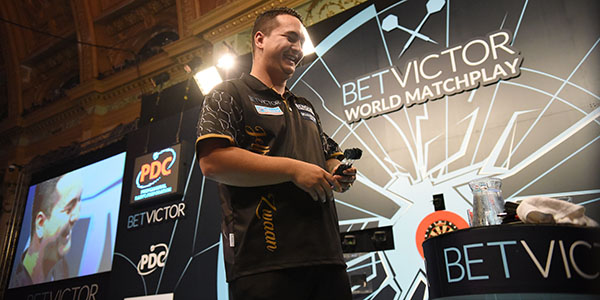 But with his highest year-to-date average (94.5), 180s rate (0.314 per leg), and doubles percentage (42.4%), all ranking before the World Matchplay as the best among the unseeded players at the tournament, De Zwaan's tournament success seems almost obvious in retrospect as it was well suited to take advantage of a subpar Van Gerwen performance.  
The Jeffrey de Zwaan of 2017 - erratic and inconsistent - has suddenly and without warning transformed into a completely new player.
Jeffrey de Zwaan circa 2018 has nearly achieved the enviable distinction of having hit a majority of his doubles thus far this year.
Contributing to this is his outrageous accuracy on doubles 16 (60%) and eight (80%). Of the other World Matchplay contestants, only Peter Wright has a better record than De Zwaan's 52% on the doubles.
De Zwaan has raised his percentage accuracy on treble 20 above the 40% mark, but it is on treble 19 that De Zwaan has exhibited truly world-class performance.
In his first three Blackpool contests, De Zwaan's darts have found the treble 19 bed 49.6% of the time - a percentage achieved only by Michael van Gerwen in the long run.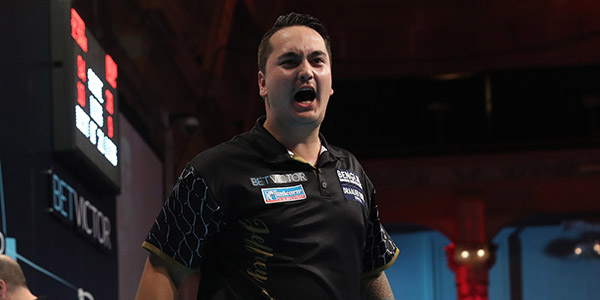 With 47 140s in total in this tournament (0.78 per leg - a level on par with the game's biggest 140 hitters) and a first-nine-dart average of 106.35, putting him in position to reach a finish after 9.3 darts, on average, only a select few have been able to keep up with that rate of scoring.
In 24 thrilling legs of darts in the quarter-finals, De Zwaan withstood an early, murderously accurate (110+ average) barrage of darts from Chisnall, minimizing the damage in the first and second five-leg sessions and wearing down the St Helens star in the long run.
By winning 13 of his 16 legs in 15 darts or less, De Zwaan forced Chisnall to win legs in as many or fewer,
Moreover, three of De Zwaan's legs won in four visits to the board all came against the throw, setting a challenge to his opponent - hold throw with 12 darts or less - to which Chisnall could not rise on that night.
With nine-dart hero Gary Anderson looming large in the semi-finals, De Zwaan will be looking to complete more of the bullseye checkouts (0 in 4 attempts on stage this year) that will be essential to pinching legs from the extremely heavy scoring of the Scot, and improve his second-dart treble 20 percentage (only 36.7% - below even his first-dart percentage).
De Zwaan's 94 finish to beat Adrian Lewis saved the match at the last moment, but his averages have trailed off in the final legs of his matches this past week - against a man who contested a 36-leg marathon of a match, this could spell trouble.
But recall that these are but minor tweaks, and that if De Zwaan can only maintain the level of production he has demonstrated in the tournament so far, he has come 99% of the way to greatness in his still-brief career.
One additional step will make him almost invincible.