SEIGO ASADA and Lourence Ilagan shared wins on the fourth weekend of the 2018 PDC Asian Tour as the circuit visited Kuala Lumpur.
Japanese thrower Asada followed up his Asian Tour win in South Korea in March by opening the weekend in Malaysia in style.
Asada landed an Asian Tour record average of 107.60 in his semi-final win over Ilagan, before edging out Royden Lam 5-4 in the final.
Ilagan bounced back to take Sunday's Event Eight title for his third Asian Tour win of the year, after picking up an April double in Macao.
Asada had seen his hopes ended at the last eight stage by legendary Sinapore star Paul Lim, who then lost out to Ilagan in the semis.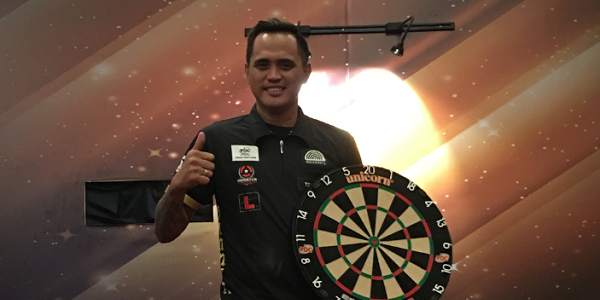 Ilagan then swept past Harith Lim 5-1 in the final to claim the title as the fourth Asian Tour weekend of 2018 concluded.
Further PDC Asian Tour weekends will follow on September 8-9 in Taipei and on October 13-14 in Manila.
For further information, please visit www.pdc-asia.tv.
2018 PDC Asian Tour
Event Seven, Saturday August 18
Quarter-Finals
Royden Lam 5-2 Thanawat Gaweenuntavong
Noel Malicdem 5-1 Cher Kai Ang
Lourence Ilagan 5-2 Keita Ono
Seigo Asada 5-3 Shingo Enomata
Semi-Finals
Royden Lam 5-1 Noel Malicdem
Seigo Asada 5-2 Lourence Ilagan
Final
Seigo Asada 5-4 Royden Lam
Event Eight, Sunday August 19
Quarter-Finals
Harith Lim 5-4 Royden Lam
Kai Fan Leung 5-3 Ryan Condat
Paul Lim 5-2 Seigo Asada
Lourence Ilagan 5-2 Alexis Toylo
Semi-Finals
Harith Lim 5-4 Kai Fan Leung
Lourence Ilagan 5-2 Paul Lim
Final
Lourence Ilagan 5-1 Harith Lim