PAUL LIM, Royden Lam, Lourence Ilagan and Noel Malicdem have secured places at the 2018/2019 William Hill World Darts Championship from the PDC Asian Tour circuit.
The expansion of the World Championship meant the top four players from the 2018 PDC Asian Tour Order of Merit would be guaranteed a place in the biggest ever World Championship, where 96 players will compete from December 13-January 1 live on Sky Sports.
However, second-placed Seigo Asada had already sealed his place in the £2.5 million tournament by winning the Professional Darts Japan Qualifier in Tokyo last week, which meant the top five players following the final Asian Tour weekend of the year in Manila would qualify.
Legendary Singapore star Lim, who won his first Asian Tour event in Taipei in September, took fifth spot to book his 11th PDC World Championship appearance, and Hong Kong's Royden Lam took third place.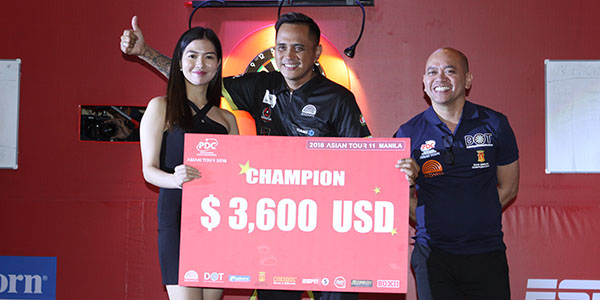 Filipino Ilagan (above) won Event 11, his third Asian Tour title of the year to top the final ranking, while his countryman Malicdem won Event 12 to seal fourth place and a World Championship debut.
The William Hill World Darts Championship will be held from December 13-January 1 at Alexandra Palace in London. Click here for ticket information.
2018 Asian Tour World Championship Qualifiers
1. Lourence Ilagan - $18380
2. Seigo Asada - $13670
3. Royden Lam - $11950
4. Noel Malicdem - $11270
5. Paul Lim - $8870

Quarter-FinalsAsian Tour Event 11
Last 16
Lourence Ilagan 5-0 Keita Ono
Eikichi Nakanishi 5-3 Ian Perez
Paul Lim 5-4 Andy Lou Villamor
Alexis Toylo 5-2 Michaelson Edralin
Val Capuyan 5-1 Mark Canapi
Paolo Nebrida 5-3 Reino Irlanda
Noel Malicdem 5-4 Michael Viola
Haruki Muramatsu 5-0 Dolreich Tongcopanon
Lourence Ilagan 5-0 Eikichi Nakanishi
Paul Lim 5-2 Alexis Toylo
Val Capuyan 5-4 Paolo Nebrida
Noel Malicdem 5-1 Haruki Muramatsu
Semi-Finals
Lourence Ilagan 5-2 Paul Lim
Val Capuyan 5-4 Noel Malicdem
Final
Lourence Ilagan 5-4 Val Capuyan

Asian Tour Event 12 
Last 16
Lourence Ilagan 5-1 Amado Rex Bautista
Benjie Domolog 5-1 Michaelson Edralin
Paul Lim 5-2 Tengku Shah
Christopher Salinas 5-1 Daryt Ramo
Ian Perez 5-1 Dolreich Tongcopanon
Jayson Langcao 5-2 Aris Quijano
Noel Malicdem 5-0 Ryan Ocampo
Haruki Muramatsu 5-1 XiaoChen Zong
Quarter-Finals
Lourence Ilagan 5-1 Benjie Domolog
Paul Lim 5-1 Christopher Salinas
Ian Perez 5-0 Jayson Langcao
Noel Malicdem 5-1 Haruki Muramatsu
Semi-Finals
Paul Lim 5-3 Lourence Ilagan
Noel Malicdem 5-3 Ian Perez
Final
Noel Malicdem 5-2 Paul Lim