Christopher Kempf, the statistical analyst of the PDC, explores the tenacity of James Wade.
To borrow a phrase from Mark Twain, news of James Wade's demise as a top dart player is greatly exaggerated.
While a four-year drought in televised titles will certainly raise doubts as to whether a player can persist at that level, no one who is familiar with the Machine will be terribly surprised by his emergence as the new European Champion. 
Wade rarely makes the headlines for flashes of brilliant play to which we are accustomed from so many other elite players.
He currently hits 180s at the 85th highest rate in the PDC, has only recorded one 110+ average on stage in the past five years, and is more famous for having nine-darters hit against him than for any of his own.
Despite this, he has enjoyed an uninterrupted tenure in the PDC Top 16 for more than a decade.
How can a player so statistically overshadowed by Michael van Gerwen continue to find success in a more and more competitive PDC?
As exciting as 180s, big checkouts and averages are to fans, they often have only a tenuous connection with winning a match.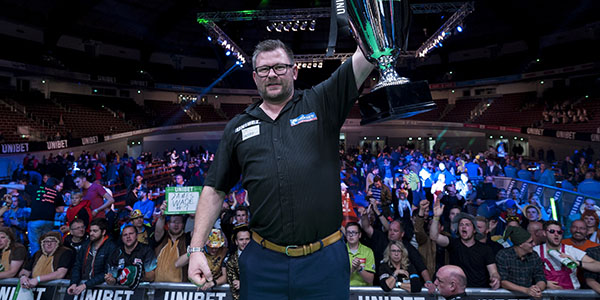 When we look at Wade's ranking on some other vital stats, ones which have a strong correlation with winning legs and matches, we see that he is near the top in some less glamorous aspects of the game, which nonetheless combine to make Wade as ruthless an opponent as his nickname suggests. 
Consider, for instance, the list of players with the highest checkout bullseye percentage this year.
2018 Checkout bullseye percentage:
1. Joe Cullen 45%
2. JAMES WADE 44%
3. Raymond van Barneveld 40%
4. Max Hopp 39%
5. Peter Wright 38%
Sometimes it is useful to step back from the familiar language and statistics of darts and recall that the bullseye is a target which is barely more than a centimetre wide, and about half the size of a pound coin.
Yet Wade still manages to hit that target more than three out of seven times, while standing nearly eight feet away from it.
That is a tremendous feat of co-ordination and technique in its own right, but it is also one of the cornerstones of Wade's escape-artist game.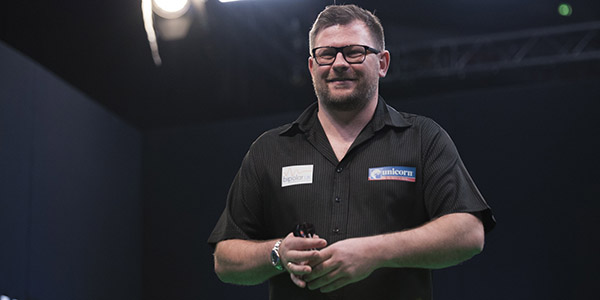 Wade frequently uses the bullseye (and 25) as a set-up tool to access easier finishes, and as having the back-door option of a bullseye finish allows him to capitalise on a mistake made by an opponent if and when it happens.
Most players win about 3% of their legs on the bullseye, but Wade's percentage is nearly twice as large at 5.8%.
He has been nearly as effective on the bullseye as on his favourite double ten, which makes many more checkouts statistically plausible for him - and worrisome for his opponents.
As a scorer, Wade's conservative treble 20 percentage is belied by his very high 140-frequency and his darts' low rate of horizontal drift.
Look at Wade's position among the PDC's top hitters of 140s and avoiders of 1s and 5s:
2018 140s per leg (starting from score of 141 or greater)
1. Mensur Suljovic 0.75
2. Peter Wright 0.75
3. Paul Nicholson 0.74
4. Mickey Mansell 0.74
5. Steve Lennon 0.72
6. JAMES WADE 0.71
7. Michael Barnard 0.71
8. Raymond van Barneveld 0.71
9. Alan Tabern 0.70
10. Wayne Jones 0.68
2018 Stray dart percentage (T1, 1, T5, 5 as a percentage of all darts attempted at treble 20)
1. Max Hopp 4.4%
2. Ron Meulenkamp 5.6%
3. Michael van Gerwen 5.9%
4. Steve Lennon 5.9%
5. Raymond van Barneveld 6.1%
6. Rob Cross 6.2%
7. Paul Nicholson 6.4%
8. Michael Smith 6.8%
9. JAMES WADE 6.8%
10. Mensur Suljovic 6.9%
For every 5.73 treble 20s hit by Wade, one of his darts strays into the adjacent segments - a rate of fewer than one for every two scoring visits to the board.
Since it is so common for the Aldershot pro to score multiple 140s and 100s in the first few visits, Wade is rarely left behind on a bogey number or non-finish score when his opponent races ahead in the leg.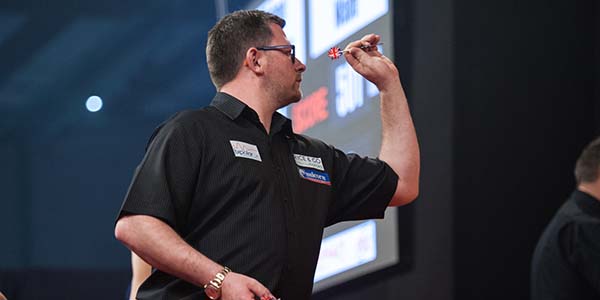 And given that 140s give a player a larger boost in the likelihood of winning the leg than do 180s, Wade is often able to threaten a 12-dart leg - unbeatable with throw and nearly so against.
Wade may not hit as many trebles as his opponent, but by their even distribution throughout the leg he gains a distinct advantage, and his methodical style is an antidote to the nerves of the last-leg decider: he has won 22 of the 29 he has contested in 2018, including two on TV en route to the European Championship title.
Finally, consider a statistic in which Wade is at the forefront of professional darts:
2018 Completion percentage of two-dart checkouts (3-39 odd, 41-98, 100)
1. JAMES WADE 57%
2. Michael van Gerwen 56%
3. Jan Dekker 55%
4. Peter Wright 54%
5. Raymond van Barneveld 53%
6. Daryl Gurney 53%
7. Mensur Suljovic 52%
8. Michael Smith 52%
9. Gary Anderson 51%
10. Brendan Dolan 51%
It is in this aspect of the game of 501 that Wade truly excels.
It is not always necessary to complete a big 101+ checkout in order to win a leg, nor will a top professional expect to consistently have the luxury of attempting three darts at double.
This category of checkouts includes everything from 25 to 81 to 100 - any score from which a treble or single will leave a player two darts at double. Occasionally this will involve the bullseye, but more often not.
A player aiming for mastery of these finishes must be as proficient on treble 13 and 17 as on treble 20; as capable of hitting the bullseye as he is double seven, and must be absolutely solid on the big numbers, wherever they are on the board.
Wade has proven his ability to do this in even the most pressurised situations. In the European Championship semi-final against Max Hopp, Wade completed six of these finishes on nine attempts, including three from three, with no missed doubles, after falling behind 9-5.
In the 20th leg, after three missed match-darts, and facing the possibility of more, from his German opponent, Wade took out 61 in two darts after scoring 320 points in six darts to set it up.
In spite of Wade's triumph at the European Championship, he will need to replicate his Dortmund exploits at the Grand Slam to maintain his position as world number six, since he is defending £50,000 in income from the 2016 event.
Although Wade's game of attrition is no match for Van Gerwen or Peter Wright at their very best, it has proven its ability to outlast the hottest players of 2018, as well as of 2008, and for many years to come it may still prove as effective as ever.