JAMES WADE has paid a touching tribute to the late Eric Bristow MBE as he prepares to play for a trophy named after the legend at the 2018 bwin Grand Slam of Darts.
Five-time World Champion Bristow passed away on April 5 2018, aged 60, having enjoyed a remarkable career in the sport and was honoured by the PDC with the naming of the Grand Slam of Darts trophy in his memory.
The PDC Hall of Fame member was a close friend and mentor to Wade, and the newly-crowned back-to-back televised title winner paid a fitting tribute to Bristow.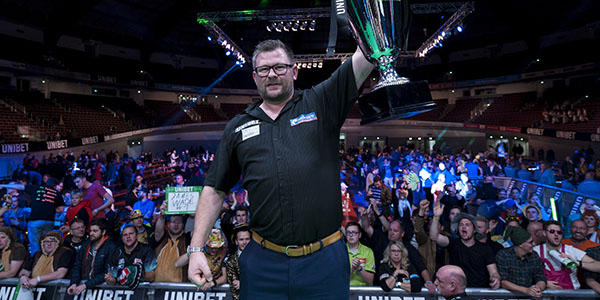 "It would be lovely to win the first Eric Bristow Trophy, I was lucky enough to be close to him," said Wade, who will be bidding for a first Grand Slam title.
"He was a good man, an honest man and darts will always be at a loss now he's not there, and I will be at a loss because I have lost a friend.
"Eric made darts fashionable in the early days and he was probably more passionate about the game than anyone.
"He had his biggest influence on my career when I was struggling the most and for someone like Eric to say 'I believe in you, I'm going to take you under my wing until you start winning again' meant so much to me.
"Deep down, beneath his hard exterior Eric was one of the softest, most gentle men I've ever met and to have him on my shoulder through the tricky times was a lovely thing to have.
"Its a shame he wasn't here to see me win my two recent titles but I'll soldier on and try to add his trophy to my cabinet."