MICHAEL VAN GERWEN has revealed his frustration after seeing his challenge to win a record fourth successive bwin Grand Slam of Darts title ended by Gary Anderson.
The world number one had been victorious for the past three years in Wolverhampton, and was aiming to create a new record if he retained the Eric Bristow Trophy.
However, Anderson proved too strong for his rival as he landed five ton-plus finishes in a 16-12 semi-final success, punishing 18 missed doubles from the Dutchman.
Van Gerwen's loss means that he saw his bid to retain a third successive TV title go begging, following his defeats in the European Championship and World Series of Darts Finals in the past month.
"I played a very poor game," said Van Gerwen, speaking to Dutch broadcaster RTL7. "I was horribly irritated by myself, and he didn't play his best game also.
"Gary played ok - he did the right things at the right times and I couldn't answer that. I missed too many doubles here and there and I can only blame myself."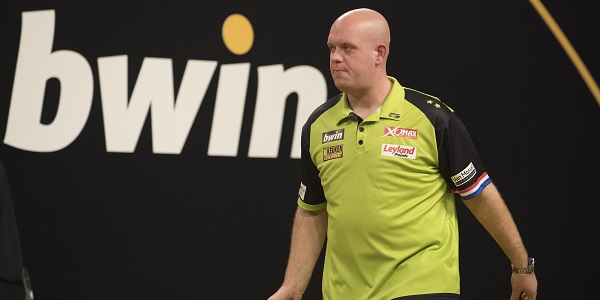 Van Gerwen missed five darts at doubles to level the game in leg 24, and admitted it proved a turning point as Anderson pulled clear from 12-11 to complete the win.
"If that would have happened, I wonder what went on then," he said. "You just cannot miss at that moment and especially not against Gary.
"This should not happen. It just was not good enough.
"Also scoring I can do much better, and I have now shown that, and I can only blame myself for that. I have to work on that and make sure it's better next time.
"I have the Players Championship Finals next week so I just have to analyse those games again, what did I do well and what did I do wrong? When do I miss the doubles, at what moments?
"From there I can continue working but I cannot get into this position. I can do a lot better."
Van Gerwen will return to action at the Players Championship Finals from November 23-25 at the Butlin's Minehead Resort in Somerset.
He is aiming to claim that title for a fourth straight year, and a fifth time in total following his initial success in 2013.