Christopher Kempf, the statistical analyst of the PDC, takes a look at the most dramatic moments at the World Championship when the match is on the line.
When a player misses a match dart, a narrative begins to suggest itself to them.
'Did I just miss my chance at a world title?', they may think.
The extent to which that thought takes root in a player's mind can determine whether or not the player, already in a favourable position in the match, will continue to play on as if nothing had happened.
No one can successfully hit the winning double with every match dart they throw, and all dart players have had their conspicuous moments of mental weakness.
A missed match dart is only the end of the world if a player allows it to be - or if the right opponent forces them to suffer for it.
Three of the most memorable occasions of losing after missed match darts come from some of the greatest players the world has ever seen.

Over 25 years of PDC World Championship matches, Phil Taylor only lost one match in which he missed a match dart to eliminate an opponent.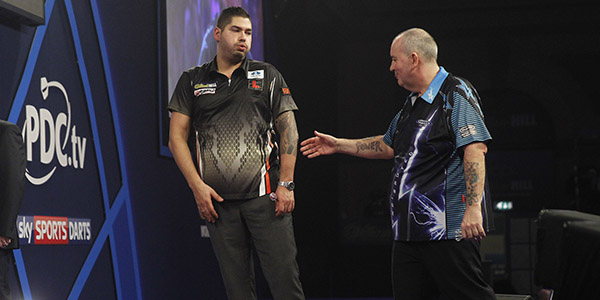 His 2016 third-round match against Jelle Klaasen, when watched in the present day, seems more dated than it should, as only three years have passed.
Klaasen, who has yet to return to the form he displayed at the 2016 World Championship, playing one of the best matches of his career against the now-retired Taylor, defeated him en route to the semi-finals.
One would think that Taylor, 16-time World Champion, would be totally resistant to the thought that his chance to win the match had passed on the basis of a single match dart, but it was such an uncommon situation for him that self-doubt in the face of a rampaging opponent seemed plausible.
Klaasen had missed a dart to win the match 4-2 in sets, and then seemingly lost control of the match when Taylor, taking control of the final set, left 64 after 12 darts, leaving Klaasen well behind on 244.
But Klaasen pressurised as effectively as he could, hitting one of the most timely 180s ever seen at Alexandra Palace, after which Taylor's dart at tops flew just above the wire.
As if reinvigorated, Klaasen demolished Taylor in the final three legs of the match, averaging 125 and not even allowing 'The Power' to attempt a finish in the final three legs.
In the three legs after the missed match dart, Taylor only managed one visit of 140 or better out of 12 and averaged only 88.50 where after averaging 101.10 beforehand.
Whatever happened in that short interval demonstrates that even the greatest darts player ever is not completely immune to the stresses of a long match on the biggest stage in the world.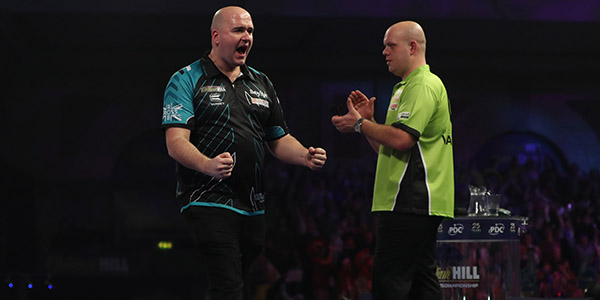 One missed match dart from a multiple World Champion is understandable, but six is unusual.
Much to the chagrin of his fans, Michael van Gerwen did just that against Ally Pally debutant Rob Cross last year.
Given six darts at double with which to win, and based on MvG's doubles percentage for the preceding year, one would have expected him to have an overwhelming 96.6% chance of winning the deciding set and advancing to a fourth career World Championship final.
Not since 2007, when the Dutch superstar was 18-years-old, had he made such a blunder as that while throwing for the match.
Ten years later, playing in a World Championship of his own, Cross had no such trouble.
For Cross to have held his nerve to win the deciding-leg throw for the bullseye, and the leg itself, after having missed a match dart of his own earlier in the set, demonstrated the fortitude under pressure which was the decisive factor in winning his first World Championship crown.
All this after a marathon 54-leg semi-final, a near-comeback from Dimitri Van den Bergh, and a close shave against Michael Smith, who won 16 of the 28 legs in their second round match but missed two match darts.
Having been tested several times already, Cross was prepared to capitalise on the mistakes of his opponent, having survived two World Championship deciding sets already, even if he may have been resigned to defeat with the world number one on six match darts.
One couldn't even say that MvG played badly in his duel with Cross, as he averaged a superb 102.44, but, as he is fond of saying, 'I'm not a robot', and on that day he encountered a player who made him pay for his errors.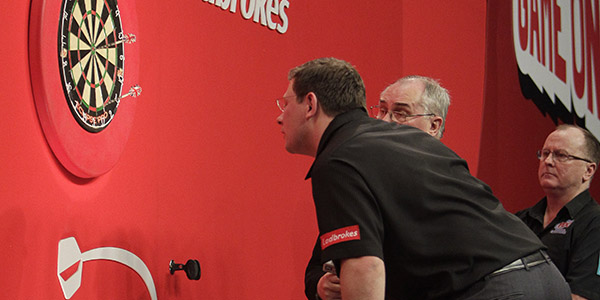 Since every player who has attempted a match dart in a PDC World Championship final has gone on to win the match, there may have been no more painful missed match dart than James Wade's on double 18 in the bizarre and memorable semi-final which concluded in the early morning hours of January 2, 2012.
Wade had never before come that close to reaching the final, and seven years on he has yet to do so.
After two sets had already been completed, the match was famously stopped for half an hour due to complaints from both Wade and Adrian Lewis about a draft from blowing across the stage.
But Wade seemed to be little affected by the controversy as he stormed out to a 5-1 lead in sets.
After surrendering a 2-0 lead in legs in the eighth set, leading to a set-deciding leg, Lewis could only watch and hope that Wade would not be able to complete a 108 finish for the match.
Wade's dart at double 18 slipped just below the wire, allowing 'Jackpot' to clean up the set with a 98 checkout.
But there should have been no need to panic for Wade - he still held a 5-3 lead in sets, and up to that point his 96.55 average had allowed him to win 20 out of 34 legs.
But from that point on, Wade could not win another one. He missed ten darts in three separate legs just to get a leg on the board in a set, allowing a rejuvenated Lewis to romp through the final three sets as his opponent suffered a 'Machine malfunction', averaging a mere 85.26.
With Wade's career on the upswing once again, he may have his best chance to make amends for his match dart mistake seven years ago.
But with the three players who defeated him in his three World Championship semi-finals presenting themselves as possible quarter-final opponents, he will need to overcome some difficult memories.
Even Lewis, the architect of that spectacular 5-1 to 6-5 comeback against Wade in the 2012 semi-final, can look back with similar dismay at his two missed match darts against MvG in the following year's tournament.
The set format and high stakes of the World Championship make a missed match dart thrilling (if unbearably tense for the players themselves), and at moments like these the audience can't help but watch, riveted, lest they miss another one.
Follow Christopher Kempf on Twitter @Ochepedia