Christopher Kempf, the statistical analyst of the PDC, takes a look at which players will hit the most 180s on Night Two of the Unibet Premier League in Glasgow.
No prizes are awarded for hitting the most 180s in the Premier League, nor for hitting them at the highest rate per leg, however the threat of an opponent chopping nearly 200 points off their score in just five seconds is a terrifying prospect for opponents.
A maximum has the power to reverse a player's fortunes in a leg.
Here is a look at four of the match-ups between eight of the highest-ranked PDC players tonight in Glasgow in terms of 180s and other big 3-treble visits hit between December 2017 and the present.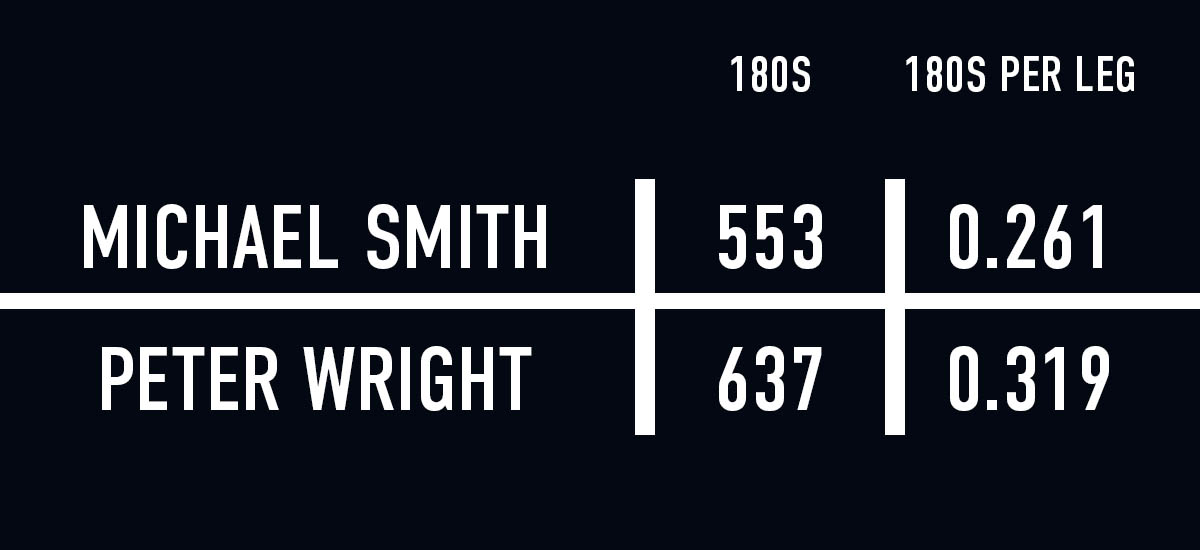 Most 180s in the Match (odds courtesy of title sponsor Unibet)
Peter Wright - 19/10
Michael Smith - 3/4
This past Saturday, Michael Smith and Peter Wright dueled in an epic floor battle, resulting in both players averaging over 110 and hitting 16 maximums - the highest total ever seen in a Players Championship match since the introduction of DartConnect in early 2018.
Wright won the deciding leg and the match (6-5) despite Smith scoring 180s with three of his final four visits of the encounter.
Smith, who equals Michael van Gerwen for the highest 180 rate of the Premier League participants, has nonetheless struggled to match that rate of output in Premier League appearances so far in his career.
Wright, on the other hand, has had neither the speed nor the third-dart accuracy necessary for high numbers of 180s to match his younger rival.
But since Wright switches to trebles 19 and 18 so seldom, his impressive totals of 100s and 140s often make maxima unnecessary.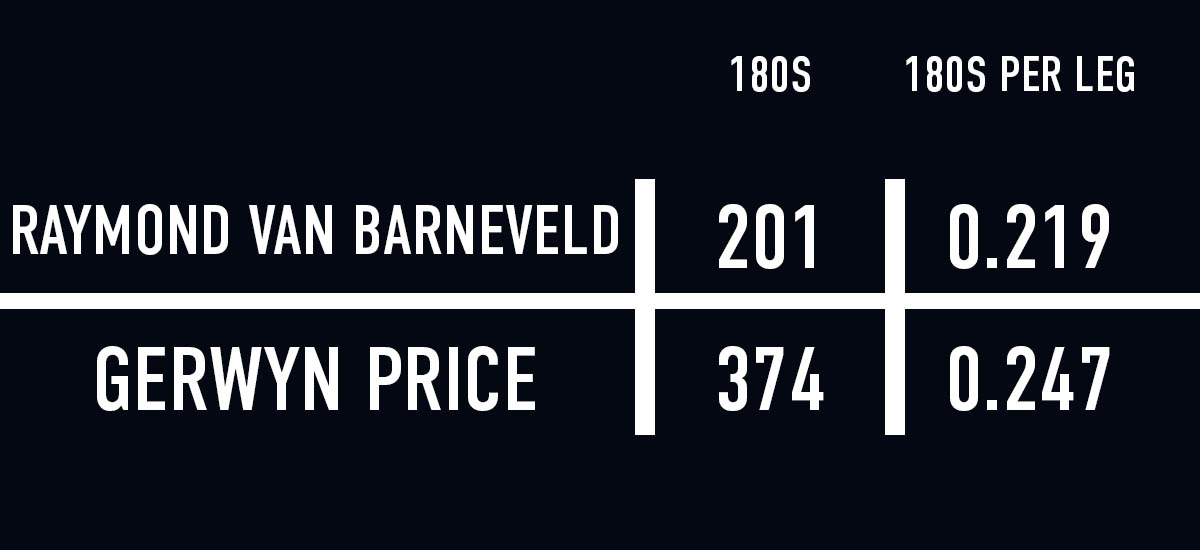 Most 180s in the Match
Raymond van Barneveld - 5/4
Gerwyn Price - 6/5
Gerwyn Price's six maximums thrown in Newcastle contributed toward an authoritative 7-4 win over Daryl Gurney, and in one match the Welshman is more than halfway to exceeding his 2018 total of 11, accumulated over nine matches.
Price's rate of 180s (0.545) in last week's match is just about impossible to maintain over any longer distance, but if he were to do so, it would more than double his average rate for the past 14 months.
His match-up with Raymond van Barneveld, whose discouraging 2018 saw his averages and prize money plummet, is unlikely to be the one that produces the biggest bumper crop of three-treble visits in Glasgow if their previous Premier League encounter is any guide.
Their previous meeting resulted in an overall match average of just over 90 and a paltry total of 2 180s (from both players) over the course of 12 legs.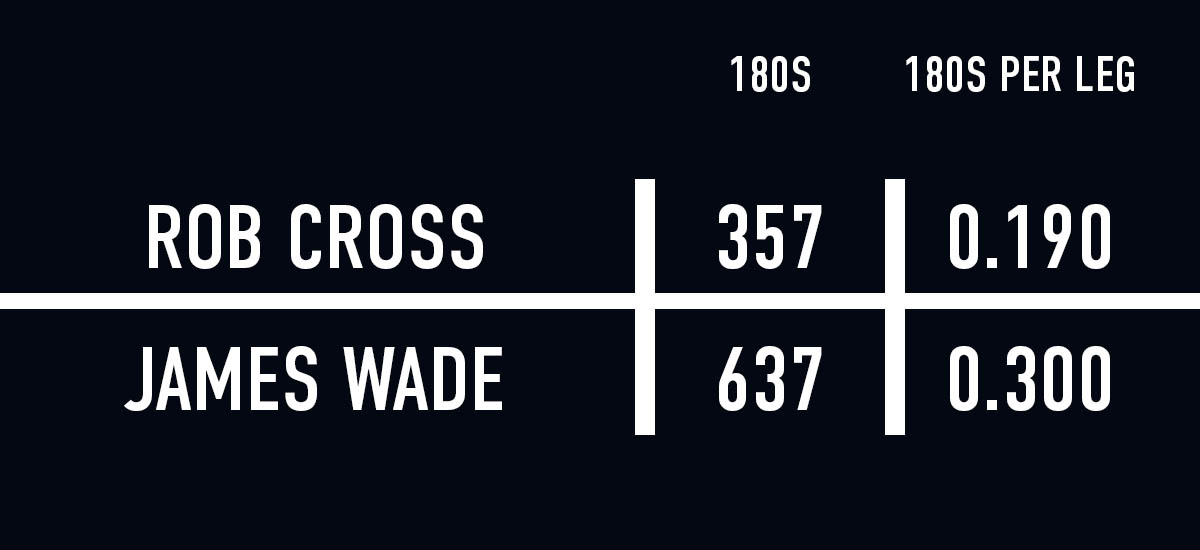 Most 180s in the Match
Rob Cross - 4/5
James Wade - 15/8
While James Wade started his first leg of the 2019 Premier League with two maximums, he is not otherwise well-known for breaking records in this statistical field.
The Machine is a player who relies much more on (fittingly) consistent play and finesse rather than power scoring.
Thus Wade, whose 14-month total of 180s comes to only 357 (compare to twice that number from MvG), has the lowest rate of maximum-hitting in the Premier League.
Rob Cross' strategy differs greatly; in addition to his superb scoring ability on treble 20, by switching more regularly and hitting large numbers of 177s, he has adopted Michael van Gerwen's approach to scoring around the board.
Cross used this to great effect by completing a ten-dart leg by way of scoring 177 and 144 in consecutive vists.
Wade would be hard-pressed to keep up with the former World Champion's 180s in Glasgow - but given his methodical approach to the game, he surely will not feel that he needs to do so.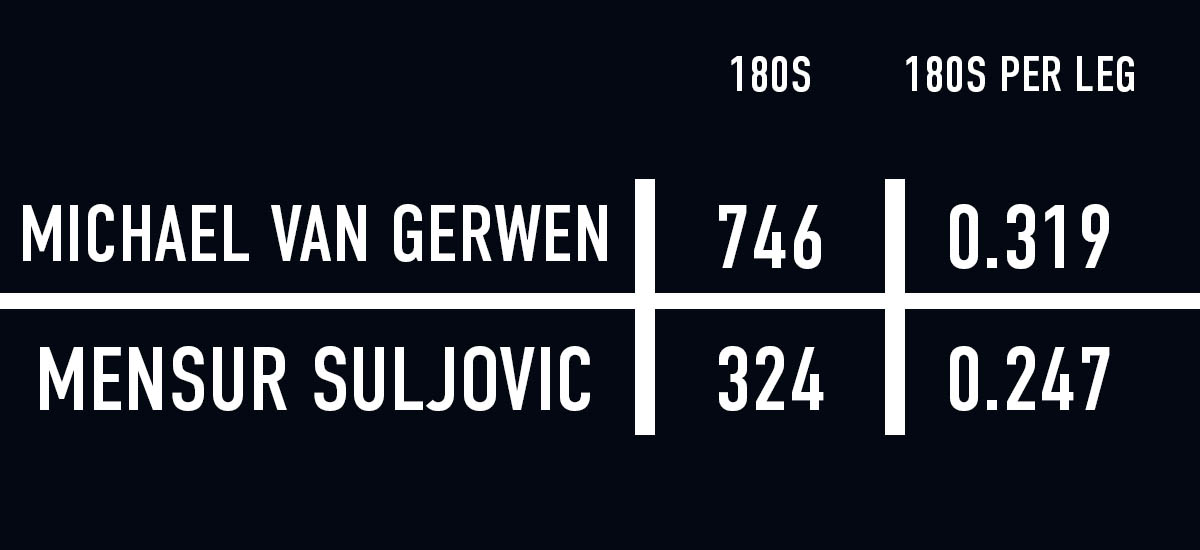 Most 180s in the Match
Michael van Gerwen - 1/2
Mensur Suljovic - 3/1
While Michael van Gerwen is clearly favoured to hit more 180s than his Austrian opponent, MvG's overall rate of 180s hit per leg is actually a poor indicator of the level of scoring he can achieve from a visit of three perfect trebles.
Even when his first dart finds the treble 20, Van Gerwen will forego the chance to hit a maximum depending on the position of the dart within the bed as much as 10% of the time.
Together with setup positions from which a different three-treble score is required, MvG ultimately supplements his total of 180s with more than one score of 171, 174 or 177 for every four 180s he hits, resulting in a rate of 0.405 scores of 171-180 per leg, the highest rate of any player in the PDC.
Suljovic's scoring, on the other hand, tends to rely more on avoiding stray darts and hitting 140s (The Gentle is a tour leader in both categories) and this consistency may prevail if Van Gerwen's scoring tends toward the erratic in Glasgow.
With 37 maximums scored on Night One, the Premier League players came very close to breaking the record of 42 for a regular week night, which has held since 2015.
All players, including Daryl Gurney and Glen Durrant, will need to play to the utmost to give the Glaswegian fans 43.
Total 180s During the Night
Over 28.5 - 4/6
Under 28.5 - 11/10
Match to Feature Most 180s
Peter Wright vs Michael Smith - 9/4
Daryl Gurney vs Glen Durrant - 3/1
Mensur Suljovic vs Michael van Gerwen - 33/10
Raymond van Barneweld vs Gerwyn Price - 4/1
Rob Cross vs James Wade - 5/1
Most 180s During The Night
Michael Smith - 9/2
Michael van Gerwen - 9/2
Peter Wright - 6/1
Glen Durrant - 13/2
Daryl Gurney - 13/2
Rob Cross - 8/1
Gerwyn Price - 8/1
Raymond van Barneveld - 9/1
James Wade - 12/1
Mensur Suljovic - 14/1

Odds courtesy www.unibet.co.uk and correct at time of writing. Subject to fluctuation.
Follow Christopher Kempf on Twitter @Ochepedia