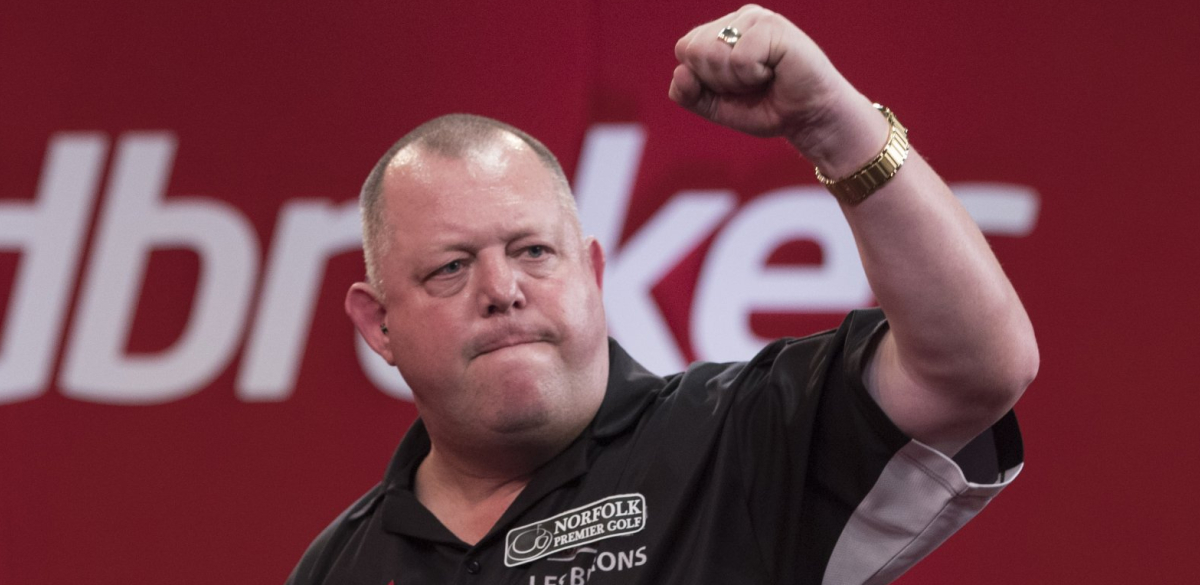 MICHAEL VAN GERWEN, Gary Anderson and Peter Wright all crashed out on a dramatic opening day of the Ladbrokes UK Open as the 159-player tournament got underway at Butlin's Minehead Resort on Friday.
Day One of the unique event saw Mervyn King claim a 10-6 victory over two-time winner Van Gerwen, while reigning champion Anderson's return from injury ended in a 10-8 defeat at the hands of UK Open ever-present Steve Beaton.
Van Gerwen, who went out at the first hurdle of last year's event, found himself trailing 7-2 to 2014 semi-finalist King despite opening the game with a 170 checkout, before the world number one battled his way back to within two legs at 7-5.
A sensational 141 checkout from King put him within a leg of victory at 9-5, before a missed match dart for a 127 finish allowed Van Gerwen to take out 108 to keep himself in the contest.
However, the reprieve proved short-lived for Van Gerwen as King wrapped up his first victory over the Dutchman since the 2014 Masters semi-finals to condemn the three-time World Champion to two defeats in as many days, after a Premier League loss to James Wade on Thursday.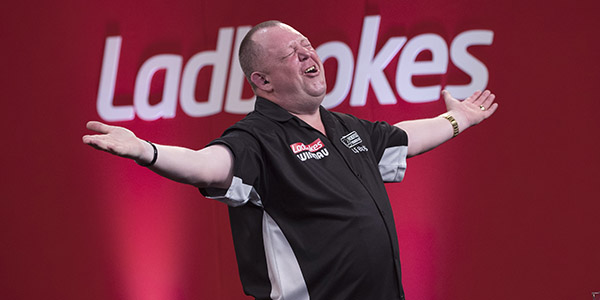 "I fancied this right from the word go and it went my way tonight," said King, who made his UK Open debut in 2007.
"My performance wasn't fantastic, I didn't play to the best of my ability by a long stretch but I just played better than Michael and took my chances. The 141 was a pivotal moment - it stopped him in his tracks.
"If I play at my best I believe there isn't a player here who can beat me, but there are so many players here capable of wiping you off the board if you're not at your best."
The Main Stage crowd barely had time to catch their collective breath before the evergreen Beaton ended Anderson's reign as champion in a thrilling contest.
Anderson, who had been sidelined since the World Championship with a back injury, fired in a 180 with his first three darts back on the big stage, but quickly found himself embroiled in a battle with Beaton.
With nothing to separate the pair at 5-5, Beaton took out a 130 finish on the bull to take the advantage, and followed it up with a 100 checkout to go 8-6 in front.
Anderson fought back to level at 8-8, only for Beaton to produce back-to-back 14-dart legs to end Anderson's hopes of a second UK Open crown in as many years.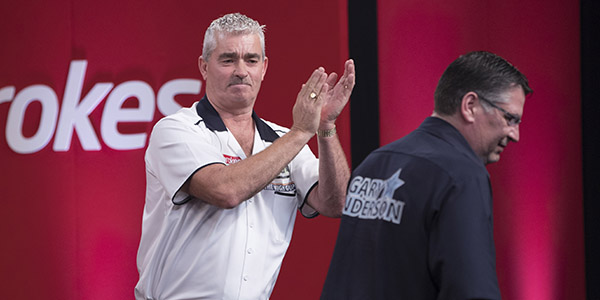 "My game is always in there, it just depends which Steve turns up on the day," said Beaton, who will celebrate his 55th birthday in April.
"I didn't like the draw when it came out, but you've got to take every game as it comes and when it got to 5-5 I thought 'just go for it now' - I think it was an entertaining game for everyone.
"I play with the attitude that I will win if I produce a high 90s to 100 average but tomorrow's another day and I'll need to be at my best again."
The day began with 159 players all bidding for the boosted £100,000 top prize, with 127 matches taking place on eight boards across two sessions on the first staging of the expanded UK Open.
The festival of darts saw 95 games held in a bumper afternoon session, with three-time Lakeside Champion Glen Durrant, 2012 champion Robert Thornton and 2011 runner-up Wes Newton among the fallers in the opening three rounds.
The world's top 32 entered the hat for the fourth round, before the evening session saw a further 32 ties take place in the event widely dubbed 'The FA Cup of Darts' as former champions Wright, Adrian Lewis and Raymond van Barneveld bowed out at the first hurdle.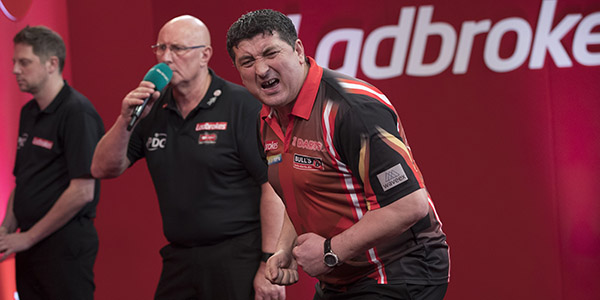 Mensur Suljovic came through a high-class contest with Wright which saw both players post ton-plus averages, as the Austrian made it two wins in as many days against the world number three following their Premier League clash on Thursday.
A see-saw battle between Lewis and Jamie Lewis saw the Welshman land a stunning 161 checkout to win a thriller in a deciding leg, while departing Dutchman Van Barneveld bowed out 10-7 at the hands of Simon Stevenson to see his hopes of a third UK Open title ended.
James Wade is now the only previous winner of the tournament left in the competition after he powered past James Wilson 10-1 with a 100.5 average.
Former World Champion Rob Cross overcame Darren Webster 10-4, Daryl Gurney thumped Reece Robinson 10-1 and Michael Smith played through the pain of a groin injury to beat John Henderson 10-5.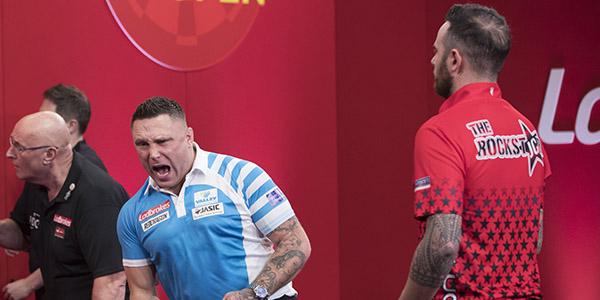 2017 finalist Gerwyn Price continued his recent fine form with a 10-6 triumph over Joe Cullen, while Simon Whitlock and Dave Chisnall secured victories over Jan Dekker and Luke Humphries respectively.
Tipton's Jamie Hughes caught the eye with four victories, averaging 107.7 on the Main Stage in his win over Diogo Portela, which he followed with a 10-5 success over Ian White.
Scott Taylor was the only Rileys Qualifier to make it to the fourth round before going down to an agonising 10-9 loss to Mickey Mansell.

The tournament continues on Saturday with the fifth round in the afternoon session, followed by the sixth round in the evening, after which just eight players will remain to compete in Sunday's final day.
The Main Stage play on Saturday afternoon will see King face Cross, while Smith takes on Gurney, Wade meets German number one Max Hopp and Suljovic faces Van den Bergh in a replay of the 2018 German Darts Masters final.
Action from the Main Stage will be broadcast live on ITV4 for UK viewers, worldwide through the PDC's international broadcast partners and through video.pdc.tv for Rest of the World subscribers.
Stage Two will be shown live on video.pdc.tv for viewers worldwide.
At the conclusion of each round, an open draw will be made live on the Main Stage with the UK Open's unique open draw format in place.
Results and Stats
Main Stage & Stage Two - Click here
Stages Three-Eight - Click here
2019 Ladbrokes UK Open
Friday March 1
Afternoon Session
Main Stage
Mark McGeeney 6-3 David Pallett - First Round
Cameron Menzies 6-4 Wes Newton - First Round
Ross Smith 6-3 Dawson Murschell - Second Round
Glen Durrant 6-1 Maik Kuivenhoven - Second Round
Jamie Hughes 6-1 Diogo Portela - Second Round
Scott Taylor 6-3 Kevin Burness - Second Round
Luke Humphries 6-1 Vincent van der Voort - Third Round
Nathan Aspinall 6-3 Toni Alcinas - Third Round
Ricky Evans 6-5 Jose Justicia - Third Round
Dimitri Van den Bergh 6-0 Kirk Shepherd - Third Round
Stage Two
Michael Rasztovits 6-4 Barry Lynn - First Round
Jamie Hughes 6-3 Callan Rydz - First Round
Madars Razma 6-2 Dennis Nilsson - First Round
Ted Evetts 6-2 Mike van Duivenbode - First Round
Scott Taylor 6-4 Darius Labanauskas - First Round
Vincent Kamphuis 6-2 Wayne Jones - Second Round
Adam Hunt 6-2 Cody Harris - Second Round
Arron Monk 6-3 Simon Preston - Second Round
Kirk Shepherd 6-4 Bradley Brooks - Second Round
Mickey Mansell 6-1 Danny Noppert - Third Round
Steve Lennon 6-0 James Richardson - Third Round
Krzysztof Ratajski 6-4 Scott Baker - Third Round
Jamie Hughes 6-2 Devon Petersen - Third Round
Stage Three
Conan Whitehead 6-3 Michael Burgoine - First Round
Andy Jenkins 6-1 Shaun Fox - First Round
Joe Murnan 6-3 Mark Frost    - First Round
Diogo Portela 6-4 Barrie Bates - First Round
Mark Dudbridge 6-4 Mark Wilson - Second Round
Madars Razma 6-3 Mark McGeeney - Second Round
George Killington 6-3 Ted Evetts - Second Round
Andy Boulton 6-3 Rob Collins - Second Round
Gabriel Clemens 6-2 Zoran Lerchbacher - Third Round
Luke Woodhouse 6-4 Chris Dobey - Third Round
Simon Stevenson 6-3 Mark Webster - Third Round
Gavin Carlin 6-2 Glen Durrant - Third Round
Stage Four
Adam Huckvale 6-3 Mark Barilli - First Round
Geert Nentjes 6-5 David Evans - First Round
Cody Harris 6-5 John Davey - First Round
Kirk Shepherd 6-2 Jonathan Worsley - First Round
Matthew Edgar 6-4 Gary Eastwood - Second Round
Harry Ward 6-3 Lloyd Browning - Second Round
Jamie Bain W-O Cameron Menzies (Menzies timed out) - Second Round
Nathan Derry 6-4 Vincent van der Meer - Second Round
Richard North 6-5 Ronny Huybrechts - Third Round
Ryan Joyce 6-3 Robert Owen - Third Round
Josh Payne 6-3 Jamie Bain - Third Round
Reece Robinson 6-4 Dirk van Duijvenbode - Third Round
Stage Five
Jose de Sousa 6-4 Brian Raman - First Round
Nathan Derry 6-4 Lee Budgen - First Round
Vincent van der Meer 6-1 Eddie Dootson - First Round
Matt Clark 6-3 Niels Zonneveld - First Round
Davy van Baelen 6-3 Robert Marijanovic - Second Round
Mario Robbe 6-5 Andy Jenkins - Second Round
Simon Stevenson 6-2 Adrian Gray - Second Round
Gavin Carlin 6-2 John Michael - Second Round
William O'Connor 6-5 Mark Dudbridge - Third Round
Jeffrey de Zwaan 6-2 Mario Robbe - Third Round
Christian Kist 6-4 Andy Boulton - Third Round
Scott Taylor 6-3 Vincent Kamphuis - Third Round
Stage Six
Jarred Cole 6-4 Michael Barnard - First Round
Reece Robinson 6-3 Jason Cullen - First Round
John Michael 6-4 Christian Bunse - First Round
Jamie Bain 6-3 Martin Atkins - First Round
Scott Baker 6-2 Ryan Harrington - Second Round
Adam Huckvale 6-4 Tony Newell - Second Round
Yordi Meeuwisse 6-0 Tytus Kanik - Second Round
Michael Rasztovits 6-5 Conan Whitehead - Second Round
Ryan Searle 6-3 Matthew Edgar - Third Round
Jan Dekker 6-4 Harry Ward - Third Round
Arron Monk 6-5 Robert Thornton - Third Round
Madars Razma 6-4 George Killington - Third Round
Stage Seven
Marko Kantele 6-2 Chris Lacey - First Round
Lloyd Browning 6-4 Lee Harris - First Round
Kevin Thoburn 6-5 Matthew Dennant - First Round
Adrian Gray 6-1 Ian McFarlane - First Round
Peter Hudson 6-3 John Goldie - Second Round
Geert Nentjes 6-3 Jarred Cole - Second Round
Robert Owen 6-4 Marko Kantele - Second Round
Joe Murnan 6-4 Ryan Meikle - Second Round
Martin Schindler 6-4 Davy van Baelen - Third Round
Brendan Dolan 6-2 Adam Huckvale - Third Round
Keegan Brown 6-5 Nathan Derry - Third Round
Ross Smith 6-3 Yordi Meeuwisse - Third Round 
Stage Eight
Maik Kuivenhoven 6-1 Daniel Day - First Round
Yordi Meeuwisse 6-4 Carl Wilkinson - First Round
Simon Preston 6-5 Terry Temple - First Round
Robbie Collins 6-1 Rowby-John Rodriguez - First Round
Luke Woodhouse 6-2 Darren Beveridge - Second Round
Reece Robinson 6-1 Jose De Sousa - Second Round
Jose Justicia 6-2 Kevin Thoburn - Second Round
Dirk van Duijvenbode 6-3 Matt Clark - Second Round
Adam Hunt 6-5 Ron Meulenkamp - Third Round
Geert Nentjes 6-0 Justin Pipe - Third Round
Joe Murnan 6-4 Alan Tabern - Third Round
Peter Hudson 6-2 Michael Rasztovits - Third Round
Evening Session
Fourth Round
Main Stage
Gerwyn Price 10-6 Joe Cullen
Mervyn King 10-6 Michael van Gerwen
Steve Beaton 10-8 Gary Anderson
Mensur Suljovic 10-8 Peter Wright

Stage Two
Dave Chisnall 10-8 Luke Humphries
Rob Cross 10-4 Darren Webster
Simon Stevenson 10-7 Raymond van Barneveld
Jamie Lewis 10-9 Adrian Lewis

Stage Three
Madars Razma 10-4 Jelle Klaasen
James Wade 10-1 James Wilson
Steve Lennon 10-6 Stephen Bunting
Max Hopp 10-3 Geert Nentjes
Stage Four
Kim Huybrechts 10-3 Peter Hudson
Martin Schindler 10-7 Adam Hunt
Jermaine Wattimena 10-2 Jeffrey de Zwaan
Gabriel Clemens 10-3 Benito van de Pas
Stage Five
Luke Woodhouse 10-7 Gavin Carlin
Krzysztof Ratajski 10-4 Joe Murnan
Dimitri Van den Bergh 10-5 Ricky Evans
Simon Whitlock 10-3 Jan Dekker
Stage Six
Keegan Brown 10-4 William O'Connor
Nathan Aspinall 10-9 Christian Kist
Jamie Hughes 10-5 Ian White
Daryl Gurney 10-1 Reece Robinson
Stage Seven
Michael Smith 10-5 John Henderson
Josh Payne 10-2 Kyle Anderson
Jonny Clayton 10-3 Arron Monk
Mickey Mansell 10-9 Scott Taylor
Stage Eight
Cristo Reyes 10-2 Ryan Joyce
Ross Smith 10-5 Alan Norris
Richard North 10-4 Brendan Dolan
Steve West 10-4 Ryan Searle
Saturday March 2
Afternoon Session (1230 GMT start)
Fifth Round
Main Stage
James Wade v Max Hopp
Michael Smith v Daryl Gurney
Mensur Suljovic v Dimitri Van den Bergh
Mervyn King v Rob Cross
Stage Two
Madars Razma v Nathan Aspinall
Simon Whitlock v Gabriel Clemens
Jamie Lewis v Josh Payne
Jamie Hughes v Gerwyn Price
Stage Three
Steve Beaton v Keegan Brown
Krzysztof Ratajski v Jonny Clayton
Simon Stevenson v Kim Huybrechts
Jermaine Wattimena v Luke Woodhouse
Stage Four
Mickey Mansell v Steve Lennon
Dave Chisnall v Martin Schindler
Ross Smith v Steve West
Richard North v Cristo Reyes
Evening Session (1900 GMT start)
Sixth Round
Main Stage & Stage Two
Sunday March 3
Afternoon Session (1245 GMT start)
Quarter-Finals
Main Stage
Evening Session (1900 GMT start)
Semi-Finals & Final
Main Stage
Format
First, Second & Third Rounds - Best of 11 legs
Fourth, Fifth & Sixth Rounds & Quarter-Finals - Best of 19 legs
Semi-Finals & Final - Best of 21 legs