PHILIPPINES pair Lourence Ilagan and Noel Malicdem claimed victories on the third weekend of the 2019 PDC Asian Tour.
The fifth and six events of the year were held at the Leyte Academic Center in the Philippines across March 30-31, with Malicdem scooping Saturday's Event Five title on home soil with a 5-2 win over Teng Lieh Pu Po.
Malicdem enjoyed a winning World Championship debut in December against Jeffrey de Graaf, and was one of five players to make it to Alexandra Palace via the Asian Tour Order of Merit, along with his fellow-countryman Ilagan.
Ilagan, who won three events in 2018 to top the Order of Merit, saw off 2019 leader Royden Lam in the quarter-finals before a 5-3 victory over Yuki Yamada in the final.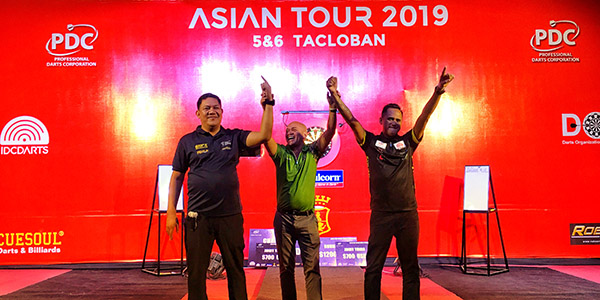 Ilagan moves up to third on the standings, while Malicdem goes fifth.
Events Seven and Eight will be held at G Club, Taipei from June 22-23.
2019 PDC Asian Tour
Event Five
Quarter-Finals
Noel Malicdem 5-3 Charlie Morris
Andy Lou Villamor 5-3 Kai Fan Leung
Teng Lieh Pu Po 5-4 Christian Perez
Seigo Asada 5-1 Lourence Ilagan
 
Semi-Finals
Noel Malicdem 5-4 Andy Lou Villamor
Teng Lieh Pu Po 5-3 Seigo Asada
 
Final
Noel Malicdem 5-2 Teng Lieh Pu Po
 
Event Six
Quarter-Finals
Yuki Yamada 5-3 Dioleto Peresores
Noel Malicdem 5-1 Mark Anthony Opada
Lourence Ilagan 5-4 Royden Lam
Paolo Nebrida 5-2 Sony De Leon
 
Semi-Finals
Yuki Yamada 5-1 Noel Malicdem
Lourence Ilagan 5-2 Paolo Nebrida
Final
Lourence Ilagan 5-3 Yuki Yamada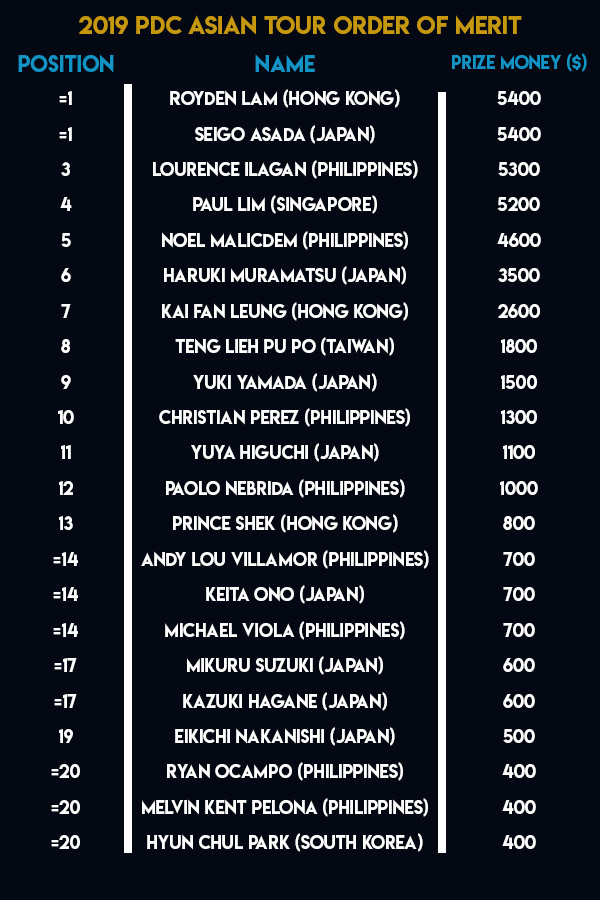 2019 PDC Asian Tour
Events Seven & Eight
June 22-23, G Club, Taipei
Events Nine & Ten
July 27-28, Kowloonbay International Trade & Exhibition Centre, Hong Kong
Events 11 & 12
Aug 31-Sep 1, Good Cheer 2, Singapore