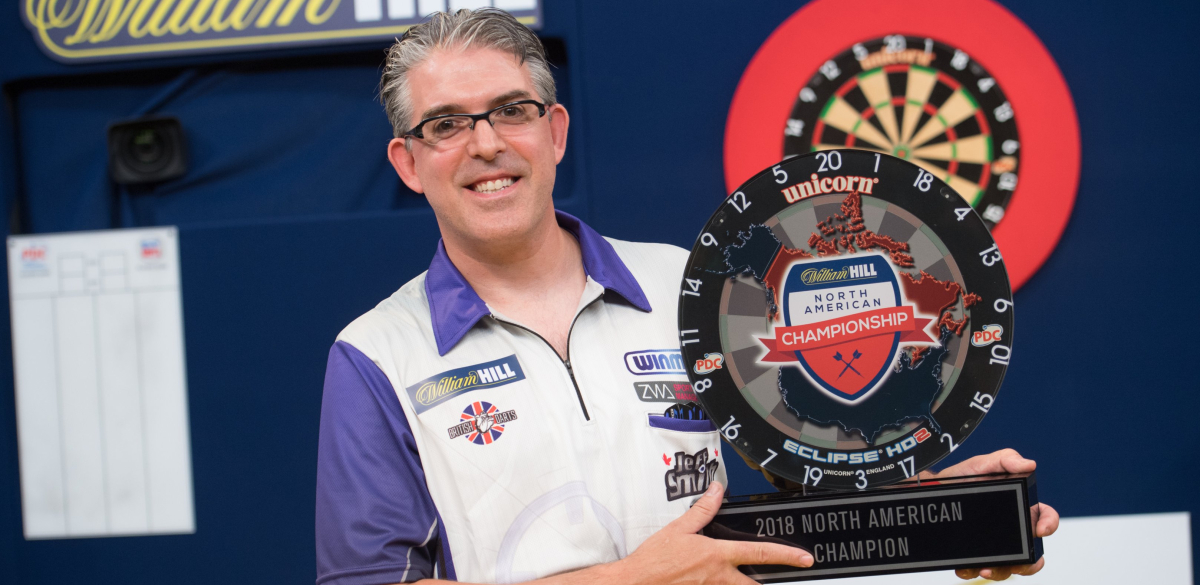 LEADING contenders for the 2019 US Darts Masters and North American Darts Championship look set to include Kiley Edmunds, David Cameron and Leonard Gates based on DartConnect's North American Power Index.
The PDC North American Power Index is based on stats from events in North America which are recorded through the DartConnect system.
Events include CDC tournaments as well as Opens across the USA and Canada, giving an overall record of players' performances on the circuit from a minimum of thre matches.
With less than three months to go until the stars of the PDC return to Las Vegas for this year's US Darts Masters and North American Darts Championship, the Power Index gives an indication of the likely contenders for the eight qualifying places.
Canada's Kiley Edmunds currently tops the PPR (Points Per Round, or three-dart average) standings at 87.03 across 15 matches played.
David Cameron, who has qualified for the NADC and US Darts Masters for the past two years, sits in second place with 86.44.
American ace Leonard Gates is third (85.74) as he builds up to challenge for a TV debut in Las Vegas in July, with veteran star Jim Widmayer also aiming to compete on the World Series circuit for the first time.
Other contenders currently in the top ten of the Power Index include 2017 and 2018 qualifier DJ Sayre and last year's World Championship qualifiers from the CDC circuit, Chuck Puleo and Jim Long.
Reigning North American Darts Championship winner Jeff Smith is joined by three-time World Champion John Part, former UK Open finalist Gary Mawson and long-standing American star Darin Young inside the top 20 of the Power Index.
CLICK HERE TO SEE THE PDC NORTH AMERICAN POWER INDEX.
Click here to learn more about the PDC North American Power Index and DartConnect Leaderboards.
Players from the USA and Canada will be able to compete in four qualifying tournaments on July 2-3 at the Mandalay Bay Resort and Casino to earn one of eight spots available in the stage events on July 4-5.
The US Darts Masters on July 4-5 sees the eight qualifiers face off against eight leading PDC stars, headlined by reigning champion Gary Anderson, World Champion Michael van Gerwen and 2019 UK Open winner Nathan Aspinall.
In addition, the North American Darts Championship - held in the evening of July 4 - will see the eight qualifiers compete for a spot in the William Hill World Darts Championship.
Entry to the qualifiers is still open and can be made through www.pdcplayers.com, costing £70 (approx $100) per event. Full information can be seen at www.pdc.tv/vegas.
Tickets for the US Darts Masters and North American Darts Championship are available through www.axs.com.

2019 PDC North American Power Index
Top 20 at April 11 2019
| Pos | Name | PPR |
| --- | --- | --- |
| 1 | Kiley Edmunds | 87.03 |
| 2 | David Cameron | 86.44 |
| 3 | Leonard Gates | 85.74 |
| 4 | Jim Widmayer | 84.87 |
| 5 | Adam Stella | 84.78 |
| 6 | DJ Sayre | 84.55 |
| 7 | Chuck Puleo | 84.35 |
| 8 | Matt Campbell | 84.34 |
| 9 | Tony Martin | 84.21 |
| 10 | Jim Long | 84.14 |
| 11 | Willy Walker | 84.11 |
| 12 | Gary Mawson | 83.59 |
| 13 | Shawn Brenneman | 83.57 |
| 14 | Jason Brandon | 83.46 |
| 15 | Darin Young | 83.33 |
| 16 | Dave Richardson | 83.12 |
| 17 | Ken MacNeil | 82.98 |
| 18 | Steve Warnock | 82.96 |
| 19 | John Part | 82.93 |
| 20 | Jeff Smith | 82.21 |