Christopher Kempf, the statistical analyst of the PDC, takes a look at which players have the most ranking money at stake at the 2019 Betfred World Matchplay.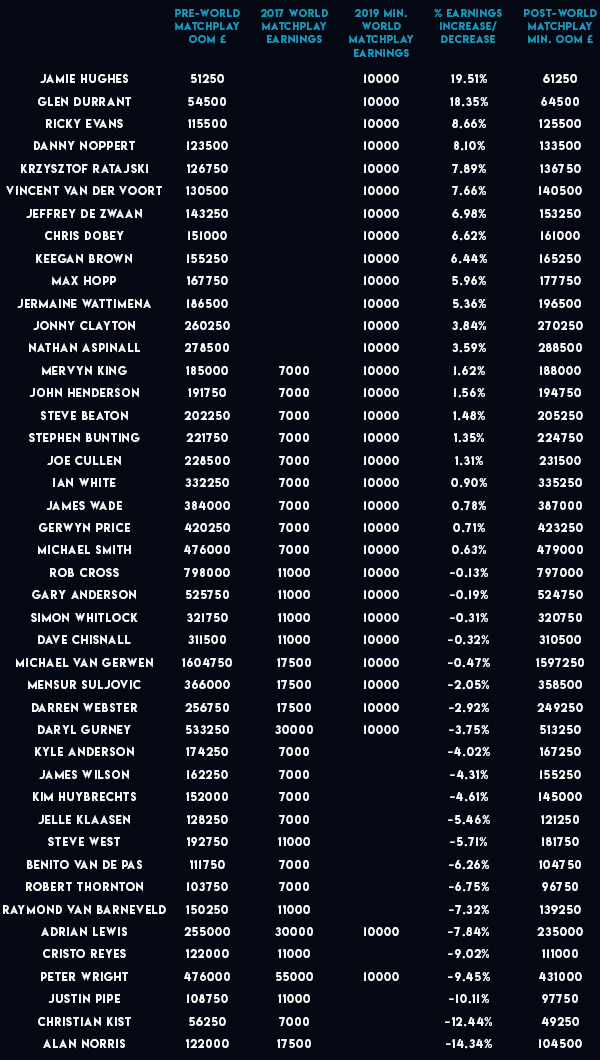 With a £700,000 prize fund, the World Matchplay is the second-most important tournament of the year with respect to its impact on the Order of Merit, meaning for some it will be of even greater importance.
Appearing on the list of qualifiers for the World Matchplay for the first time represents a huge coup for any player's career, with first round losers now earning £10,000 - the same as winning a Players Championship event.
Two first-time ProTour event winners in 2019, Glen Durrant and Jamie Hughes, will find themselves in the top 64 - just six months after starting from £0 after Q-School - thanks to a nearly 20% boost in ranking money.
Furthermore, for players such as Jonny Clayton, who appeared in last year's edition of the World Matchplay, it is as if they are making their debuts with respect to the 2019 tournament's impact on their rolling two-year Order of Merit total.
Clayton's will increase by nearly 4% simply by virtue of qualifying this year, as he failed to do so 2017.
After two years away from Blackpool, during which time he dropped from within the top 16 in the world to out of the top 32, Vincent van der Voort qualified by the narrowest of margins; but any margin will suffice to help launch a comeback for the crowd favourite, who will finish July with an Order of Merit total 8% higher than it was before. 
In a memorable swansong the 2017 World Matchplay was won by Phil Taylor, and since he has resigned his PDC tour card no one will need to defend the winner's earnings of £115,000 from that tournament.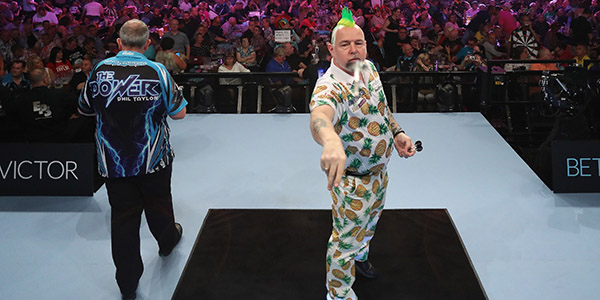 However, there is a tough road ahead for 2017 finalist Peter Wright as nearly 10% of his Order of Merit total is at risk in Blackpool. This could not have come at a worse time for the Scot, whose ranking income total plunged by £68,000 in March after failing to defend his winnings from the 2017 UK Open.
A loss in the first round of the 2019 World Matchplay would see him fall even further, potentially as far down as world number nine in a worst-case scenario. Without a run to the semi-finals, Wright is very much at risk of finishing July in his worst ranking position for five years.
2017 semi-finalists Daryl Gurney and Adrian Lewis both collected £30,000 two years ago in Blackpool, and defending this sum will be of much more significance to Lewis, who is clinging tenuously to his place in the top 16.
Though Lewis, eliminated by Taylor two years ago, had the misfortune of facing the greatest player of all time in his final push for glory, he may not find it much easier this time around as a possible second round encounter with Michael van Gerwen awaits in Blackpool.
While Van Gerwen has experienced a lapse of form in recent weeks, he has very little at stake in Blackpool this year; a first-round loss would see him lose only £7,500 from his Order of Merit total.
Given that his lead over world number two Rob Cross currently stands at over £800,000, failing to defend earnings from his quarter-final finish will have almost no impact on the rankings, though it might deepen concerns about MvG's winning ability.
Cross, meanwhile, has only £1,000 at risk this year after a second-round finish in his first World Matchplay appearance in 2017; winning the tournament would make a substantial £139,000 leap forward in his drive to become the world number one.
Just as qualifying can be an enormous boost for a player, failing to qualify can serve as a painful blow to both a player's ranking and his competitive standing in professional darts.
Christian Kist, who in a memorable encounter with Gary Anderson two years ago, managed to throw 13 consecutive perfect darts, will drop out of the PDC's top 64 for the first time since 2014 after the World Matchplay.
The player who will take the biggest hit to his Order of Merit standing is 2017 quarter-finalist Alan Norris - 14.3% of his current income was earned at that 2017 event, and as a result of that money evaporating he will go into August nearly £50,000 below the level of world number 32.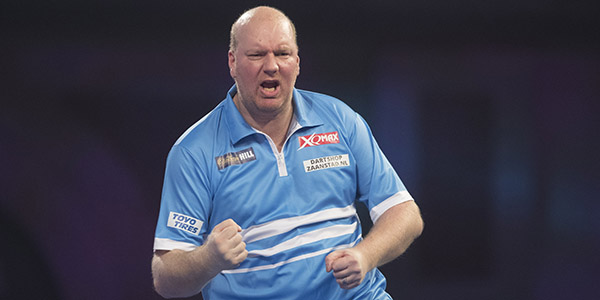 And just as Vincent van der Voort qualified by a hair's breadth to play at the Winter Gardens, James Wilson failed to qualify by that same margin - a mere £500. He will lose 4.3% of his ranking income as a result.
The good news for players worried about their rankings is that the potential upsides of performing well at the Winter Gardens are far greater than the possibility for ranking catastrophe by losing in the first round.
The World Matchplay prize fund has increased massively since 2017, from £500,000 to £700,000. The winner's share is now £150,000, equivalent to winning 15 Players Championships or six European Tour events.
A 2019 semi-finalist will earn nearly as much as the 2017 finalist; a 2019 quarter-finalist nearly as much as the 2017 semi-finalists.
The risk of losing in Blackpool is thus far less than the opportunity available for players to make huge leaps forward in their ranking positions.
Follow Christopher Kempf on Twitter @Ochepedia