Parkinson's UK will benefit from a £1,000 donation from BoyleSports following a special charity match between Glen Durrant and champion jockey Robbie Power.
The pair took to the stage ahead of Tuesday's BoyleSports World Grand Prix action at the Citywest Convention Centre.
BoyleSports ambassador Power - nicknamed "Puppy" - started on 101 against Durrant's 501, but the former Lakeside Champion prevailed by finishing 72 on the bullseye.
Sky Sports presenter Dave Clark, a celebrity supporter of Parkinson's UK, joined Power, Durrant and BoyleSports' Leon Blanche on stage following the game for the special cheque presentation.
Parkinson's UK is a charity offering support for anyone affected by Parkinson's along with funding research into the condition. For more information, please visit the Parkinson's website or follow ParkinsonsUK on Twitter.
Robbie "Puppy" Power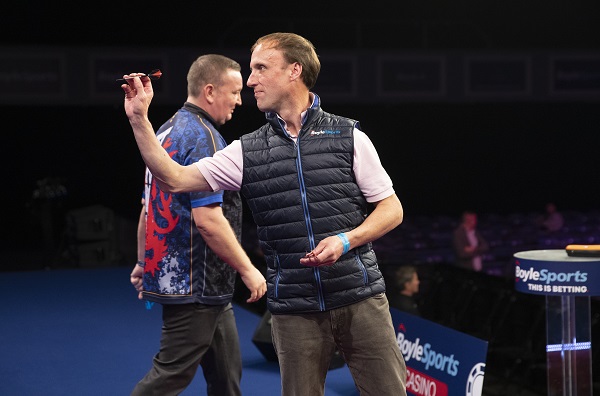 Glen Durrant, Dave Clark & Robbie Power