Daryl Gurney has raised over £15,000 for the Cystic Fibrosis Care charity after having his head shaved at the Paddy Power Champions League of Darts.
Gurney pledged to lose his trademark spiked locks if over £10,000 was raised for the charity, having embarked on the fundraising event in memory of best friend Aaron McMenamin, who passed away in 2017.
After pre-event donations passed the £10,000 mark, Gurney agreed to have his head shaved by Paddy Power - and after defeating Rob Cross in Leicester on Saturday night was true to his word.
Daryl Gurney pledged to shave his head at the Paddy Power Champions League of Darts if he raised £10,000 for Cystic Fibrosis. He did just that, and went through with his promise!

You can still donate to the cause here: https://t.co/2Futce7Uhg pic.twitter.com/67AS82SAKF

— Paddy Power (@paddypower) October 20, 2019
Gurney now boasts a 0.5 length trim, but saw Paddy Power donate an additional £5,000 to the fundraising effort following the shave.
PDC Chairman Barry Hearn, Gurney's sponsor Winmau and fellow players including Gerwyn Price have donated, and fans can still pledge via JustGiving.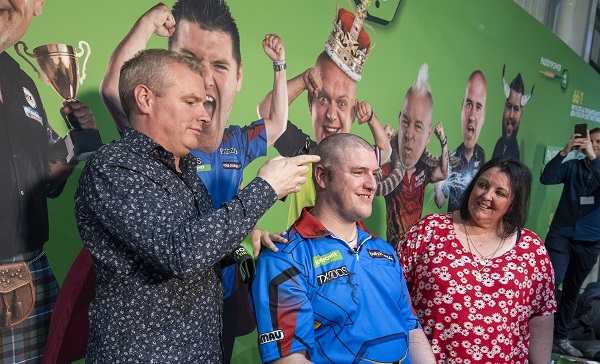 "It's a relief that it's over now but the support I've had has been incredible," said Gurney. "I feel so different without my hair and I can throw the hair gel away, but it's for a great charity.
"It would be great to reach £20,000 and I'd like to thank everyone who's donated because it's a charity very close to my heart. It was great to have Aaron's parents in Leicester today too, because this has meant so much to us all.
"I'll be trying to grow the hair back for the World Championship now. I've got a couple of months so hopefully I'll have it back then!"
Fans will be able to see footage of the shave on BBC2 in Sunday afternoon's Paddy Power Champions League of Darts coverage, as well as by following Paddy Power on social media.