Lisa Ashton and Mikuru Suzuki are aiming to return to the PDC stage at the William Hill World Darts Championship - with the Women's Qualifiers fast approaching.
Two spots in this year's World Championship are on offer for female players, with any player over the age of 16 able to enter the respective qualifiers.
The Rest of the World Qualifier will be held on Saturday November 16 at Halle 39 in Hildesheim, Germany.
The UK & Ireland Women's Qualifier will then take place on Monday November 25 at the Robin Park Tennis Centre in Wigan, to follow the PDPA Qualifier earlier in the day.
Both Ashton - who played in last year's World Championship - and Suzuki have starred in the BoyleSports Grand Slam of Darts in Wolverhampton, although the pair exited in the group stage.
However, they will be competing in the forthcoming Women's Qualifiers as they aim to secure an Alexandra Palace place.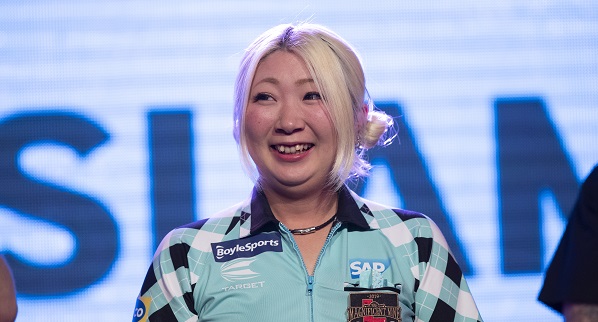 Last year's qualifier Anastasia Dobromyslova will join reigning Women's World Champion Suzuki in the field for the Rest of the World Qualifier in Hildesheim on Saturday.
"I have entered the qualifier," said Suzuki. "Hopefully I can make it this year, that would be massive for me. It has been an amazing year."
Four-time Women's World Champion Ashton, meanwhile, will be joined by daughters Danielle and Lindsay at the UK & Ireland Qualifier, alongside leading players including Lorraine Winstanley, Deta Hedman, Fallon Sherrock and Laura Turner.
"I've enjoyed the week and it was a new experience," said Ashton, reflecting on her matches with Rob Cross, Jamie Hughes and Dave Chisnall.
"I had a chat with Mikuru - it's something we can both take forward and learn, and hopefully the ladies come forward because this is an opportunity they can take as well.
"There's loads of other ladies coming through. We're all stepping our levels up, so if we keep stepping them up we'll keep getting these opportunities."
Entries are still available for the two Women's Qualifiers for the 2019/2020 William Hill World Darts Championship, ahead of the forthcoming knockouts.
Entry to both qualifying events will be FREE and will be open to any female player aged 16 or over. Entry is based on citizenship as outlined in PDC Rule 7.6.
Entries must be made through www.pdcplayers.com. Players who have competed in PDC events in 2019 will use their existing login details, and players who have not previously competed this year must Register with this system before being able to enter.
Both Women's Qualifiers will be played with an open, unseeded draw.
2019/2020 William Hill World Darts Championship
Rest of the World Women's Qualifier
Saturday November 16
Halle 39, Hildesheim, Germany
Registration 0900-1100
Play Commences 1200
Entry Deadline: Friday November 15 1400 GMT
For hotel bookings please contact hotel@pdc-europe.tv
UK & Ireland Women's Qualifier
Monday November 25
Robin Park Tennis Centre, Wigan, UK
Registration 1100-1300
Play Commences as soon as possible following the conclusion of the PDPA Qualifier
Entry Deadline: Friday November 22 1400 GMT