We continue the countdown to the 2019/20 William Hill World Championship by re-visiting three-time World Champion John Part's favourite World Championship memories.
Here, the Canadian legend recalls his two PDC world title triumphs at the Circus Tavern and Alexandra Palace...
My greatest memory is defeating Phil Taylor in 2003, without question.
I remember taking out 77 to win it - I was very excited as my celebrations conveyed!
On the funny side, and as an exclamation mark to the meaning of the moment of ending Phil's never to be equalled eight consecutive titles streak, confetti bombs were supposed to go off after the championship winning double was hit.
But such was the habit of Phil winning, whoever was supposed to trigger the confetti was clearly confused, stunned or unaware there could be a different result!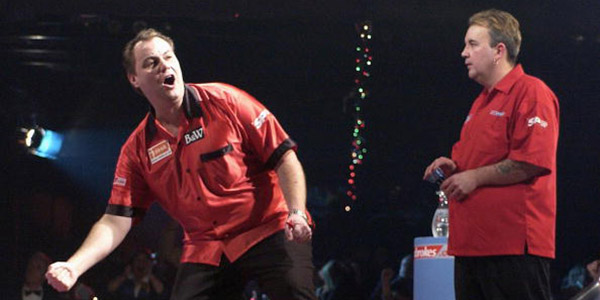 In 2008, Wayne Mardle famously ousted Taylor in the quarter finals.
Although it wasn't as well-played a game on both sides as their epic 2006 semi-final which Phil won 6-5, it was a wonderful moment of completion for Wayne.
But of course he lost to 'Cinderella' story Kirk Shepherd, who then lost in turn to yours truly in the final.
The highs and lows of darts are extreme and ecstatic, or devastating as the case may be.
Read more memories from the World Championship in the book 'Twenty-five Years of the PDC World Championship' which is available to buy through amazon.co.uk and scratchingshedpublishing.com
The 2019/2020 William Hill World Darts Championship will be held from December 13-January 1 at Alexandra Palace in London.
CLICK HERE TO BUY REMAINING ALLY PALLY TICKETS

CLICK HERE FOR REMAINING HOSPITALITY PACKAGES
The tournament will be broadcast live on Sky Sports in the UK, on PDCTV-HD for Rest of the World Subscribers and through the PDC's worldwide broadcast partners including DAZN and RTL7.