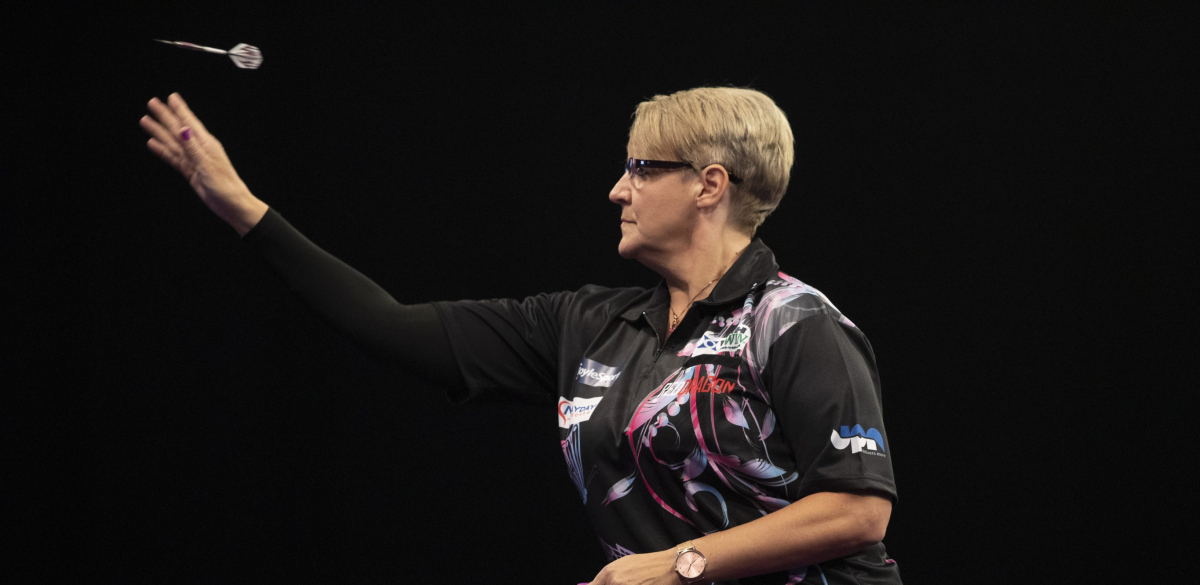 Lisa Ashton made history by becoming the first woman to win a PDC Tour Card through Qualifying School on Sunday in Wigan.
Four-time BDO Women's Champion Ashton will compete on the PDC ProTour in 2020 and 2021 after holding on to the final qualification place on the Q School Order of Merit on a landmark day for the sport.
Ashton, who starred in the 2018/19 World Championship, had to endure a nervous wait after going down 5-2 to Justin Smith in her second game of the day resulting in no points being added to her Order of Merit tally.
However, results over the course of the day meant that Ashton's nine points, the bulk of which were won in her run to the last eight on Day Two, were enough to secure her place on the PDC professional circuit for the first time.
Ashton was one of six players tied on nine points, but she and Darren Penhall held the advantage in number of legs won over the four days to take the final two qualification spots.
"I am so, so happy to finally get my Tour Card," said Ashton, who missed out by one point at 2019 Q School.
"I was sat there all day with people trying to work out if I had qualified so I just said 'tell me at the end, I can't deal with the stress!
"So when I found out I'd done it, that was a great moment.
"I want to play all the tournaments I can. I'm going to have a damn good go at whoever I play, they need to be ready.
"To come through a field of over 500 men, I couldn't be any happier.
"But I know I've got more in the tank and now I'm going to take my dreams wherever I can."
A dramatic final day of action in Wigan and Hildesheim saw both UK and European Q Schools reach their climax as 22 players won two-year Tour Cards.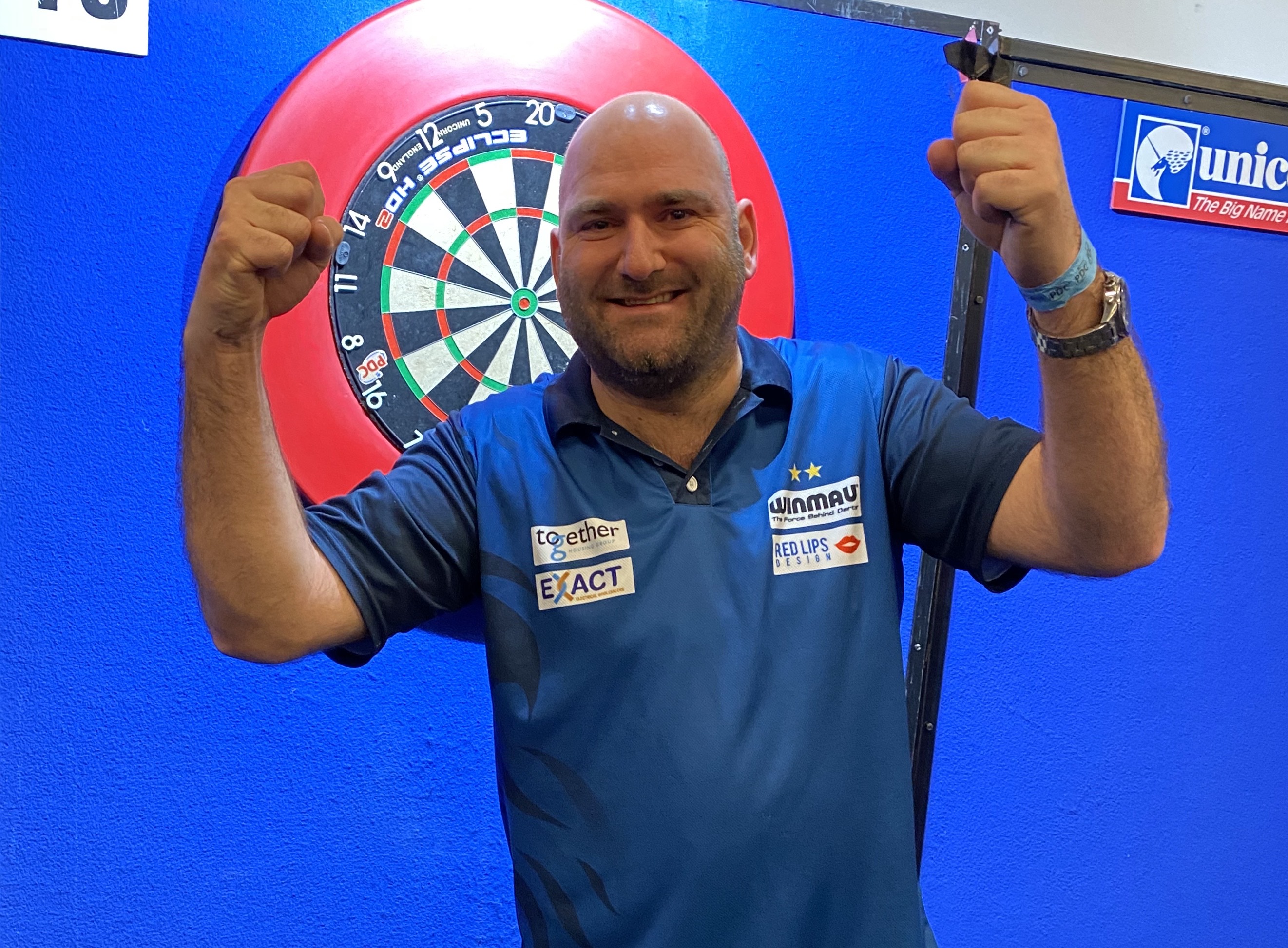 Two-time BDO Champion Scott Waites will compete on the PDC circuit for the first time in 2020 after winning his Tour Card outright on the final day along with Welshman Nick Kenny.
Having struggled on the opening three days of Q School, former Grand Slam winner Waites found his form on the final day, culminating in a 5-0 whitewash of teenage Irish sensation Keane Barry in their Tour Card decider.
"To do this is amazing," said Waites. "I knew I had to come here today and just win it outright, and I've played my game all day.
"Keane is a fantastic player so to beat him 5-0 is amazing, but with a bit of experience he's going to be an awesome player.
"The time has never been right for me to move over before but now I think it is right to have a go so let's see what happens.
"I'm going to put a lot of practice in now, this is going to give me the 'get up and go' I need."
Two-time Development Tour winner Kenny will also be a new addition to the PDC circuit after he saved his best performance till last as he averaged 110.5 to defeat Scott Taylor 5-2 in their Tour Card play-off.
Joining Ashton in winning Tour Cards via the UK Q School Order of Merit are 11 players headed up by former World Championship runner-up Andy Hamilton.
Junior Darts Corporation Chairman Steve Brown was unable to attend the final day of Q School due to JDC-related commitments in China, but his runs on the first two days were enough to ensure a return to the PDC Tour after a five-year absence.
Brisbane Masters winner Damon Heta was successful in his first Q School appearance and he will be joined on the circuit by fellow-Australian and surprise-package Penhall.
Scottish duo Ryan Murray and William Borland are also new names on tour, along with Wigan's Martin Atkins.
Adam Hunt, Alan Tabern and Wayne Jones all secured immediate returns after losing their Tour Cards at the end of 2019, while Peter Jacques returns after a one-year absence.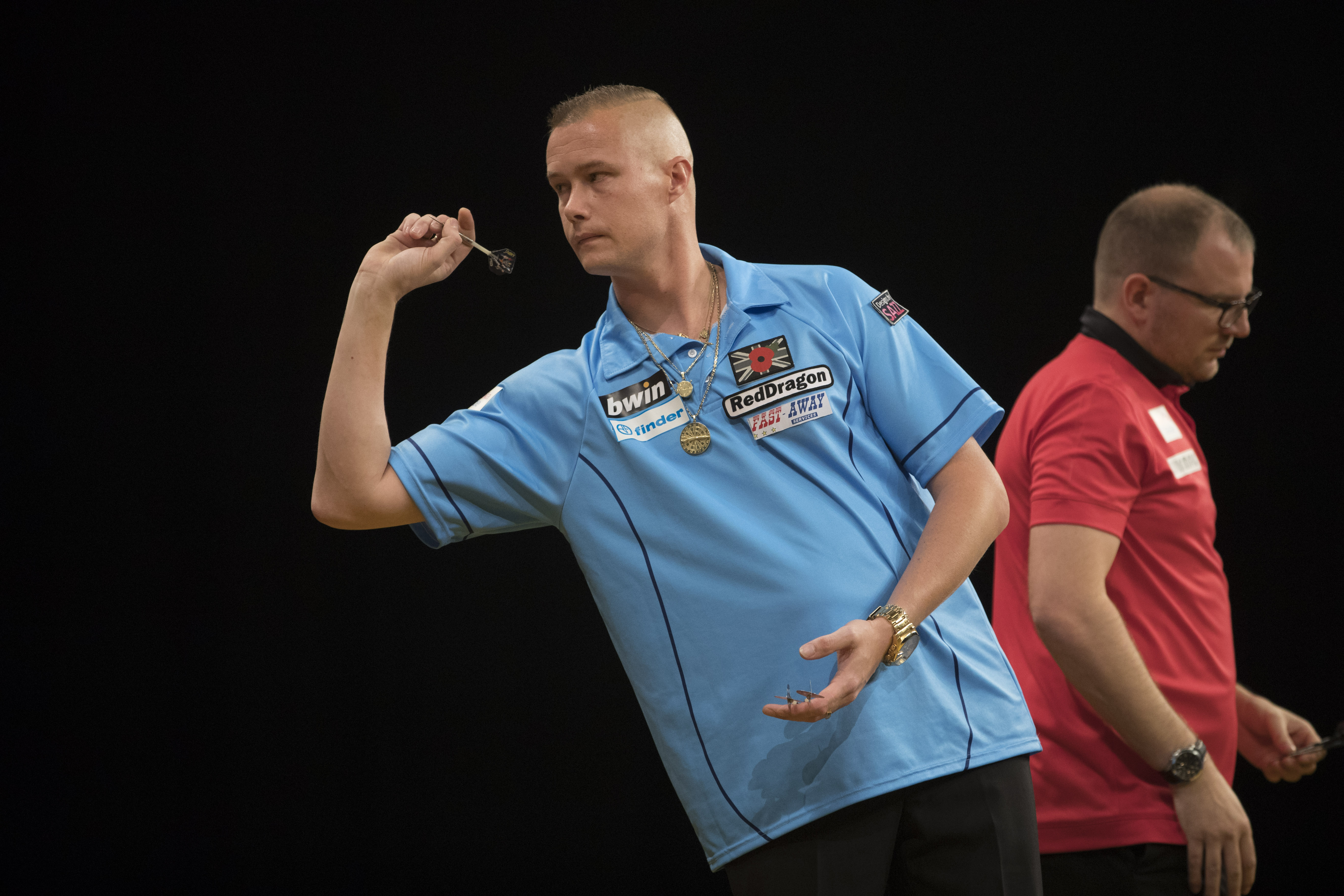 At European Q School Germany's Steffen Siepmann booked his place on the PDC Tour for the first time by defeating Wesley Harms 5-3 in the Day Four final in Hildesheim.
However, two-time BDO Championship semi-finalist Harms did enough over the four days to earn a PDC Tour Card for the first time.
"It has been a really tough four days," Harms admitted.
"My goal was to make the quarter-final every time but after I went out in the last 32 on the first day I was worried, but my last day made up for it.
"Everything will be new for me but I am looking forward to playing in the PDC for the first time."
Harms' fellow-Dutchmen Derk Telnekes and Martijn Kleermaker also secured Tour Cards for the first time, while Dirk van Duijvenbode won back his card at the first time of asking.
Sweden's Daniel Larsson, Croatia's Boris Krcmar and Poland's Krzysztof Kciuk also won Tour Cards for the first time via the European Q School Order of Merit.
The first three days of action saw six players win Tour Cards outright at UK Q School, along with three at European Q School.
All 31 PDC Tour Card winners will get their first taste of the PDC ProTour in 2020 at Players Championships One and Two which will take place at The Barnsley Metrodome from February 8-9.
CLICK HERE TO SEE THE FULL QUALIFYING SCHOOL ORDERS OF MERIT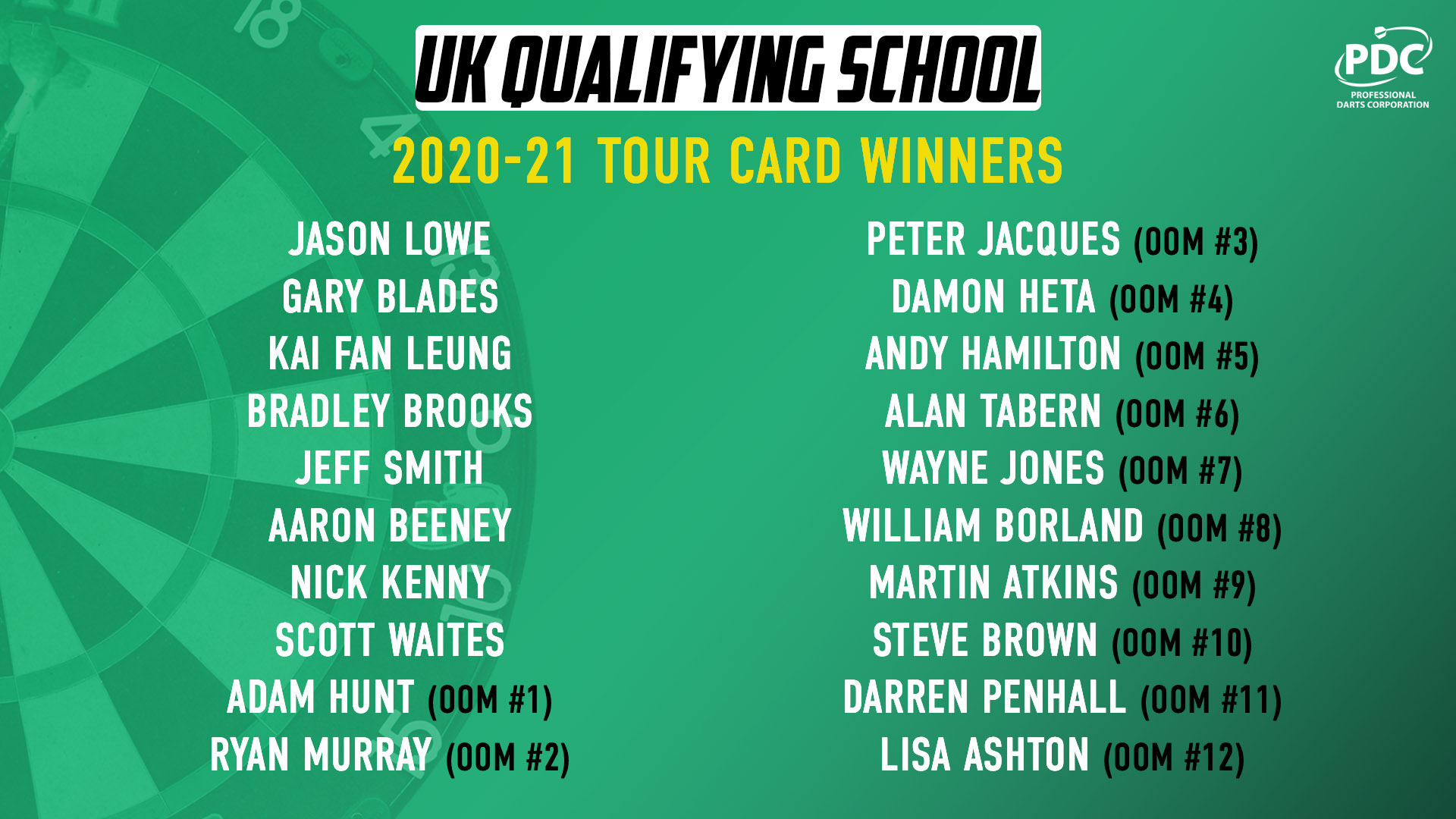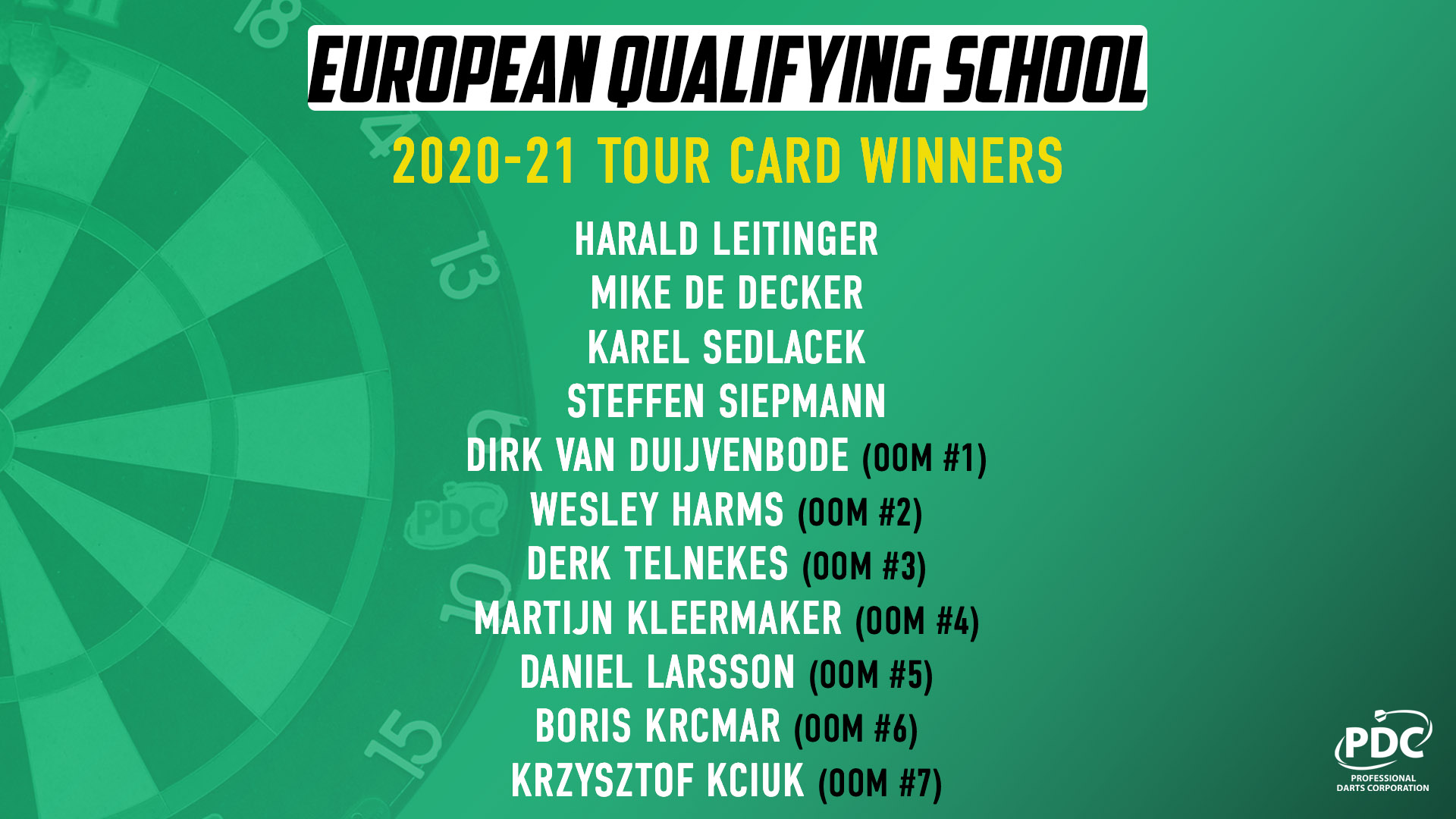 UK Qualfying School Day Four
Last 16
Wayne Jones 5-4 Thomas Lovely
Scott Taylor 5-3 Alexander Morrison
Stephen Burton 5-0 Darren Johnson
Nick Kenny 5-3 Darren Penhall
Matthew Dennant 5-0 Wes Newton
Keane Barry 5-1 Graham Usher
Scott Waites 5-3 Connor Scutt
Adam Hunt 5-4 Steve Hine
Last Eight
Scott Taylor 5-1 Wayne Jones
Nick Kenny 5-1 Stephen Burton
Keane Barry 5-2 Matthew Dennant
Scott Waites 5-4 Adam Hunt
Last Four
Nick Kenny 5-2 Scott Taylor
Scott Waites 5-0 Keane Barry
European Qualfying School Day Four
Last 16
Steffen Siepmann 5-4 Zoran Lerchbacher
Jose Justicia 5-4 Gino Vos
Lukasz Sawicki 5-0 Wesley Plaisier
Danny van Trijp 5-3 Dennis Nilsson
Wesley Harms 5-3 Boris Krcmar
Kevin Blomme 5-3 Michael Unterbuchner
Dirk van Duijvenbode 5-3 Derk Telnekes
Cody Harris 5-0 Daniel Larsson

Quarter-Finals
Steffen Siepmann 5-4 Jose Justicia
Danny van Trijp 5-4 Lukasz Sawicki
Wesley Harms 5-0 Kevin Blomme
Dirk van Duijvenbode 5-2 Cody Harris

Semi-Finals
Steffen Siepmann 5-1 Danny van Trijp
Wesley Harms 5-1 Dirk van Duijvenbode

Final
Steffen Siepmann 5-3 Wesley Harms