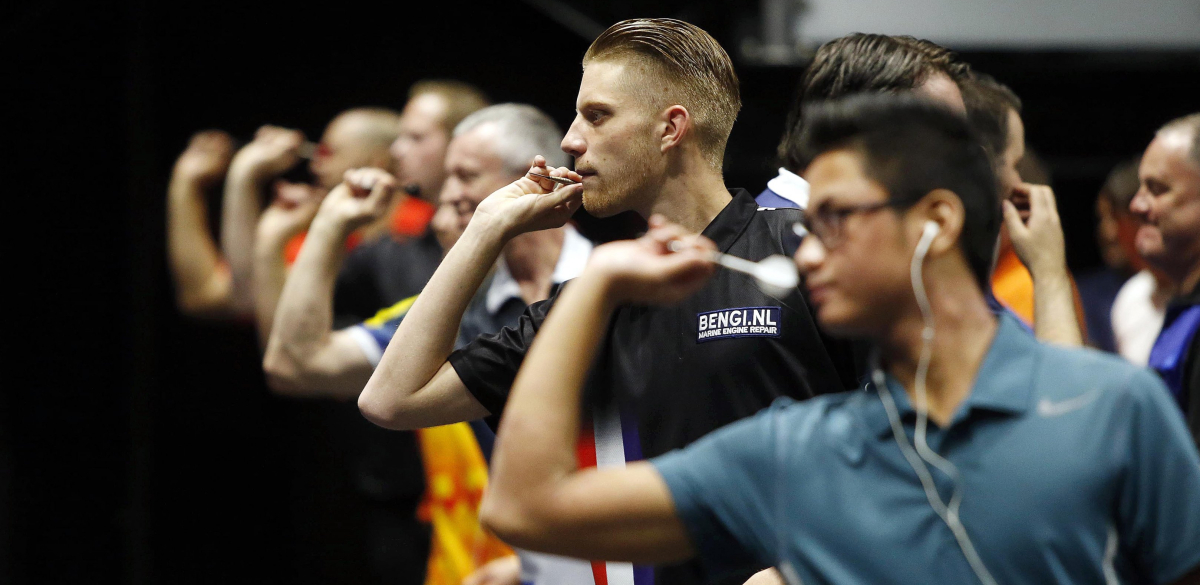 Entries have been confirmed for the first two European Tour Tour Card Holder Qualifiers which will take place in Wigan on February 14.
Under the new qualification criteria for 2020, PDC Tour Card Holders will now compete in one combined qualifier for a total of 24 places in each tournament, having previously been split into UK and European Qualifiers.
The 2020 European Tour, which will visit seven countries, will begin in Belgium for the Belgian Darts Championship (ET1) from February 28-March 1.
The European Darts Grand Prix (ET2) will take place at Glaspalast, Sindelfingen from March 20-22.
Under the new European Tour rules in 2020, the leading two non-qualified players from the Host Nation qualify automatically, with Dimitri Van den Bergh and Kim Huybrechts competing in the Belgian Darts Championship and Gabriel Clemens and Max Hopp securing places in the European Darts Grand Prix.
ET1 Seeded Players
1. Michael van Gerwen
2. Ian White
3. Gerwyn Price
4. Peter Wright
5. Krzysztof Ratajski
6. Mensur Suljovic
7. James Wade
8. Glen Durrant
9. Joe Cullen
10. Nathan Aspinall
11. Jonny Clayton
12. Rob Cross
13. Jermaine Wattimena
14. Jamie Hughes
15. Jeffrey de Zwaan
16. Michael Smith
Host Nation Qualifiers - Automatic Entries
1. Dimitri Van den Bergh
2. KimHuybrechts
ET1 Tour Card Holder Qualifier Entries
Friday February 14
Toni Alcinas
Lisa Ashton
Scott Baker
Michael Barnard
Barrie Bates
Steve Beaton
Aaron Beeney
Gary Blades
William Borland
Andy Boulton
Bradley Brooks
Steve Brown
Keegan Brown
Christian Bunse
Stephen Bunting
Gavin Carlin
Matt Clark
Gabriel Clemens
Mike De Decker
Jose De Sousa
Jan Dekker
Nathan Derry
Chris Dobey
Brendan Dolan
Matthew Edgar
Ricky Evans
Ted Evetts
Adrian Gray
Andy Hamilton
Wesley Harms
John Henderson
Damon Heta
Max Hopp
Luke Humphries
Adam Hunt
Peter Jacques
Wayne Jones
Ryan Joyce
Krzysztof Kciuk
Nick Kenny
Mervyn King
Jelle Klaasen
Martijn Kleermaker
Boris Krcmar
Maik Kuivenhoven
Harald Leitinger
Steve Lennon
Kai Fan Leung
Jamie Lewis
Jason Lowe
Mickey Mansell
Mark McGeeney
Yordi Meeuwisse
Ryan Meikle
Ron Meulenkamp
John Michael
Joe Murnan
Ryan Murray
Geert Nentjes
Jesus Noguera
Danny Noppert
Richard North
William O'Connor
David Pallett
Josh Payne
Darren Penhall
Devon Petersen
Justin Pipe
Madars Razma
Cristo Reyes
Reece Robinson
Rowby-John Rodriguez
Callan Rydz
Martin Schindler
Ryan Searle
Karel Sedlacek
Kirk Shepherd
Steffen Siepmann
Jeff Smith
Ross Smith
Simon Stevenson
Alan Tabern
Ciaran Teehan
Derk Telnekes
Robert Thornton
Benito van de Pas
Vincent van der Meer
Vincent van der Voort
Dirk van Duijvenbode
Mike van Duivenbode
Scott Waites
Harry Ward
Darren Webster
Steve West
Conan Whitehead
Carl Wilkinson
James Wilson
Luke Woodhouse
Jonathan Worsley
Niels Zonneveld
ET2 Seeded Players
1. Michael van Gerwen
2. Ian White
3. Gerwyn Price
4. Peter Wright
5. Dave Chisnall
6. Krzysztof Ratajski
7. Daryl Gurney
8. Mensur Suljovic
9. James Wade
10. Glen Durrant
11. Joe Cullen
12. Nathan Aspinall
13. Jonny Clayton
14. Rob Cross
15. Adrian Lewis
16. Jermaine Wattimena
Host Nation Qualifiers - Automatic Entries
1. Gabriel Clemens
2. Max Hopp
ET2 Tour Card Holder Qualifier Entries
Friday February 14
Toni Alcinas
Lisa Ashton
Martin Atkins
Scott Baker
Michael Barnard
Barrie Bates
Steve Beaton
Aaron Beeney
Gary Blades
William Borland
Andy Boulton
Bradley Brooks
Steve Brown
Keegan Brown
Christian Bunse
Stephen Bunting
Gavin Carlin
Matt Clark
Mike De Decker
Jose De Sousa
Jeffrey de Zwaan
Jan Dekker
Nathan Derry
Chris Dobey
Brendan Dolan
Matthew Edgar
Ricky Evans
Ted Evetts
Adrian Gray
Wesley Harms
John Henderson
Damon Heta
Jamie Hughes
Luke Humphries
Adam Hunt
Kim Huybrechts
Peter Jacques
Wayne Jones
Ryan Joyce
Marko Kantele
Krzysztof Kciuk
Nick Kenny
Mervyn King
Jelle Klaasen
Martijn Kleermaker
Boris Krcmar
Maik Kuivenhoven
Darius Labanauskas
Harald Leitinger
Steve Lennon
Kai Fan Leung
Jamie Lewis
Jason Lowe
Mickey Mansell
Mark McGeeney
Yordi Meeuwisse
Ryan Meikle
Ron Meulenkamp
John Michael
Joe Murnan
Ryan Murray
Geert Nentjes
Jesus Noguera
Danny Noppert
Richard North
William O'Connor
David Pallett
Josh Payne
Darren Penhall
Devon Petersen
Justin Pipe
Madars Razma
Cristo Reyes
Reece Robinson
Rowby-John Rodriguez
Callan Rydz
Martin Schindler
Ryan Searle
Karel Sedlacek
Kirk Shepherd
Steffen Siepmann
Michael Smith
Jeff Smith
Ross Smith
Simon Stevenson
Alan Tabern
Ciaran Teehan
Derk Telnekes
Robert Thornton
Benito van de Pas
Dimitri Van den Bergh
Vincent van der Meer
Vincent van der Voort
Dirk van Duijvenbode
Mike van Duivenbode
Scott Waites
Harry Ward
Darren Webster
Steve West
Conan Whitehead
Simon Whitlock
Carl Wilkinson
James Wilson
Luke Woodhouse
Jonathan Worsley
Niels Zonneveld