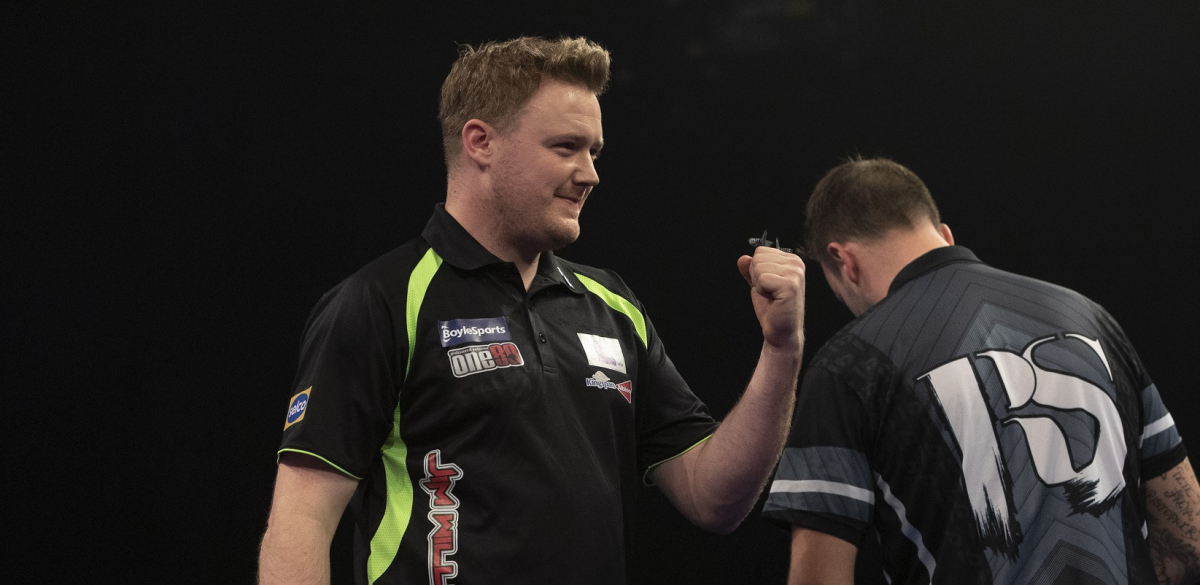 Jim Williams claimed his first PDC title with victory in Saturday's Unicorn Challenge Tour Event Seven as David Evans picked up his second win of the weekend in Barnsley.
Welsh ace Williams, a former BDO World Trophy winner, defeated Lewis Williams 5-2 in the final as the weekend's second day of action in Barnsley began.
The pair shared the opening four legs of a high-quality final, but it was Jim Williams who pulled clear to claim victory with legs of 13, 15 and 13 darts.
He also overcame former Lakeside Champions Richie Burnett and Scott Mitchell as well as 2009 UK Open finalist Colin Osborne in eight victories as he won the £2,000 title.
Evans, meanwhile, followed up Friday's Event Six triumph by scooping his second win of the weekend to move clear at the top of the Challenge Tour Order of Merit going into Sunday's final two events.
He saved his most dominant display for the final as he whitewashed Chas Barstow 5-0, and only dropped more than two legs in one of his eight wins as he edged out Nathan Rafferty 5-4 in the semi-finals.
Barstow overcame Friday's Event Five winner Keane Barry 5-3 in their quarter-finals as he won through to the final in his best-ever run on the Challenge Tour.
Event Eight also featured a nine-dart finish from Robbie Ellis during his first round win over Peter Mitchell.
The 2020 PDC Unicorn Challenge Tour season concludes on Sunday with the remaining two events, each worth £10,000 in prize money.
The top two players on the final Order of Merit will win two-year PDC Tour Cards, while the eventual Order of Merit winner will also qualify for the 2020/21 William Hill World Darts Championship.
Click here to see the latest PDC Unicorn Challenge Tour Order of Merit.
See full results in the Match Centre
See match stats through DartConnect
PDC Unicorn Challenge Tour
Saturday October 10, Barnsley Metrodome
Event Seven
Quarter-Finals
Lewis Williams 5-2 Chris Quantock
Mark Walsh 5-3 Jamie Clark
Scott Mitchell 5-2 Lewis Pride
Jim Williams 5-2 Tony Newell
Semi-Finals
Lewis Williams 5-2 Mark Walsh
Jim Williams 5-4 Scott Mitchell
Final
Jim Williams 5-2 Lewis Williams
Event Eight
Quarter-Finals
Chas Barstow 5-3 Keane Barry
Christopher Bent 5-1 Matthew Dennant
Nathan Rafferty 5-0 Adrian Devine
David Evans 5-1 Rusty-Jake Rodriguez
Semi-Finals
Chas Barstow 5-4 Christopher Bent
David Evans 5-4 Nathan Rafferty
Final
David Evans 5-0 Chas Barstow