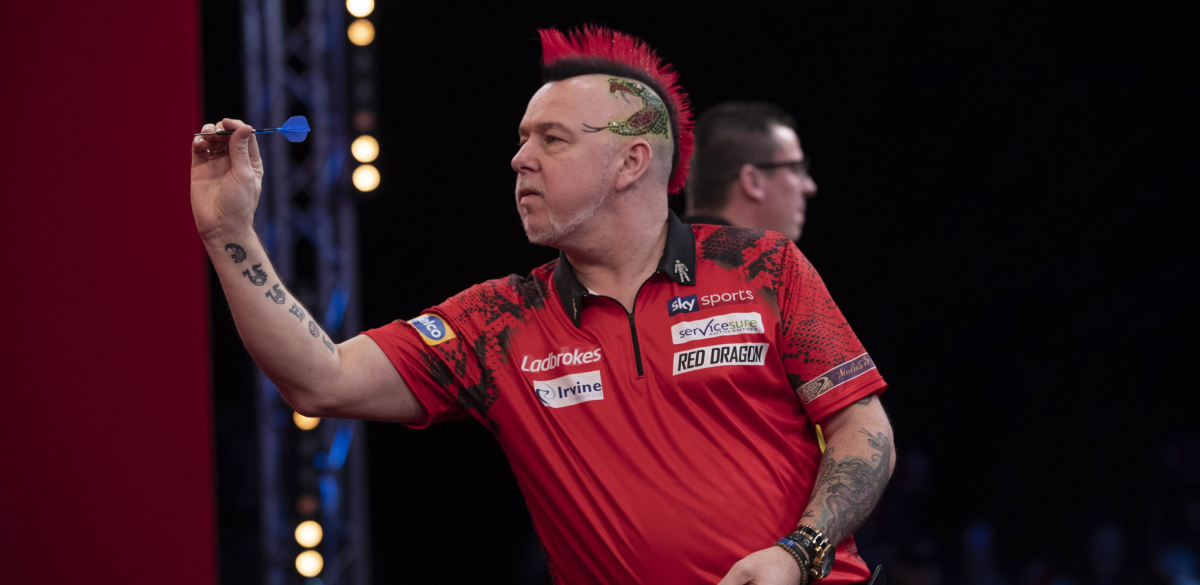 Ahead of the start of the Ladbrokes Players Championship Finals, PDC Stats Analyst Christopher Kempf has ranked the field by their performances in 2020 Players Championship events.
Some 2,500 matches took place in Players Championship events this year - the vast majority in the confines of a quarantined arena, far away from the crowds in both time and distance.

Using the probability of particular targets being hit for each three-dart score in stage events (in which we know the dart-by-dart breakdown), we can estimate how accurate each player has been anywhere on the board and cast some light on what was until recently a hidden aspect of the professional game.
Peter Wright, for the first time in his career the number one seed in a televised ranking event, and is appropriately the leader of the 2020 Players Championship Tour in almost every aspect of the game - treble accuracy, doubles success and overall averages.
In claiming four Players Championship titles, Wright hit an estimated 4,224 treble 20s with 44.7% accuracy; only four other players managed more than 3,000 treble 20s this year.
Newly-crowned Grand Slam of Darts champion Jose de Sousa is not far behind on the percentage (43.3%) - it has been a breakthrough year both for the dynamic Portuguese player and for the pride of Africa, Devon Petersen.
Petersen and De Sousa are the only two players in the Players Championship Finals field in the top ten of both treble 20 accuracy and avoidance of ones and fives.
Meanwhile, Michael van Gerwen is no longer the PDC's leading treble 19 hitter. That honour now belongs to Gerwyn Price, who has hit fewer treble 19s overall (843 to MvG's 986) but edges him out in the overall percentage accuracy - an impressive 46.65% of his darts thrown at that target have found their mark over the past year, while van Gerwen has hit 46.19%.
Another leading adopter of the treble 19 switch, Krzysztof Ratajski, also features near the top of the treble 19 leaderboard, breaking 45% in 2020.
Further down the list, Madars Razma's T19 and T20 rates indicate that he would be better off throwing for the former target, as he's 24% more likely to score 57 than 60!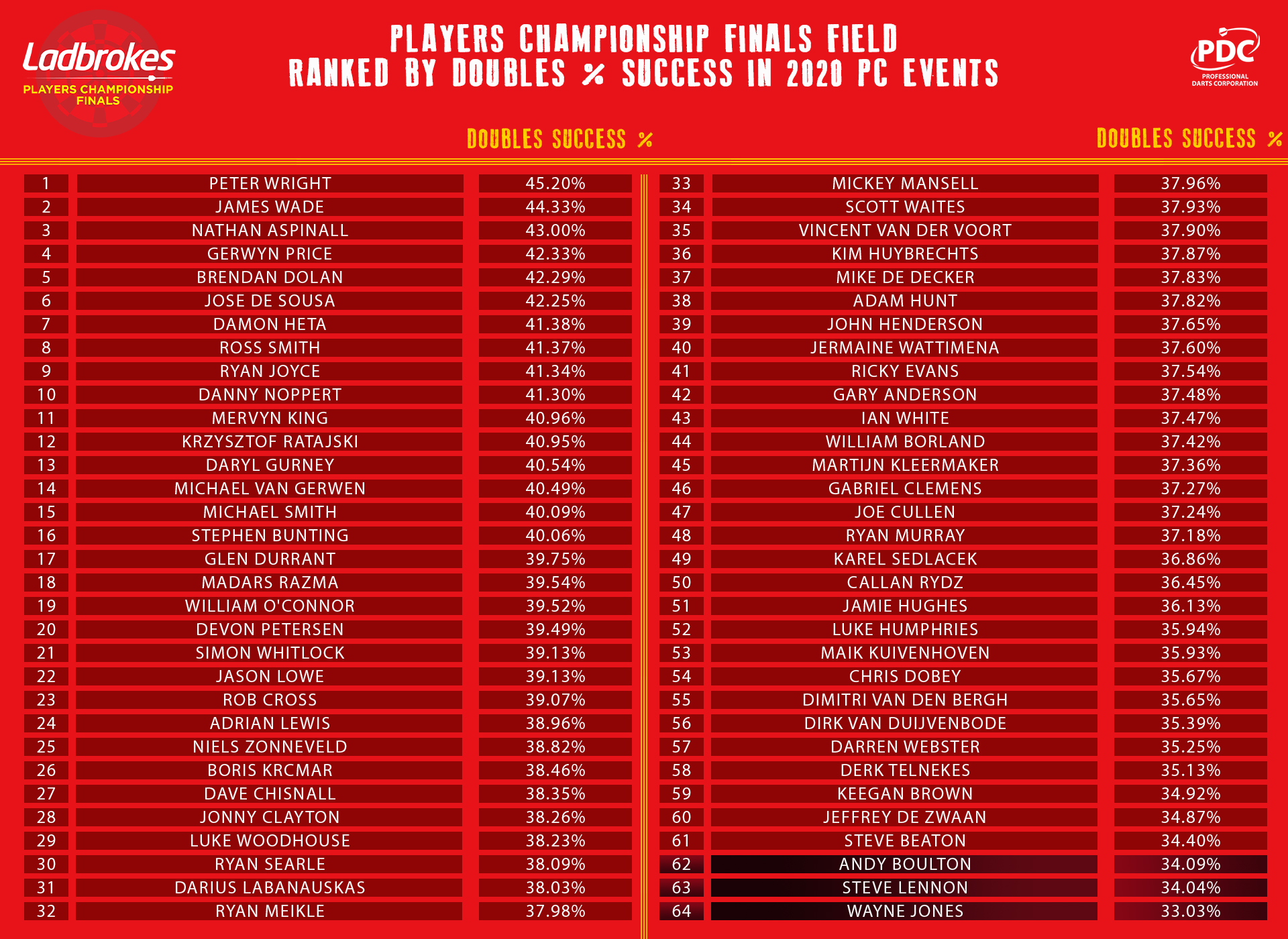 With the first two rounds of this weekend's tournament decided by short-format best-of-11 contests, a slight advantage in doubles accuracy is more likely to be the deciding factor than a marginal discrepancy on the trebles.
Number in doubles is James Wade - his eternal clinicism on the doubles in spite of his middling treble accuracy earned him a spot in the Grand Slam final and maintains his place among the PDC top ten.
Another veteran player, Mervyn King, is seeded 43rd in the tournament but has the 11th highest doubles percentage, putting him at an advantage relative to his first round opponent, Dave Chisnall, who ranks 27th in finishing.
Overall, one quarter of qualifiers, including Nathan Aspinall, Brendan Dolan and Ryan Joyce, are hitting better than 40% of their doubles.
Since there are so many tournaments contributing to the seeding of the 64 Players Championship qualifiers, one might reasonably expect that the seeding is a good reflection of players' overall skill.
Generally speaking this is true; it's no accident that the clear top three in the PDC Order of Merit are also the three top seeds in this weekend's tournament.
But from perusing the estimates of target accuracy and comparing the player's scores relative to each other, there are some players whose statistics suggest the possibility of a performance above and beyond the station of their seeding.
One of these is Ross Smith, who never reached a semi-final in his 23 Players Championship appearances, but has the eighth highest doubles percentage (41.37%) of the 64-man field.
Two recent graduated of the Development Tour, Callan Rydz and Luke Humphries, feature in the top ten in treble 20 accuracy; their 41.44% and 41.98%, respectively, exceed the treble rate of notoriously heavy scorer Michael Smith.
41st seed Jason Lowe has put up MvG-like numbers on Treble 19, owing to plenty of visits of 96 and 134; his 45.08% on that treble is 4th best out of the 64 contenders.
In a year in which the perennial dominance of MvG is being overthrown by newcomers, there is nothing to suggest that the statistical favourite for the tournament, Peter Wright, has more than a slight advantage against any of his rivals.
So many have the potential to take the title that the stats do not so much forecast a clear winner but indicate a talent-rich pool of as many as a dozen potential champions.