Marcus Robertson has left his role as a non-executive director of the Professional Darts Corporation, ending his 40-year involvement in the sport.
A former PR and sponsorship executive, Robertson first worked in darts in 1979 and went on to handle media during the formation and early years of the World Darts Council (later PDC).
Robertson subsequently joined the PDC's board of directors, played a role in Barry Hearn's arrival as chairman in 2001 and has helped to shape the sport's modern future during his time in the sport.
"It's been the greatest privilege of my working life to do this, and loved every minute of it," said Robertson, who founded PR & sponsorship agency Craigie Taylor.
"I've always loved the straight-forwardness of the players and people who work in the game. I've worked in a lot of sports, and as much as I loved that I never felt the same emotional closeness to the sport or the people as I do in darts.
"I've worked with the England cricket team and Manchester United down the years, but darts is easily the best.
"My first involvement in darts came at the end of 1979 when I was sent off to see the Marlboro Team of Champions, comprised of five top players at the time, playing an exhibition in Sheffield.
"The sponsor was our client and I knew nothing about darts. I was vaguely dreading it, yet within five minutes of watching darts I was in love with it.
"Barry often says that you have to make the most of your luck in situations, and from the moment that I came to that darts match in Sheffield I wanted to make this sport loved by everyone. That's the one thing I feel I've helped to achieve."
He added: "I'm a great sports fan and I think that the best darts matches are almost better in those final moments than any other sport.
"When you get games that can go from match dart for one player to the other within the space of a few seconds it's an incredible thing.
"I don't think there's anything that builds that tension quite so suddenly, and it's so exciting. When it's like that, it's so absorbing and I don't think you can ever take that away from it."
PDC chairman Barry Hearn said: "Marcus Robertson has made an immeasurable contribution to darts during his career, and whilst his work may have been unseen by many of the general public it was certainly valued and appreciated by his colleagues.
"His experience and knowledge of the sport has made him an important member of our board of directors, and his love for the sport is clear for all to see.
"Marcus leaves the PDC board with the best wishes of everyone involved in the organisation.
"From a personal standpoint, I will always be eternally grateful to Marcus for him being instrumental in my joining the PDC, and for the fun we've had on the journey that followed."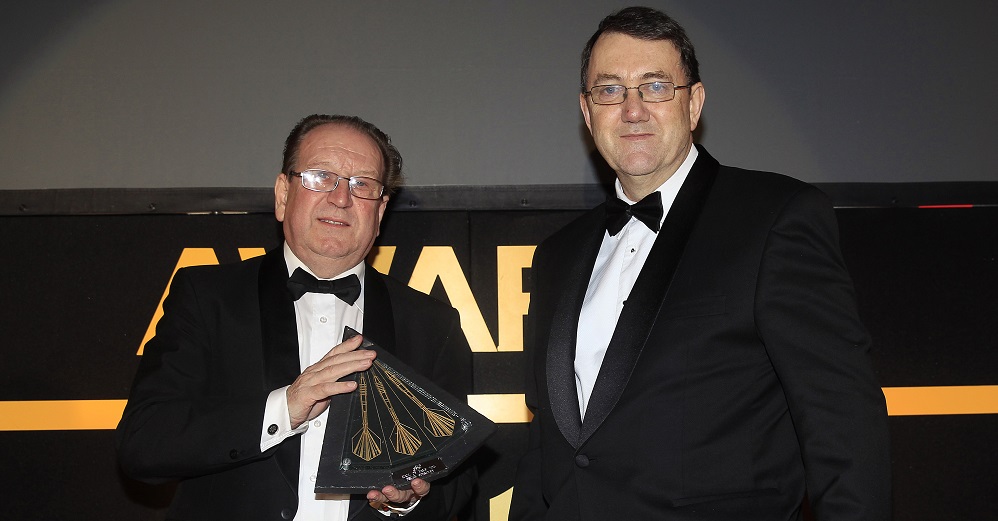 Robertson (pictured above with commentator John Gwynne) cites helping to bring Hearn on board as PDC chairman as one of his most memorable, and important, moments during his time in the sport.
"Barry has been an enormous addition to the game, with such great vision," added Robertson. "Probably the best thing we ever did was to invite Barry out for lunch in Knightsbridge to see if he was interested in getting involved in the sport.
"Before we sat down he asked what we wanted, and we said that we believed he could help get the business to move along a bit faster; he said that he knew we were in a fight, he liked a fight and he was in - and that was before we had lunch or told him how much it was going to cost, and the rest is history. 
"We're broadcasting now in 130 countries and there will be players out there somewhere in the world, who we don't even know about yet, who can have a huge impact.
"In the same way that I loved darts when I walked into that arena in Sheffield, anyone can switch on the TV and within five minutes they can understand the game, pick a favourite and suddenly they're hooked.
"That will happen around the world more and more, and I think we're maybe halfway on the journey to where the whole world is playing darts and watching it - but we'll get there!"
He added: "We would not be where we are now without Barry, but the last ten years has also needed a second person and Matt Porter has been an exceptional chief executive.
"With Barry and Matt, alongside the existing board of directors and the hard-working staff within the PDC, the sport is in good hands."