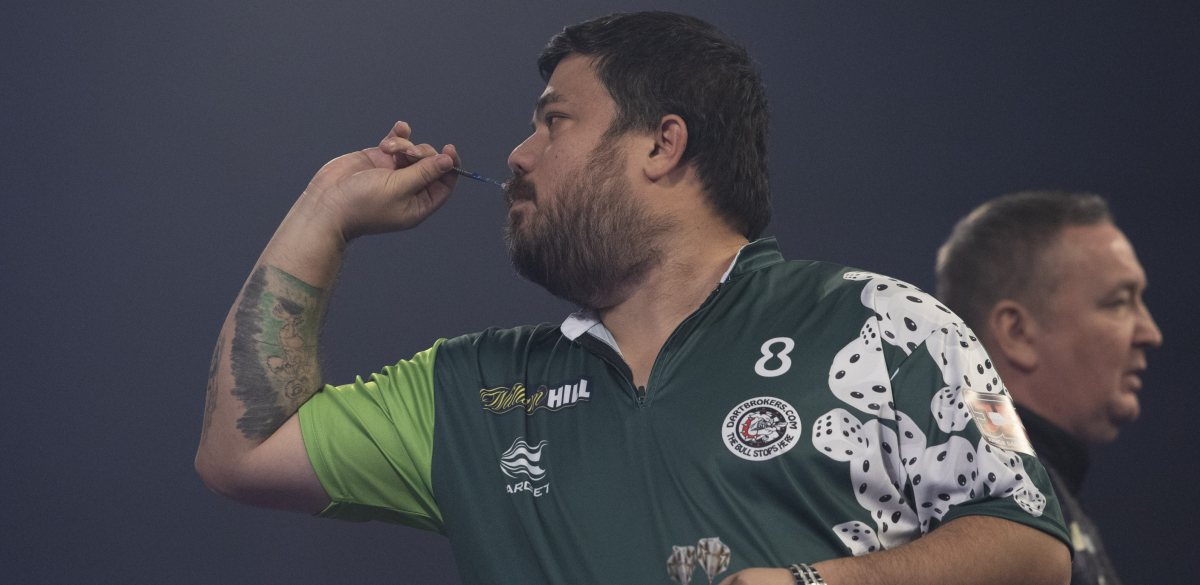 The two 128-player fields for the Final Stage of 2021 Qualifying Schools are now confirmed after Stage 1B concluded in the UK and Europe on Saturday.
The sixth day of action in Milton Keynes and Niedernhausen saw the final chance for players to win through to the Final Stage, taking place from Sunday to Wednesday, where 29 two-year PDC Tour Cards will be awarded.
American rising star Danny Baggish, who reached the last 32 at the 2020/21 World Championship, headlined the four automatic qualifiers at the Marshall Arena.
Development Tour event winner Jarred Cole, 2019 Irish Matchplay runner-up Liam Gallagher and Challenge Tour event winner Lee Evans also went unbeaten on the day to book their places in the Final Stage.
Another highly-rated American talent Leonard Gates was one of the automatic qualifiers in Niedernhausen, along with former World Championship competitor Dragutin Horvat, fellow-German Stefan Nilles and 26-year-old Dutchman Kay Smeets.
Joining the automatic qualifiers are the top 36 and 43 non-qualified players from the UK and European Stage 1B Orders of Merit respectively.
Among the UK Order of Merit qualifiers are former World Matchplay quarter-finalist Alan Norris, former UK Open semi-finalist Robert Owen and Challenge Tour event winner Ryan Harrington.
Former Lakeside champion Christian Kist, Canada's World Cup of Darts quarter-finalist Matt Campbell and former Tour Card Holder Robert Marijanovic were among the European Order of Merit qualifiers.
The full list of 128-player fields for the Final Stage of UK and European Q Schools are listed below.
Three players who qualified for the Final Stage via the European Q School Orders of Merit have withdrawn and have been replaced by the next three highest non-qualified players taken in order from a combined reserves list.
Marko Puls, Karel Papezik and Marcel Zwally have withdrawn and will be replaced by Toon Greebe, Michael Hausler and Andrew Beeton.
Sunday's play will commence at 1100 GMT in Niedernhausen and 1400 GMT in Milton Keynes.
In addition to the eight automatic Tour Card winners, the top 13 and eight players on the UK and European Orders of Merit respectively will win two-year Tour Cards.
Click here for full results from Stage 1B Day Three of UK Qualifying School.
Click here for full results from Stage 1B Day Three of European Qualifying School.
UK Qualifying School Stage 1B Day Three
Last 16
Lee Evans 6-0 Lewis Pride
John O'Shea 6-5 Prakash Jiwa
Jock Watt 6-4 Ryan Palmer
Liam Gallagher 6-4 Sean Fisher
Martyn Turner 6-1 Adam Mould
Jarred Cole 6-2 Shane O'Connor
Daniel Baggish 6-3 Lee Cocks
Reece Colley 6-1 Kevin Garcia

Last Eight
Lee Evans 6-5 John O'Shea
Liam Gallagher 6-2 Jock Watt
Jarred Cole 6-3 Martyn Turner
Daniel Baggish 6-1 Reece Colley

European Qualifying School Stage 1B Day Three
Last 16
Leonard Gates 6-1 Martijn Dragt
Sergio Krassen 6-3 Michal Smejda
Dragutin Horvat 6-5 Christian Kist
Matt Campbell 6-3 Arjan Konterman
Gino Vos 6-1 Michael Seemann
Stefan Nilles 6-3 Stefan Bellmont
Robbie Knops 6-4 Luc Peters
Kay Smeets 6-2 Marcel Gerdon

Last Eight
Leonard Gates 6-0 Sergio Krassen
Dragutin Horvat 6-3 Matt Campbell
Stefan Nilles 6-3 Gino Vos
Kay Smeets 6-4 Robbie Knops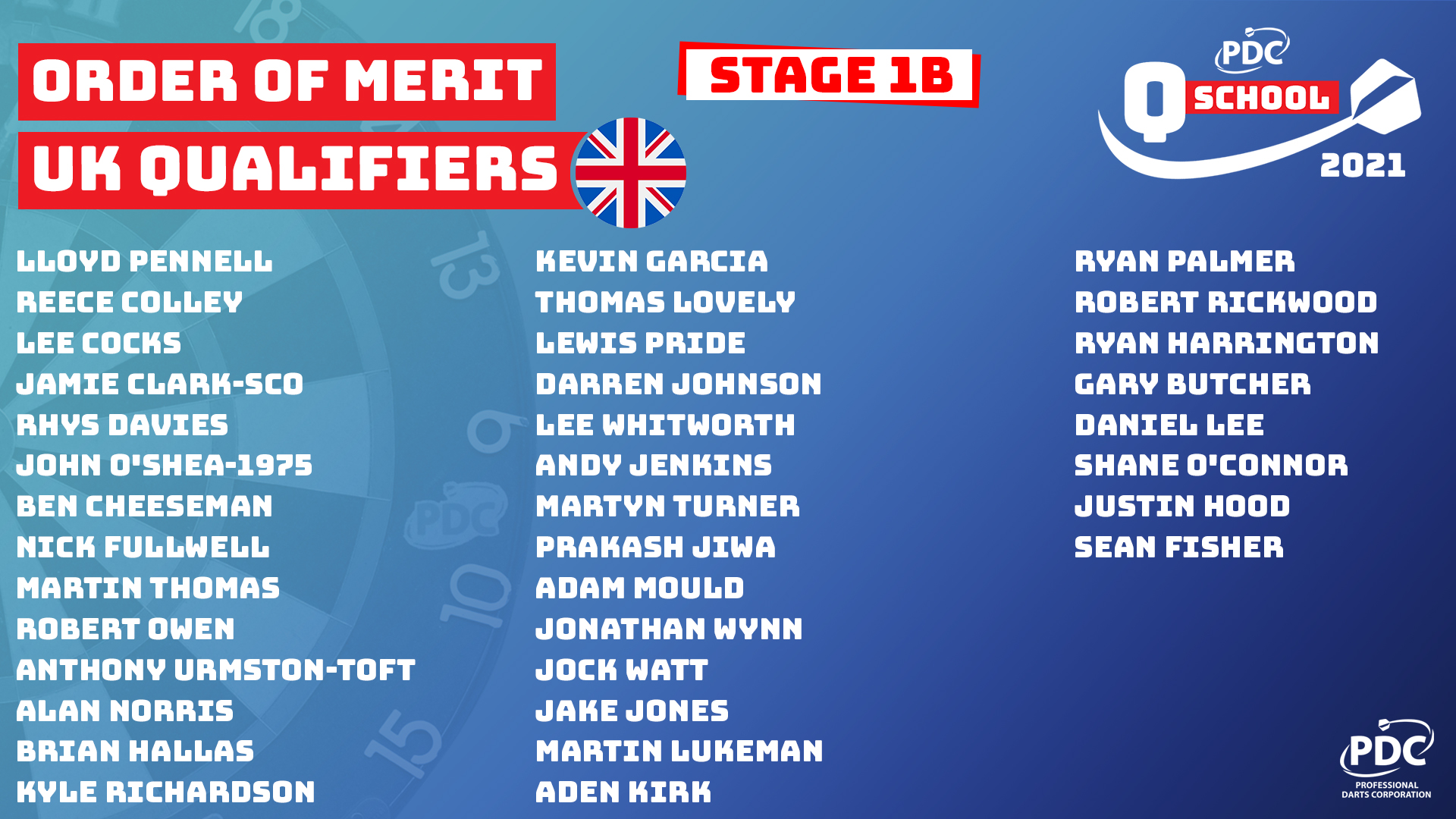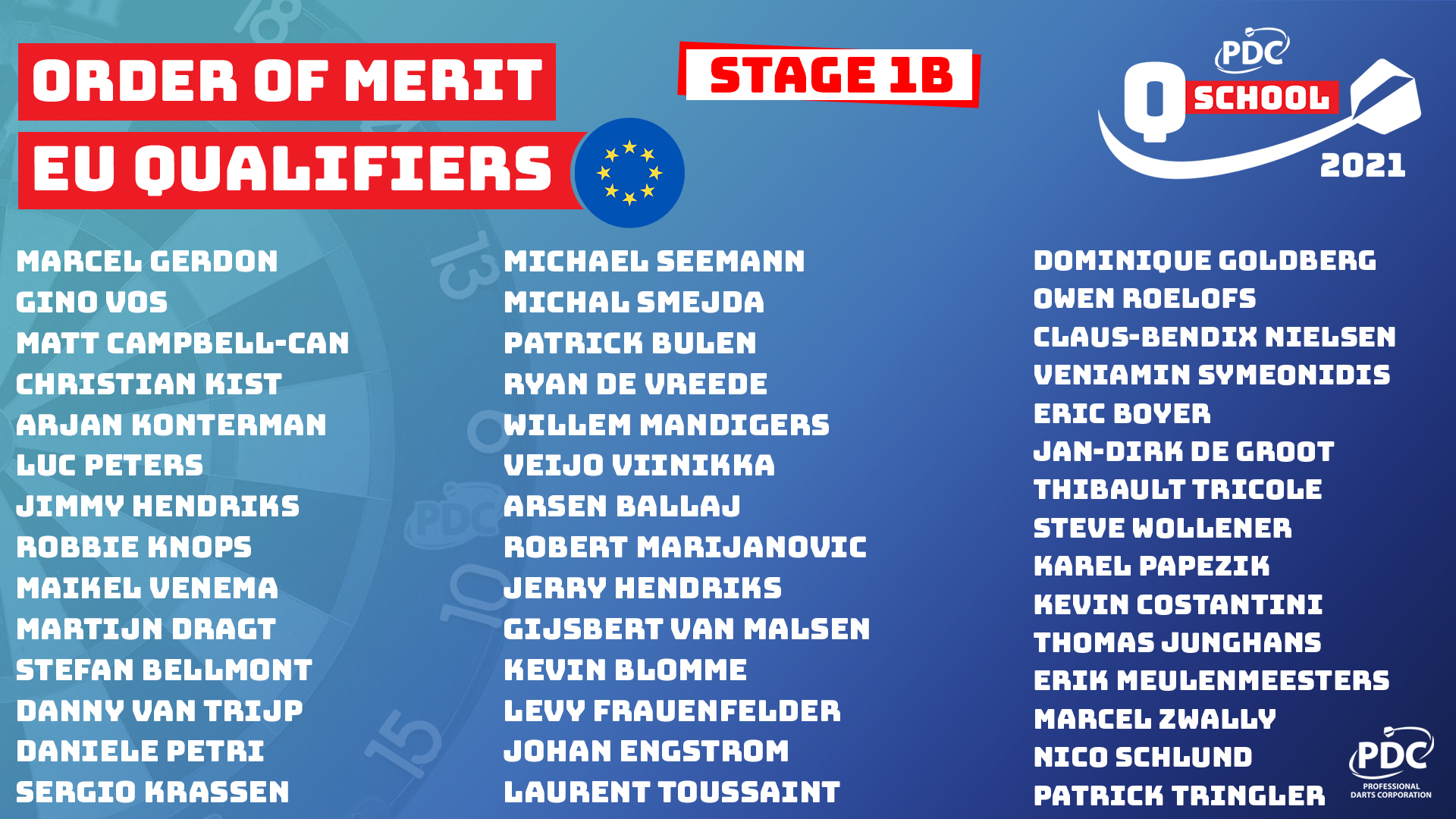 Final Stage Qualifiers
UK Qualifying School
Players Exempt To Final Stage (32): Scott Baker, Michael Barnard, Barrie Bates, Richie Burnett, Gavin Carlin, Matt Clark, Robert Collins, Joe Davis, Matthew Dennant, Nathan Derry, Andrew Gilding, Adrian Gray, Rhys Griffin, Adam Huckvale, Keelan Kay, Jamie Lewis, Scott Mitchell, Joe Murnan, Richard North, David Pallett, Nathan Rafferty, Reece Robinson, Kirk Shepherd, Simon Stevenson, Dom Taylor, Scott Taylor, Robert Thornton, Conan Whitehead, Carl Wilkinson, Jim Williams, Lewis Williams, Jon Worsley
Stage 1A Automatic Qualifiers (12): Eddie Lovely, Chas Barstow, Derek Coulson, Dale Hughes, Sam Booth, Ian Mackenzie, Mike Warburton, Jason Hogg, Christopher Bent, Ryan Hogarth, John Imrie, Kevin Painter
Stage 1A Order of Merit Qualifiers (36): David Wawrzewski, Peter Hudson, John Brown, Josh McCarthy, Shane McGuirk, Kevin Thomas, Sam Cankett, Fallon Sherrock, Arron Monk, Brett Claydon, David Airey, Liam Meek, Jim McEwan, Adam Smith-Neale, Niall Culleton, Charlie Symons, Matt Jackson, Jaikob Selby-Rivas, Stephen Gallimore, Gordon Mathers, Jason Heaver, David Ladley, Nathan Girvan, Scott Williams, Kevin McDine, Haupai Puha, James Bailey, John Scott, Jack Main, Jack Vincent, Paul Mitchell, Steve Earley, Connor Scutt, Shaun McDonald, Graham Usher, Chris Quantock
Stage 1B Automatic Qualifiers (12): Alan Soutar, Darren Beveridge, José Marquês, Kevin Burness, Mark Dudbridge, Paul Holloway, Martin Heneghan, Jason Askew, Lee Evans, Liam Gallagher, Jarred Cole, Daniel Baggish
Stage 1B Order of Merit Qualifiers (36): Lloyd Pennell, Reece Colley, Lee Cocks, Jamie Clark, Rhys Davies, John O'Shea, Ben Cheeseman, Nick Fullwell, Martin Thomas, Robert Owen, Anthony Urmston-Toft, Alan Norris, Brian Hallas, Kyle Richardson, Kevin Garcia, Thomas Lovely, Lewis Pride, Darren Johnson, Lee Whitworth, Andy Jenkins, Martyn Turner, Prakash Jiwa, Adam Mould, Jonathan Wynn, Jock Watt, Jake Jones, Martin Lukeman, Aden Kirk, Ryan Palmer, Robert Rickwood, Ryan Harrington, Gary Butcher, Daniel Lee, Shane O'Connor, Justin Hood, Sean Fisher
European Qualifying School
Players Exempt To Final Stage (17): Toni Alcinas, Sebastian Bialecki, Christian Bunse, Jan Dekker, Kevin Doets, Marko Kantele, John Michael, Damian Mol, Geert Nentjes, Brian Raman, Rowby-John Rodriguez, Martin Schindler, Benito van de Pas, Vincent Van der Meer, Jitse Van der Wal, Maikel Verberk, Niels Zonneveld
Stage 1A Automatic Qualifiers (12): Michael Plooy, Adam Gawlas, Lorenzo Pronk, Richard Veenstra, Luksa Wenig, Davy Proosten, Boris Koltsov, Michael Rasztovits, Raymond van Barneveld, Jeremy van der Winkel, Nico Kurz, Franz Roetzsch
Stage 1A Order of Merit Qualifiers (44): Geert de Vos, Ricardo Pietreczko, Steven Noster, Remo Mandiau, Moreno Blom, Wesley Plaisier, Sven Hilling, Patrick van den Boogaard, Michael Unterbuchner, Jeroen Mioch, Jiri Brejcha, Eimardo van Engelen, Jeffrey Van Egdom, Niko Springer, Dennie Olde Kalter, Kenny Neyens, El-Abbas el Amri, Mindaugas Barauskas, Pero Ljubic, Sebastian Steyer, Jens Ziegler, Chris Landman, Mario Vandenbogaerde, Rene Eidams, Stefan Taferner, Jaimy van de Weerd, Rients Visser, Michael Stoeten, Marco Obst, Philip Van Gasse, Gian van Veen, Patrik Kovacs, Andreas Toft-Jorgensen, Karsten Koch, Kai Gotthardt, Ivan Springborg-Poulsen, Artur Jaa, Gillian Koehoorn, Sven Fiedler, Roland Hol, Egor Tvorogov, Sebastian Pohl, Daniel Meyer, Toon Greebe
Stage 1B Automatic Qualifiers (12): Jeffrey de Graaf, Gary Mawson, Rusty-Jake Rodriguez, Zoran Lerchbacher, Davyd Venken, Florian Hempel, Jose Justicia, Ronny Huybrechts, Leonard Gates, Dragutin Horvat, Stefan Nilles, Kay Smeets
Stage 1B Order of Merit Qualifiers (43): Marcel Gerdon, Gino Vos, Matt Campbell, Christian Kist, Arjan Konterman, Luc Peters, Jimmy Hendriks, Robbie Knops, Maikel Venema, Martijn Dragt, Stefan Bellmont, Danny van Trijp, Daniele Petri, Sergio Krassen, Michael Seemann, Michal Smejda, Patrick Bulen, Ryan de Vreede, Willem Mandigers, Veijo Viinikka, Arsen Ballaj, Robert Marijanovic, Jerry Hendriks, Gijsbert van Malsen, Kevin Blomme, Levy Frauenfelder, Johan Engstrom, Laurent Toussaint, Dominique Goldberg, Owen Roelofs, Claus-Bendix Nielsen, Veniamin Symeonidis, Eric Boyer, Jan-Dirk de Groot, Thibault Tricole, Steve Wollener, Kevin Costantini, Thomas Junghans, Erik Meulenmeesters, Nico Schlund, Patrick Tringler, Michael Hausler, Andrew Beeton