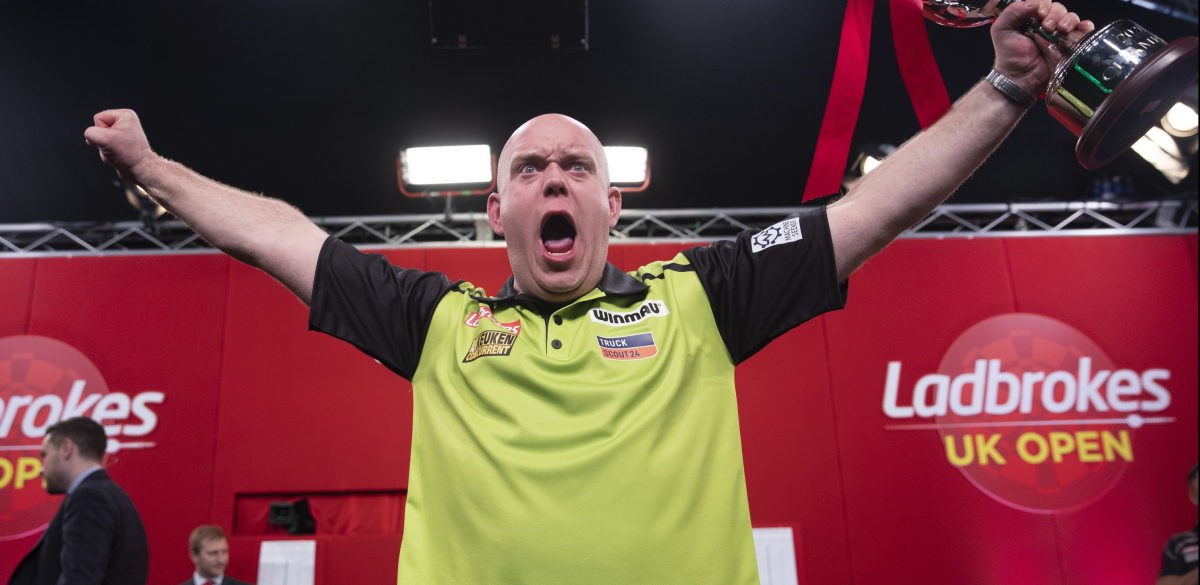 Michael van Gerwen believes retaining his UK Open title this weekend would be the ideal tonic for him to return to winning ways as he looks to reclaim the world number one spot in 2021.
Van Gerwen will be seeking a first trophy since November in Milton Keynes, having suffered defeats to Dave Chisnall and Jonny Clayton at the World Championship and Masters respectively.
The world number two also failed to pick up one of the four Players Championship titles on offer at last week's Super Series 1, but Van Gerwen's confidence in his process remains unwavering.
Reflecting on Super Series 1, Van Gerwen said: "I was a bit up and down, not steady enough, everything was around 97-99 average and you can't get away with that if you want to win ProTours.
"I had a couple of averages over 100 but I know what I'm capable of, and that makes you a little bit more frustrated when you don't play your best game often enough.
"I used two sets of darts over the four days which probably didn't help with my consistency.
"I'm always busy and working hard to make sure I've got the right darts for myself.
"Changing darts is never an easy thing. If it was then players would bring out new sets all the time and play with them on TV; you have to throw with what is comfortable for you.
"But it's nothing to do with the darts [not winning a title at Super Series 1], it's the mental aspect that I need to deal with.
"The best medicine for that is winning games and titles, but that's easy to say.
"You have to keep investing in yourself, keep working hard, and eventually the rewards will come."

Van Gerwen claimed his third UK Open title 12 months ago, but the reigning champion could begin his title defence against the likes of World Champion Gerwyn Price or 2017 champion Peter Wright on Friday night due to the tournament's open draw format.
The Dutchman, who saw his seven-year reign as world number one ended by Price at the World Championship, will be determined to clinch the year's first televised ranking title as he bids to reclaim the number one spot in 2021.
"It's one of the biggest tournaments of the year and one that I enjoy," said Van Gerwen, who is 4/1 favourite for the title with sponsor Ladbrokes.
"It's something different, it's like the FA Cup with the open draw format. That make is harder to prepare because you don't know who you are going to play.
"I need to make sure I use my experience to achieve a good level of performance.
"The format is a bit longer, which suits me and means you can afford to make the odd mistake here and there, even though you don't want to of course.
"By the end of the year I want to try and be world number one again, bit it's going to be really tough because the prize money for the World Championship winner is massive.
"I'm still the man to beat like always. I need to handle the pressure and make sure I play well."
The 2021 Ladbrokes UK Open begins on Friday in Milton Keynes as 152 players compete in the unique multi-board event for the coveted title and £450,000 in prize money.
Main Stage matches will be broadcast live on ITV4 for UK viewers, through the PDC's international broadcast partners, including DAZN and RTL7, and on PDCTV for Rest of the World Subscribers.
Action on Stage Two action on Friday and Saturday will be streamed exclusively for all PDCTV Subscribers worldwide.
2021 Ladbrokes UK Open
Friday March 5
Afternoon Session (1100 GMT Start, 1200 GMT on Main Stage)
First, Second & Third Rounds 
Main Stage
Berry van Peer v Martin Schindler (R1)
Brett Claydon v Danny Baggish (R1)
Aaron Beeney v Lisa Ashton (R2)
Maik Kuivenhoven v Koltsov/Rusty-Jake Rodriguez (R2)
Alan Soutar v Raymond van Barneveld (R2)
Keane Barry v Nentjes/Burnett (R2)
Max Hopp v William O'Connor (R3)
Damon Heta v Siepmann/D Evans (R3)
Soutar/Van Barneveld v Mickey Mansell (R3)
Stage Two
Gordon Mathers v Kirk Shepherd (R1)
Boris Koltsov v Rusty-Jake Rodriguez (R1)
Zoran Lerchbacher v Jim Williams (R1)
Geert Nentjes v Richie Burnett (R1)
Martin Atkins v Bradley Brooks (R2)
Martijn Kleermaker v Wayne Jones (R2)
Peters/L Williams v Scott Mitchell (R2)
Ciaran Teehan v Claydon/Baggish (R2)
Mark McGeeney v Steve Beaton (R3)
Ross Smith v Callan Rydz (R3)
Beeney/Ashton v Darius Labanauskas (R3)
Murray/Kciuk v Kim Huybrechts (R3)
Stage Three
Rhys Griffin v Sean Fisher (R1)
Matt Jackson v Nathan Rafferty (R1)
Keelan Kay v Kevin McDine (R1)
Rowby-John Rodriguez v Brian Raman (R1)
Nick Kenny v Ryan Meikle (R2)
Jeff Smith v Van Peer/Schindler (R2)
Andy Hamilton v Edhouse/Mol (R2)
Lerchbacher/J Williams v Mathers/Shepherd (R2)
James Wilson v Keegan Brown (R3)
Atkins/Brooks v Waites/S Brown (R3)
Barry/Nentjes/Burnett v Luke Woodhouse (R3)
S Taylor/Michael/Lukeman/Verberk v Adam Hunt (R3)
Stage Four
Jitse Van der Wal Bye (Florian Hempel withdrew) (R1)
Geert De Vos v Niels Zonneveld (R1)
Martin Lukeman v Maikel Verberk (R1)
Scott Taylor v John Michael (R1)
Michael Rasztovits v Peter Jacques (R2)
Hudson/De Vreede v Jesus Noguera (R2)
Scott Waites v Steve Brown (R2)
Kay/McDine v Rowby-John Rodriguez/Raman (R2)
Ryan Joyce Bye (Cristo Reyes withdrew) (R3)
Heaver/Pronk/Lovely v Ron Meulenkamp (R3)
Murnan/Dennant/Leung v Kenny/Meikle (R3)
Lerchbacher/J Williams/Mathers/Shepherd v Madars Razma (R3)
Stage Five
Shane McGuirk v Jack Main (R1)
Jason Heaver v Lorenzo Pronk (R1)
Luc Peters v Lewis Williams (R1)
Steffen Siepmann v David Evans (R2)
De Vos/Zonneveld v Derk Telnekes (R2)
Alan Tabern v Gawlas/Vos (R2)
Murnan/Dennant v Kai Fan Leung (R2)
Steve West v Jason Lowe (R3)
Andy Boulton v Jelle Klaasen (R3)
Borland/Davis/Doets v Steve Lennon (R3)
Leitinger/Sedlacek v De Decker/Griffin/Fisher (R3)
Raztovits/Jacques v Teehan/Claydon/Baggish (R3)
Stage Six
Jim McEwan v Sebastian Bialecki (R1)
Chas Barstow v Lukas Wenig (R1)
Joe Murnan v Matthew Dennant (R1)
Jon Worsley v Andrew Gilding (R2)
McGuirk/Main v Robert Collins (R2)
Mike De Decker v Griffin/Fisher (R2)
S Taylor/Michael v Lukeman/Verberk (R2)
John Henderson v Matt Edgar (R3)
Hamilton/Edhouse/Mol v J Jones/D Taylor/Blades (R3)
J Smith/Van Peer/Schindler v Kleermaker/W Jones (R3)
J Brown/Carlin/Jackson/Rafferty v Barstow/Wenig/Thomas (R3)
Stage Seven
Joe Davis v Kevin Doets (R1)
Adam Gawlas v Gino Vos (R1)
Ritchie Edhouse v Damian Mol (R1)
Harald Leitinger v Karel Sedlacek (R2)
J Jones/D Taylor v Gary Blades (R2)
J Brown/Carlin v Jackson/Rafferty (R2)
Barstow/Wenig v Martin Thomas (R2)
Justin Pipe v Luke Humphries (R3)
Kuivenhoven/Koltsov/Rusty-Jake Rodriguez v Brendan Dolan (R3)
Hudson/De Vreede/Noguera v Tabern/Gawlas/Vos (R3)
Kay/McDine/Rowby-John Rodriguez/Raman v Josh Payne (R3)
Stage Eight
Jake Jones v Dom Taylor (R1)
Peter Hudson v Ryan De Vreede (R1)
John Brown v Gavin Carlin (R1)
Ryan Murray v Krzysztof Kciuk (R2)
William Borland v Davis/Doets (R2)
McEwan/Bialecki v Jitse van der Wal (R2)
Heaver/Pronk v Eddie Lovely (R2)
Ted Evetts v Darren Webster (R3)
McGuirk/Main/Collins v Ryan Searle (R3)
Peters/L Williams/Mitchell v Worsley/Gilding (R3)
McEwan/Bialecki/Van der Wal v De Vos/Zonneveld/Telnekes (R3)
Please note: Schedule of play is subject to change and any amendments will be notified at the PDC website as soon as possible.
Session Times
Friday March 5
Afternoon Session (1100 GMT start – 1200 GMT start on Main Stage)
First, Second & Third Rounds
Main Stage, Stage Two & Stages Three-Eight
Evening Session (1900 GMT start)
Fourth Round
Main Stage, Stage Two & Stages Three-Eight
Saturday March 6
Afternoon Session (1230 GMT start)
Fifth Round
Main Stage, Stage Two & Stages Three-Four
Evening Session (1900 GMT start)
Sixth Round
Main Stage & Stage Two
Sunday March 7
Afternoon Session (1245 GMT start)
Quarter-Finals
Main Stage
Evening Session (1900 GMT start)
Semi-Finals & Final
Main Stage
Format
First, Second & Third Rounds - Best of 11 legs
Fourth, Fifth & Sixth Rounds & Quarter-Finals - Best of 19 legs
Semi-Finals & Final - Best of 21 legs
Prize Fund
Winner - £100,000
Runner-Up - £40,000
Semi-Finalists - £20,000
Quarter-Finalists - £12,500
Sixth Round Losers - £7,500
Fifth Round Losers - £4,000
Fourth Round Losers - £2,000
Third Round Losers - £1,000
Total - £450,000