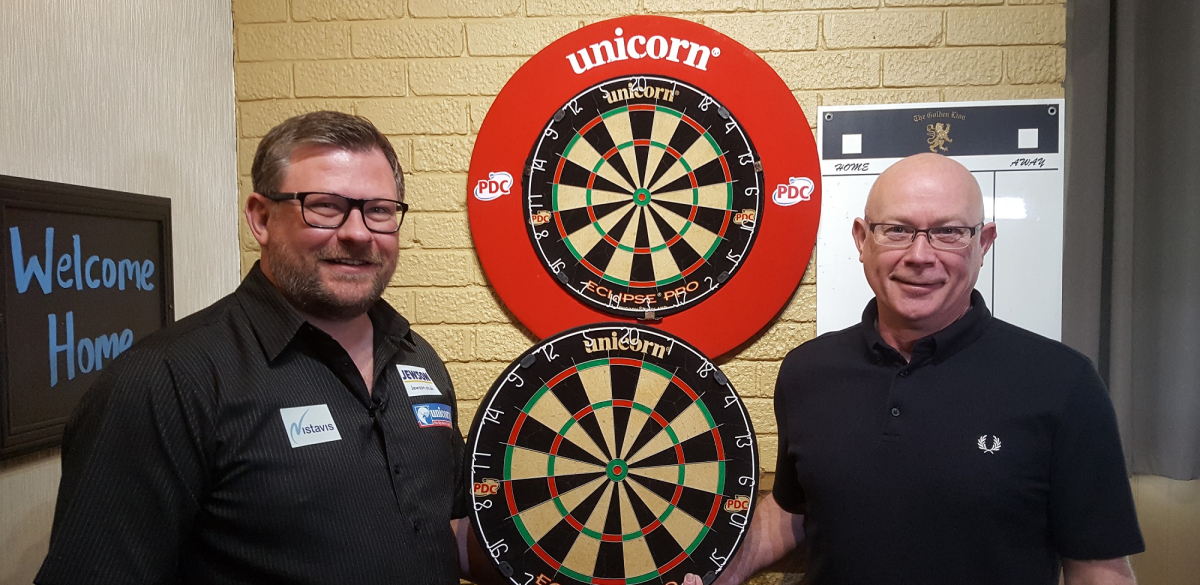 PDC star James Wade kicked off the #SupportYourLocal campaign on Monday by donating the first of 100 Unicorn dartboards to be distributed to pubs across the UK.
The PDC and manufacturers Unicorn have teamed up to donate 100 dartboards to pubs in England, Scotland and Wales to celebrate the reopening of indoor hospitality.
Over 1,000 pubs were nominated by darts fans, players and celebrities, including Aldershot's Golden Lion - a venue which hosts men's and women's darts teams and will soon be returning to local league action.
2021 UK Open champion Wade starred in the pub's team during his formative years, and returned to his former local to present a new Unicorn dartboard to kick off the #SupportYourLocal campaign.
"I've played a lot in the Golden Lion over the years and I spent many an hour practising on the dartboards, so it's nice to be able to give something back to them now," said Wade.
"A lot of people around Aldershot love darts and it's a great way for people to get together, because anyone can play the game.
"You don't get that in other sports - it's not just about the darts, it's about people interacting and having fun.
"This is the grassroots of the sport - darts has been around in pubs for a long time and I'm hoping that things will start to change now that we're coming out of Lockdown.
"So many great players have come from places like the Golden Lion - people like Phil Taylor started out playing in pubs, and although we've got the structures in places around the sport now, there might still be a diamond in the rough playing darts in a pub."
Golden Lion manager Paul Marshall said: "It's a big day for us to be back open after what's been a really tough time – we've been closed for six-and-a-half months but hopefully this is the first step back towards normality.
"The darts teams here are so important for us as a pub but also for our regulars, and it was great for us to welcome back James. The new dartboard already has pride of place on the wall and we're sure it will get plenty of use."
Wade's fellow Premier League stars Gary Anderson and Dimitri Van den Bergh were joined by former Sky Sports presenter Dave Clark and darts-loving Stephen Fry in nominating pubs.
In addition, over 1,000 fans nominated pubs, who will now begin to receive Unicorn dartboards to celebrate the easing of restrictions across the UK.
Darts player returning to playing the sport are encouraged to share their photos on social media using the hashtag #SupportYourLocal.