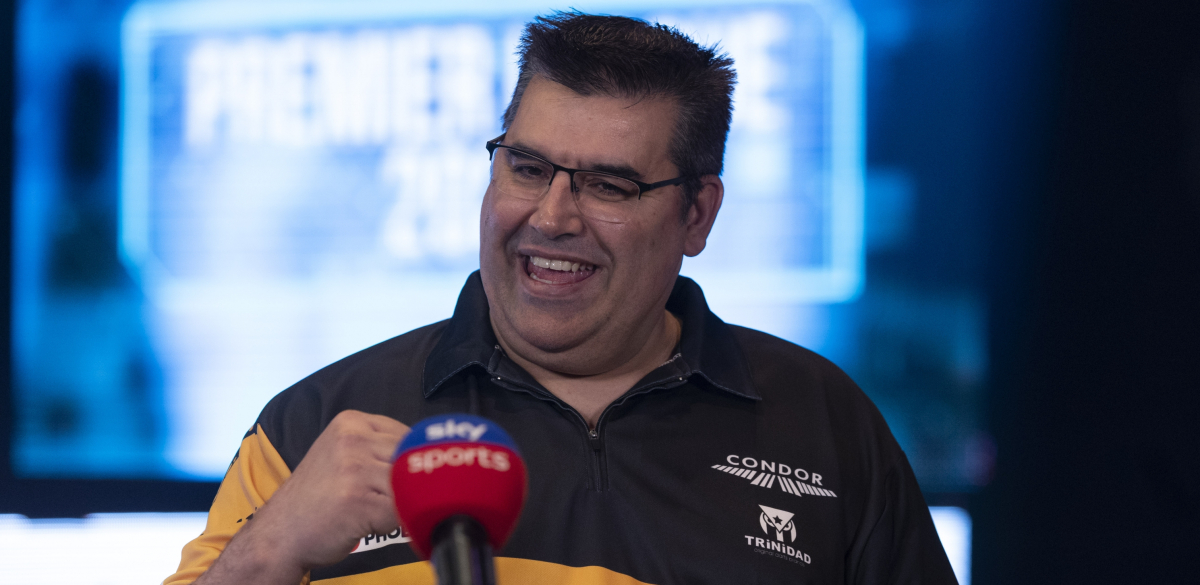 Jose de Sousa is dreaming of going all the way in Unibet Premier League as he gears up for a return to action in Milton Keynes next week.
Portugal's nonchalant star has made a big impression in his maiden Premier League campaign, sitting fourth after 13 nights of action and threatening to smash the tournament's 180 record. 
De Sousa will be back in action in front of fans at the Marshall Arena from Monday-Thursday as he looks to secure a top fourth berth which would see him return for the Play-Offs on Friday May 28.
"I will be trying my best to make my dream of winning the Premier League come true," De Sousa told The Darts Show Podcast.
"I never expect anything in darts, you have to work for success. But if I can do it I will be a very, very happy man.
"At the start of the Premier League I was disappointed, I felt I deserved better results and I got a bit unlucky with my doubles.
"But I keep pushing and pushing to get better, which you have to when you are playing top players every night.
"It's nice to spend a little time at home with family at the moment, it feels like a holiday after being away for so long!
"But now I'm looking forward to getting back and I can't wait to play in front of the crowd. It's always nice to see the crowd at the darts enjoying themselves - I hope to hit a lot of 180s for them!"
De Sousa is looking to follow in the footsteps of Glen Durrant by lifting the title in his debut campaign, but success has not always come easily to the 47-year-old.
Having been a prolific winner on the soft-tip circuit, De Sousa made his World Championship debut in 2011, but had to wait eight years until winning a PDC Tour Card.
"When I first started playing in the PDC, playing in front of the crowd used to make me feel a little bit nervous," admitted De Sousa, who won his third PDC ranking title in April.
"I've learnt to deal with that now, but what really changed for me was when I changed to my new darts one-and-a-half years ago - they are the perfect darts for me, they gave me so much confidence.
"My life has changed a lot after the last year, I have bought my house and car. I have a good life in Spain.
"I have a wonderful wife so everything right now is good for me, I don't have to worry about money anymore which makes it easy for me to play darts.

"If you want this work you have to make some sacrifices. I have the support of my family and friends which makes it easier when I'm away."
De Sousa will face Dimitri Van den Bergh, Jonny Clayton, Michael van Gerwen and Nathan Aspinall as the race for the top four reaches its climax in Milton Keynes next week, with the league phase Nights 13-16 taking place from Monday May 24 - Thursday May 27.
A LIMITED NUMBER OF TICKETS REMAIN ON SALE FOR MONDAY, TUESAY & WEDNESDAY.
The top four players will then return to the Marshall Arena stage for the Play-Offs on Friday May 28 where the champion will be crowned in front of a sell-out crowd!