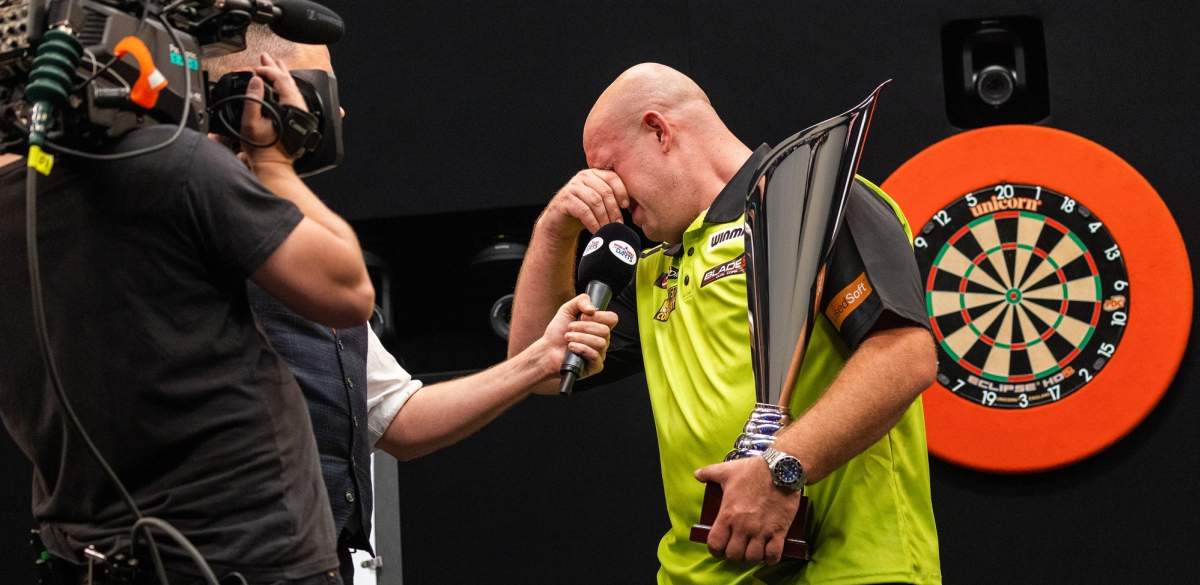 The inaugural Viaplay Nordic Darts Masters brought social media to life as Michael van Gerwen defeated Fallon Sherrock in the final.
Over 4,000 fans at Forum Copenhagen saw a historic tournament conclude as Van Gerwen ended almost ten months without a tournament victory in emotional fashion.
Sherrock, meanwhile, created history in her run to the final as she again rose to the occasion on the big stage.
Here is some of the social media reaction to a memorable event...
Michael van Gerwen on Instagram
Fallon Sherrock on Twitter
OMG what a night…… absolutely buzzing despite not winning - so proud of myself 😎. So many emotions I'm speechless. Thank you to EVERYONE and I mean EVERYONE. Congrats to @MvG180 - I can see why your the best now 🙈😂😂😂😂- thank you Denmark you were amazing ❤️ pic.twitter.com/xEc5KVTxNN

— Fallon Sherrock (@Fsherrock) September 18, 2021
Wayne Mardle on Twitter
He loves winning. The fact it means so much to Michael is heart warming. He loves the game.

— Wayne Mardle (@Wayne501Mardle) September 18, 2021
Paul Nicholson on Twitter
Darts won this weekend. 🎯
That Copenhagen crowd was mint. The stories attached to this event will be told for an age, and of course the umpteenth World Series win for @MvG180.
Each & every person who took part, contributed & watched. You all deserved it, as did @Fsherrock. 👏🏻

— Paul "The Asset" Nicholson (@TheAsset180) September 18, 2021
TV Commentator Stuart Pyke on Twitter
Fantastic to have the World Series #Darts back….fabulous Fallon + MVG back in business 😎the #Darts always delivers!

— Stuart Pyke (@stuartpykesport) September 18, 2021
Laura Turner on Twitter
Superb! I know we're super proud of her! Taking and making the most of the the opportunities, making women in the sport of darts more visible, inspiring that next generation of player and most importantly, showing exactly what she can do on that oche!!! https://t.co/3qUmKgiKYs

— Laura Turner (@LauraTurner180) September 18, 2021
Morten Thuno on Twitter
Fallon Sherrock is named "Queen of the Palace" but after this amazing comeback against Dimitri van den Bergh she might well be called "Queen of the World". Unique performance we just saw in Forum, Copenhagen #dartdk #LoveTheDarts #NordicDartsMasters #viaplay

— Morten Thunø (@mortenthuno) September 18, 2021
Jonny Clayton on Twitter
Disappointed but all credit to @MvG180 - at his best. Thanks to the Denmark crowd you were amazing for me. Thanks to everyone and all the best to @Fsherrock @MvG180 👏👏👏🎯

— Jonny Clayton (@JonnyClay9) September 18, 2021
Madars Razma on Twitter
Great to be in the @OfficialPDC Nordic Darts Masters final day after amazing atmosphere last night here in Copenhagen! 🇩🇰😍 I can't wait my 2nd round game today vs World number 3 @MvG180 😉 Thanks to everyone for supporting me wherever you are! 🙏

Pic: Mikal Schlosser/PDC pic.twitter.com/0SX0kgbrvs

— Madars Razma (@MadarsRazma) September 18, 2021
Darius Labanauskas on Twitter
One more thing… Thank you to the amazing fans in Copenhagen and to @OfficialPDC @PDCNordic @PDCEurope for making this possible again, I really missed this and it was a fantastic feeling to have the fans back like this again 😊

🎥ITV/PDC pic.twitter.com/GKVNUu0JrI

— Darius Labanauskas (@170LuckyD) September 18, 2021
TV & Radio Presenter Jeremy Vine
Great performance by @Fsherrock who becomes first woman to reach televised PDC final https://t.co/52daTk09R4

— Jeremy Vine (@theJeremyVine) September 19, 2021