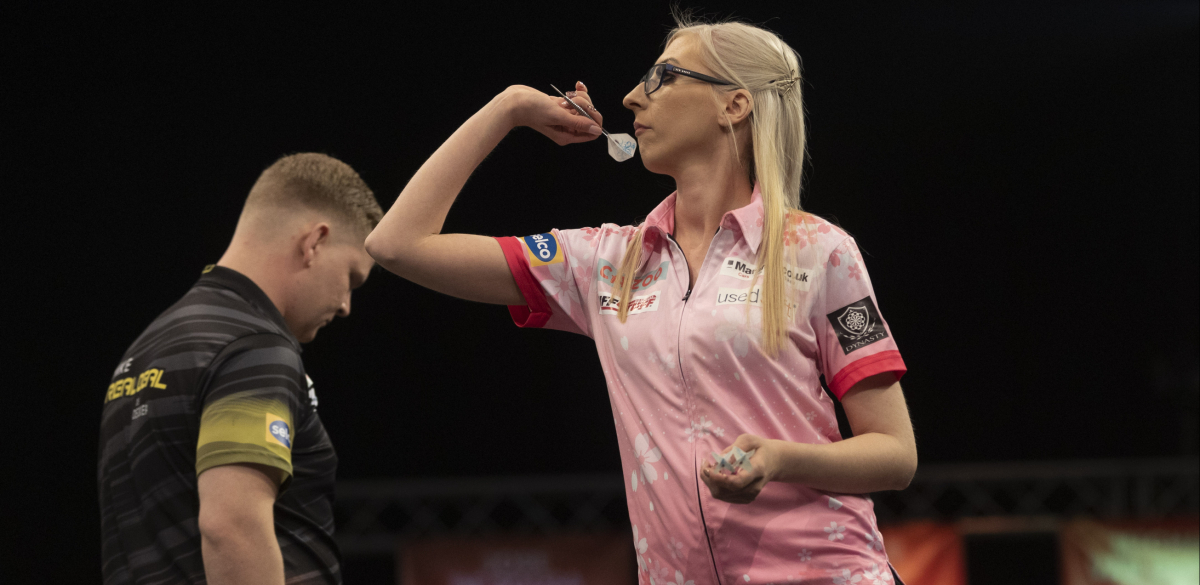 Day Four of the Cazoo Grand Slam of Darts will see the final matches in Groups E-H take place, with players battling to qualify for the knock-out phase.
The top two players in each group will progress to the knock-out phase.
Listed below are Day Four fixtures (listed in the order in which they will be played) and permutations, current standings in Groups E-H and tournament rules.

Group E
Peter Wright v Mike De Decker
Gabriel Clemens v Fallon Sherrock
Peter Wright qualifies with a win. If he loses, he needs Gabriel Clemens to win by enough legs to stay ahead of Fallon Sherrock on leg difference.
Mike De Decker cannot qualify.
Gabriel Clemens has qualified if Mike De Decker wins. If Peter Wright wins, Gabriel Clemens needs 4 legs to qualify.
Fallon Sherrock qualifies with a 5-3 or better win.
 
Group F
Mensur Suljovic v Matt Campbell
Jose de Sousa v Luke Humphries
Mensur Suljovic qualifies with a 5-3 or better win.
Matt Campbell must win 5-1 or 5-0 to move above Mensur Suljovic, and would then need Luke Humphries to lose by enough legs to drop below him in the table.
Jose de Sousa has qualified if Mensur Suljovic fails to win.
Luke Humphries qualifies with a 5-2 or better win if Mensur Suljovic has won earlier, but could also qualify on leg difference if both he and Mensur Suljovic lose.

Group G
Joe Cullen v Lisa Ashton
Michael van Gerwen v John Henderson
Joe Cullen qualifies with a win.
Lisa Ashton must win 5-0 against Joe Cullen and hope that John Henderson loses by a margin of 5-3 or greater to qualify on head-to-head record.
Michael van Gerwen needs one leg against John Henderson, but qualifies if Joe Cullen does not win.
John Henderson has to win 5-0 to qualify if Joe Cullen has won earlier, or any win would see him qualify if Joe Cullen has lost.
 
Group H
Michael Smith v Joe Davis
Gary Anderson v Raymond van Barneveld
Michael Smith has qualified.
Joe Davis cannot qualify.
The winner of Gary Anderson v Raymond van Barneveld qualifies.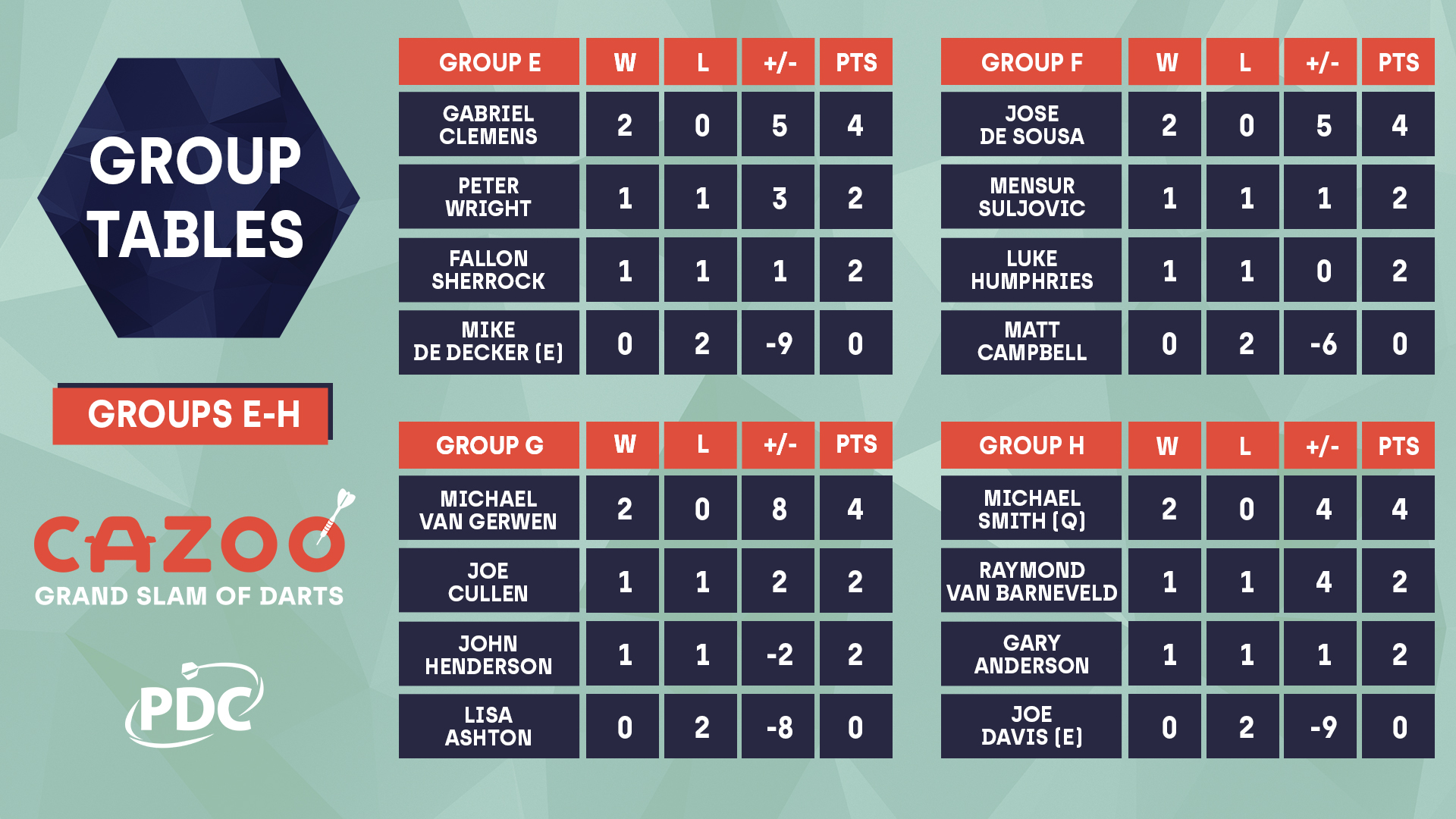 Tournament Rules
The first round of the 2021 Cazoo Grand Slam of Darts is a round robin stage where the 32 players are drawn into eight groups of four. Players will play three first round games.
The top eight players from the PDC Order of Merit are seeded, with the remaining players split into three pools of eight for the draw.
The second set of matches will see the two winners from the first games meet each other, and the two losers also play each other. The third set of matches will consist of the pairings which have not previously met.
Two points are awarded for a win and no points will be awarded for a loss. Each game is the best of nine legs, with the winner being the first player to win five legs. There will be no tie-break.
After the first round has been completed, the top two players in each group will progress to the knockout phase. Should there be a two-way Points tie in any position, then the player with the best Leg Difference will be deemed to have finished higher. If both players have the same Leg Difference, then the winner of the group match between those two players will be deemed to be the higher finisher.
Should Points, Leg Difference, Legs Won Against Throw and Tournament Average not be able to separate three players, then if one player has defeated both of the other two players then this player will be deemed to have finished higher, and the winner of the group match between the remaining two players will be the 'second' of the three. Should the three players have secured one win apiece against each other, then a Nine-Dart Shoot-Out will be played between the relevant players to determine final standings, with the highest aggregate score over nine darts being used to separate players.
In the event a "Nine-Dart Shoot-Out" finishes level between two or more players, those players who have tied on the most points will continue to throw three darts each in the same order until one player scores more points than the other player(s) with their three darts.
From the second round onwards, the tournament will be in a knockout format.