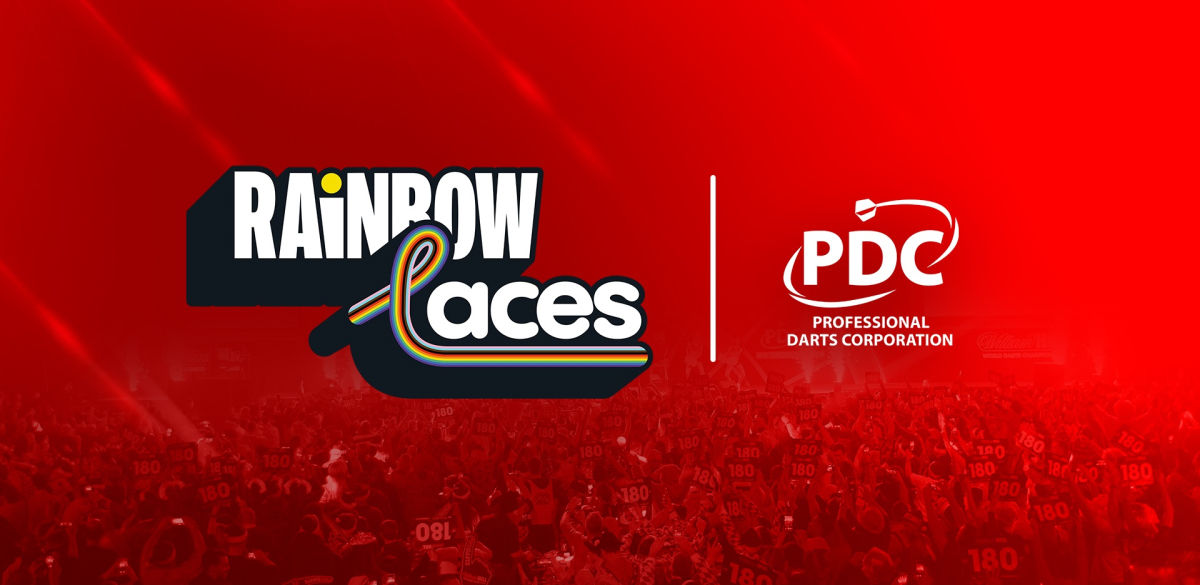 The PDC will support Stonewall's Rainbow Laces campaign at the 2021 Ladbrokes Players Championship Finals this weekend.
The Ladbrokes Players Championship Finals will mark the fourth successive year of the PDC's support for the Rainbow Laces campaign, which promotes and celebrates LGBTQ+ inclusion across sport.
This year has seen the "Lace Up and Speak Up" message introduced, encouraging those involved to not only show their support by wearing rainbow laces or other items but also to open up in conversation about why they are supporting the Rainbow Laces campaign.
Over a million people have laced up over the past five years since Rainbow Laces was introduced by Stonewall, with this year's campaign now underway ahead of Rainbow Laces Day on Wednesday December 8.
The PDC logo on the two stages at the Butlin's Minehead Resort this weekend will reflect the rainbow colours, while rainbow laces and pin badges will be available to players and on-stage officials.
"It's great that we can again provide global exposure of the Rainbow Laces campaign at the Ladbrokes Players Championship Finals," said PDC Chief Executive Matthew Porter.
"Our support of Stonewall's Rainbow Laces campaign has been well-received over the past three years and we continue to support the aims that sport should be accessible to everyone."
Huw Ware, a PDC referee and a Stonewall Sport Champion, said: "It's great to be linking up with the Rainbow Laces campaign and to have the opportunity to showcase this again at the Players Championship Finals on ITV4.
"The message is that sport is for everyone and should be a place where, should they so choose, be a place where everyone is able to be their authentic selves.
"I have full confidence and knowledge that darts is an accepting and tolerant environment, and I thank the PDC once again for their efforts in allying with the campaign."
Liz Ward, Director of Programmes at Stonewall, (she/her) said: "We're delighted that the PDC is continuing their support for Rainbow Laces this year, joining millions of people around the world who are committed to promoting LGBTQ+ inclusion in sport and fitness.
"This year, Rainbow Laces is asking supporters to lace up and speak up, and we're pleased that the PDC is committed to starting a conversation about why inclusion matters for LGBTQ+ people in darts.
"Over the year, we've loved watching people like Huw Ware and all those in the darts community, doing their bit to make darts welcoming to all, and it's fantastic to see the PDC fighting to make darts everyone's game."
For more details visit the Stonewall website or follow @StonewallUK on Twitter, and use the hashtag #RainbowLaces.