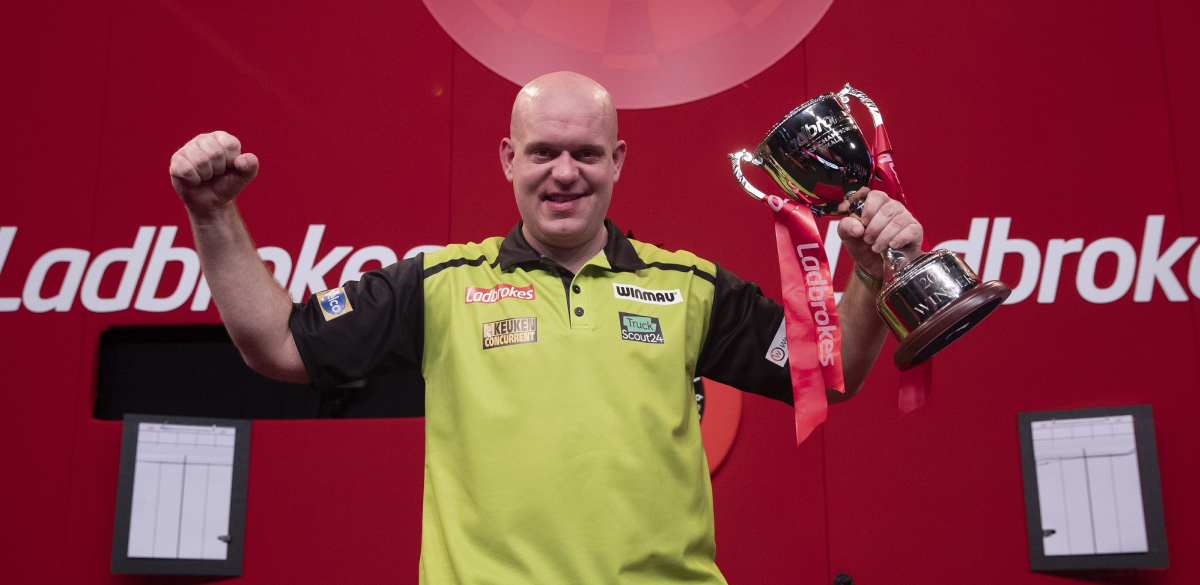 Christopher Kempf, the official statistical analyst of the PDC, previews the 2021 Ladbrokes Players Championship Finals.
Reigning and six-time Ladbrokes Players Championship Finals champion Michael van Gerwen has not usually been the number one seed (by way of topping the year-end Order of Merit), but in years past his lower position in the rankings was due to him skipping several events at the end of the year once his qualification was secure, leaving the remaining Tour Card Holders to grind it out for a few extra ranking pounds.
This year, however, Van Gerwen entered 20 of the last 21 events and did not win until Players Championship 29 - so strong is the field contending for these titles every Super Series.
Consequently, the top 14 seeds in the tournament are all title winners, and the third and fourth rounds of the tournament could reprise many Players Championship final matchups from 2021.
Here are the players who have risen to the top in all respects of the game over that time period:
Overall Average
1 Gerwyn Price 99.27
2 Michael van Gerwen 99.10
3 Jose de Sousa 98.62
4 Jonny Clayton 98.17
5 Chris Dobey 98.02
Unsurprisingly, the world number one and the greatest active player in darts top this list; but no player, across 30 Players Championship events, managed to maintain a 100+ overall average.
Price and Van Gerwen could not have averaged 99 in more different ways; Van Gerwen switches frequently and attempts a wide variety of doubles around the board, while Price derives almost all of his scoring and finishing from treble and double 20.
A latecomer to the top 5 list is Chris Dobey, who leapt ahead of Peter Wright on the strength of his 100+ average over the last two Super Series.
Straightest Darts
1 Steve Lennon 4.68%
2 Brendan Dolan 5.42%
3 Martin Schindler 5.81%
4 Andy Boulton 6.41%
5 Damon Heta 6.62%
The first round match between Lennon and Heta is likely to feature a record-low number of ones and fives, if their consistency throughout 2021 at throwing straight darts at treble 20 is any indicator.
Lennon is one of the straightest throwers ever seen for a professional player - year after year he ranks at the top of lists ranking fewest stray darts.
Given that Michael van Gerwen and Phil Taylor never managed much less than a 5% stray darts rate at the peak of their powers, if Lennon increased his treble 20 hit rate to their level he might throw strays at a rate as low as 2 or 3%. 
Highest Rate Of 12-Darters (Or Better)
1 Jose de Sousa 13.86%
2 Gerwyn Price 12.64%
3 Ryan Searle 10.45%
4 Michael van Gerwen 9.88%
5 Dimitri Van den Bergh 9.85%
Two or three years ago it would have been unthinkable for Ryan Searle or Jose de Sousa to end up hitting more 10, 11 and 12-darters than Michael van Gerwen, but in fact they have exceeded the Dutchman's 9.88% rate by wide margins.
It is no surprise to see world number one Price near the top of this list, but the world number 22?
In particular, Searle's rate of better than one 12-darter for every ten eligible legs indicates how hidden and unrecognized his talent has been.
Biggest Improvement On Averages In Deciding Legs
1 Jelle Klaasen +6.52
2 Ryan Meikle +6.12
3 Martin Schindler +5.82
4 William O'Connor +5.75
5 Michael Smith +5.31
With time running out for 2016 World Championship semi-finalist Jelle Klaasen to preserve his Tour Card, he has been handed a lifeline in the form of Jamie Hughes' withdrawal from the event.
Few players are better equipped to handle themselves in high-pressure scenarios, though - over the 2021 Players Championship season he has boosted his average from just over 90 to 97.58 when faced with a deciding leg.
His opponent in the first round, Vincent van der Voort, has the overall advantage in terms of averages - but Klaasen would be favoured to take a deciding leg should they get there.
Smith's already high average limits his place to fifth in this list, but no player has had higher averages in deciding legs this year (102.16).
Doubles Percentage
1 Brendan Dolan 43.63%
2 Jose de Sousa 43.44%
3 James Wade 43.19%
4 Michael van Gerwen 42.42%
5 Gerwyn Price 42.37%
The presence of James Wade on this list is a clear indication that players can be thoroughly competitive for any title they enter with a solid finishing accuracy, even if they rank 27th in averages, as Wade does.
Brendan Dolan is evidently following in Wade's footsteps, combining a high doubles percentage (he leads the PCF field in checkouts with three darts at a double) with few stray darts and a high leg cleanup rate (among the fewest legs not won within 18 darts).
Players with a high output of 180s are not often known for being precise finishers, but De Sousa's number two position is a counter-example, and suggests that he is becoming a more well-rounded player than in previous years.
99, 101+ Checkout Rate
1 Vincent van der Voort 14.13%
2 Kim Huybrechts 13.57%
3 Ryan Searle 13.51%
4 Adrian Lewis 13.46%
5 Stephen Bunting 13.33%
High checkouts represent only about 8 or 9% of legs won across Players Championships, but they can provide a much needed momentum shift if a player is able to steal away a leg that previously looked lost.
Continental veterans Vincent van der Voort and Kim Huybrechts are almost twice as likely as the average ProTour player to check out from a three-figure score, but Ryan Searle combines this proficiency with a 96 average and the third-highest rate of 12-dart legs among the PCF field.
171-180s Per Leg
1 Dirk van Duijvenbode 0.426
2 Jose de Sousa 0.395
3 Dimitri Van den Bergh 0.383
4 Dave Chisnall 0.374
5 Gerwyn Price 0.355
Dirk van Duijvenbode followed up his first Players Championship title in 2021 with the top position on the list of 180s, 177s, 174s and 171s.
His output of nearly three maxima for every seven legs is just a few hundredths off Michael van Gerwen's high-water mark in 2016.
And of course, no 180s list would be complete without the presence of Dave Chisnall, despite not winning a title this year and averaging 95.22 on the Players Championship circuit.
18-dart Checkout Rate
1 Michael van Gerwen 89.94%
2 Jonny Clayton 87.29%
3 Peter Wright 86.37%
4 Chris Dobey 85.92%
5 Brendan Dolan 85.69%
In 2021, Chris Dobey became the first player on record to win a Players Championship without losing any leg in which he had thrown 18 darts.
But Michael van Gerwen, previously known for prodigious output of ten-darters, has now become by far the most consistent in not leaving legs for his opponents to clean up after six visits.
Treble 19 Accuracy
1 Michael van Gerwen 45.60%
2 Gerwyn Price 44.35%
3 Ian White 44.29%
4 Joe Cullen 44.15%
5 Madars Razma 43.75%
Some things will never change: in good form or bad, Michael van Gerwen seems to consistently be the best cover-shot artist in the game.
But Latvia's Razma's presence on this list is a surprise, in spite of his October nine-dart heroics - he is seeded 54 and will face Dimitri Van den Bergh in a match he is not favoured to win.
His attempt to emulate the strategy popularized by Van Gerwen of frequent switching and alternative checkout routes has not borne fruit yet in the form of a PDC title, but his becoming only the second player to throw perfect legs on consecutive days is just another indication of the talent that might soon reveal itself to greater fanfare.
Follow Christopher Kempf on Twitter through @Ochepedia.