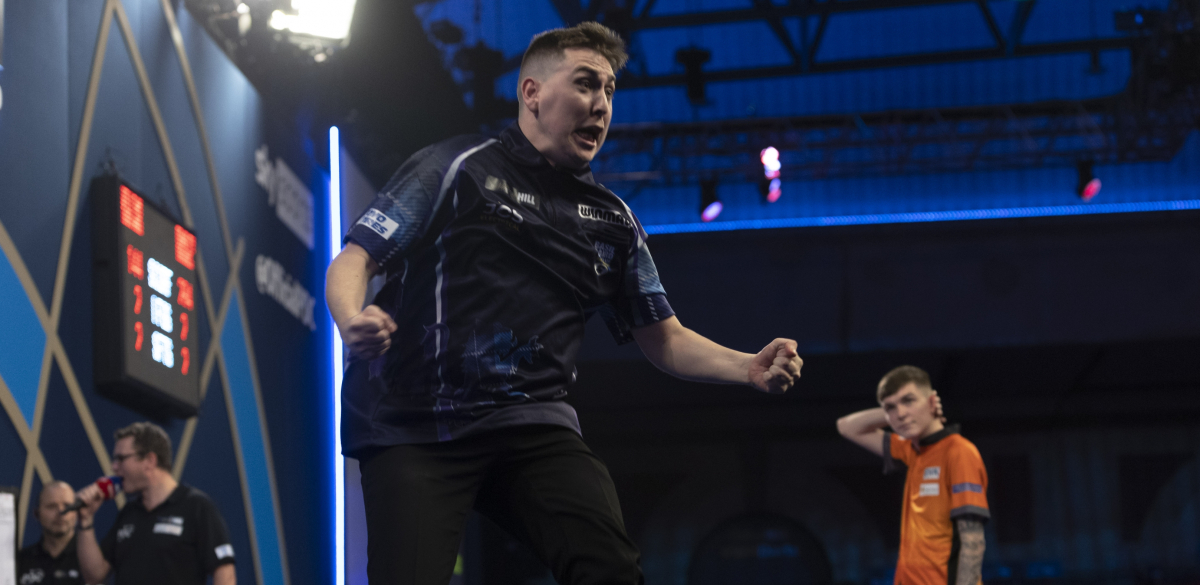 Scotland's William Borland hit the headlines when he landed a historic nine-darter to win his epic first round battle with Bradley Brooks at the World Championship. 

Borland became the first player to win a televised PDC match with a perfect leg, sending the Alexandra Palace crowd into a frenzy. 

The 25-year-old returns to the stage to take on Ryan Searle on Wednesday afternoon following a whirlwind period of media attention.

"I've had a couple of sleepless nights since through excitement and adrenaline," Borland admitted to The Darts Show Live.

"To finally produce something like that is very pleasing. I'm enjoying all the attention that has come since. I'm a young lad and I've had a great time in the last few days since it happened.

"Overall, though, I'm just glad to have been able to show what I can do on stage.

"Bradley was phenomenal in the match. I had to come back at him and I managed to keep calm, keep playing and try to raise my game. I'm really happy I was able to do that as I think that's a sign of progress as I would have lost that match a few months ago. I kept my head and I got over the line.

"Going into the last leg I was just thinking I need to go out in 15 darts or fewer. After the 180 I just thought if I hit another big score it would put him under pressure and I managed to hit a 177. Then, when the first treble 20 went in, it was perfect so I knew the next one would go in. Then it was all about the double 12.
"My main focus was to win the leg and the match but it was amazing to it in that way."
Should Borland repeat that magic in his second round match against Ryan Searle on Wednesday lunchtime, he would win £50,000 - with a member of the public who enters a special prize draw and Selco's nominated charity Global's Make Some Noise each receiving £25,000.

Members of the public can book their place in the draw by completing the form at this link before any player hits a second nine-dart finish.

Borland, from East Lothian and playing in his first PDC World Championship, added: "I'd be lying if I said I hadn't had some thoughts about hitting a second nine-darter and winning £50,000 for me and the money for the member of the public and the charity.

"It's a huge amount of money and a brilliant initiative from Selco which has added even more interest to the tournament.

"Hitting the first nine-darter was the highlight of my career, especially given the context of it, but if I was to do it again either against Ryan or later in the tournament, that would certainly top it.

"My main aim remains to go as far as I can in what is the biggest tournament of the year but I certainly wouldn't say no to the nine-dart bonus, so that will be on my mind as well."
Searle v Borland is one of eight second round ties taking place on Wednesday across two sessions of action from Ally Pally.

The World Championship is being broadcast live on Sky Sports in the UK, through the PDC's worldwide broadcast partners including DAZN and RTL7, and on PDCTV (excluding UK and Netherlands based subscribers).