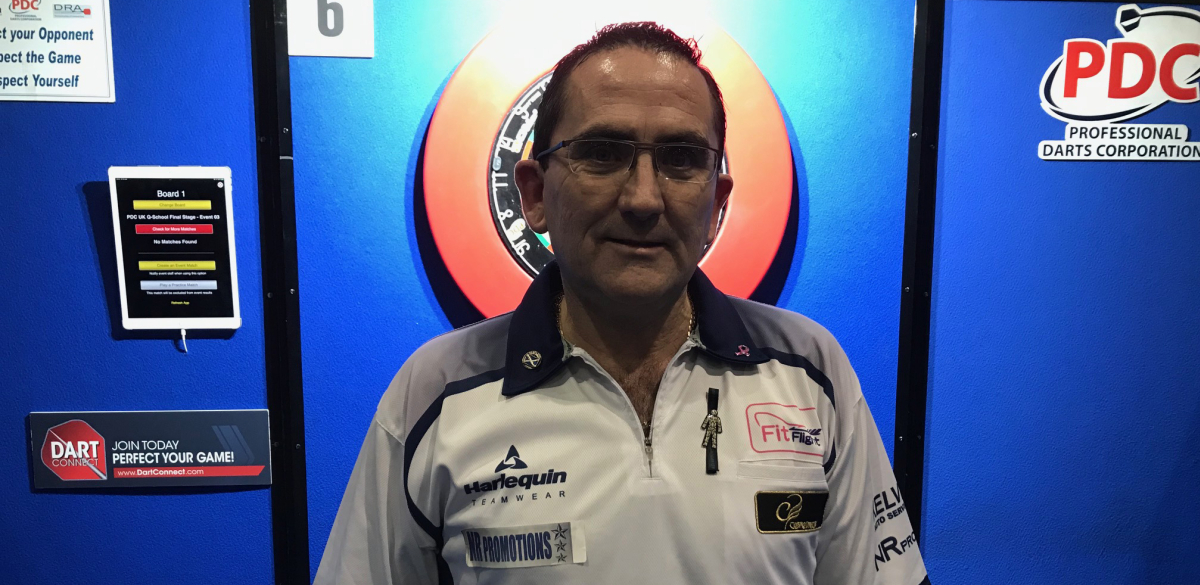 Ross Montgomery and Luc Peters won PDC Tour Cards on Day Three of Qualifying Schools Final Stage, as a further four players secured places on the PDC circuit via the Orders of Merit.
Veteran Scot Montgomery and emerging Dutchman were two of six players to win Tour Cards for the first time on the penultimate day of the Final Stage.
Montgomery, a former Lakeside quarter-finalist, defeated Jamie Clark 6-2 in the final of the UK event, while Peters ran out a 6-4 victor over Mario Vandenbogaerde in the European event.
Montgomery and Peters both began the day with 0 points on the respective Orders of Merit before going unbeaten on Day Three.
Beaten finalist Clark becomes the first player to earn a place on the PDC ProTour in 2022-23, with his performances in Milton Keynes seeing him accrue 10 points on the Order of Merit.
In Niedernhausen, experienced Belgian Vandenbogaerde and Dutch duo Jules van Dongen and Kevin Doets are guaranteed Tour Cards with eight points each.
The Orders of Merit for both UK and European Qualifying Schools are listed below - click here to see the full Q School Orders of Merit
Saturday will offer a final chance for players to win Tour Cards, with play commencing at 1200 CET in Niedernhausen and 1200 GMT in Milton Keynes.
Click here for full results and match stats from UK Qualifying School Final Stage Day Three
Click here for full results and match stats from European Qualifying School Final Stage Day Three
UK Qualifying School Final Stage Day Three
Last 16
Connor Scutt 6-2 Dan Read
Ross Montgomery 6-4 Simon Stevenson
John O'Shea 6-4 Richie Burnett
Arron Monk 6-4 Scott Waites
Kevin Burness 6-5 George Killington
Kevin Lane 6-5 Callum Francis
Nick Fullwell 6-5 Robert Owen
Jamie Clark 6-3 Scott Williams

Quarter-Finals
Ross Montgomery 6-5 Connor Scutt
John O'Shea 6-5 Arron Monk
Kevin Burness 6-1 Kevin Lane
Jamie Clark 6-3 Nick Fullwell

Semi-Finals
Ross Montgomery 6-4 John O'Shea
Jamie Clark 6-4 Kevin Burness

Final
Ross Montgomery 6-2 Jamie Clark

European Qualifying School Final Stage Day Three
Last 16
Jesus Noguera 6-5 Thibault Tricole
Kevin Doets 6-2 Davy Proosten
Mario Vandenbogaerde 6-3 Gian van Veen
Derk Telnekes 6-5 Michael Rasztovits
Patrick Peters 6-5 Patrick Maat
Luc Peters 6-5 Benito van de Pas
Danny Jansen 6-1 Niels Heinsoe
Rowby-John Rodriguez 6-1 Fabian Stuetz

Quarter-Finals
Kevin Doets 6-4 Jesus Noguera
Mario Vandenbogaerde 6-3 Derk Telnekes
Luc Peters 6-3 Patrick Peters
Danny Jansen 6-5 Rowby-John Rodriguez

Semi-Finals
Mario Vandenbogaerde 6-3 Kevin Doets
Luc Peters 6-4 Danny Jansen

Final
Luc Peters 6-4 Mario Vandenbogaerde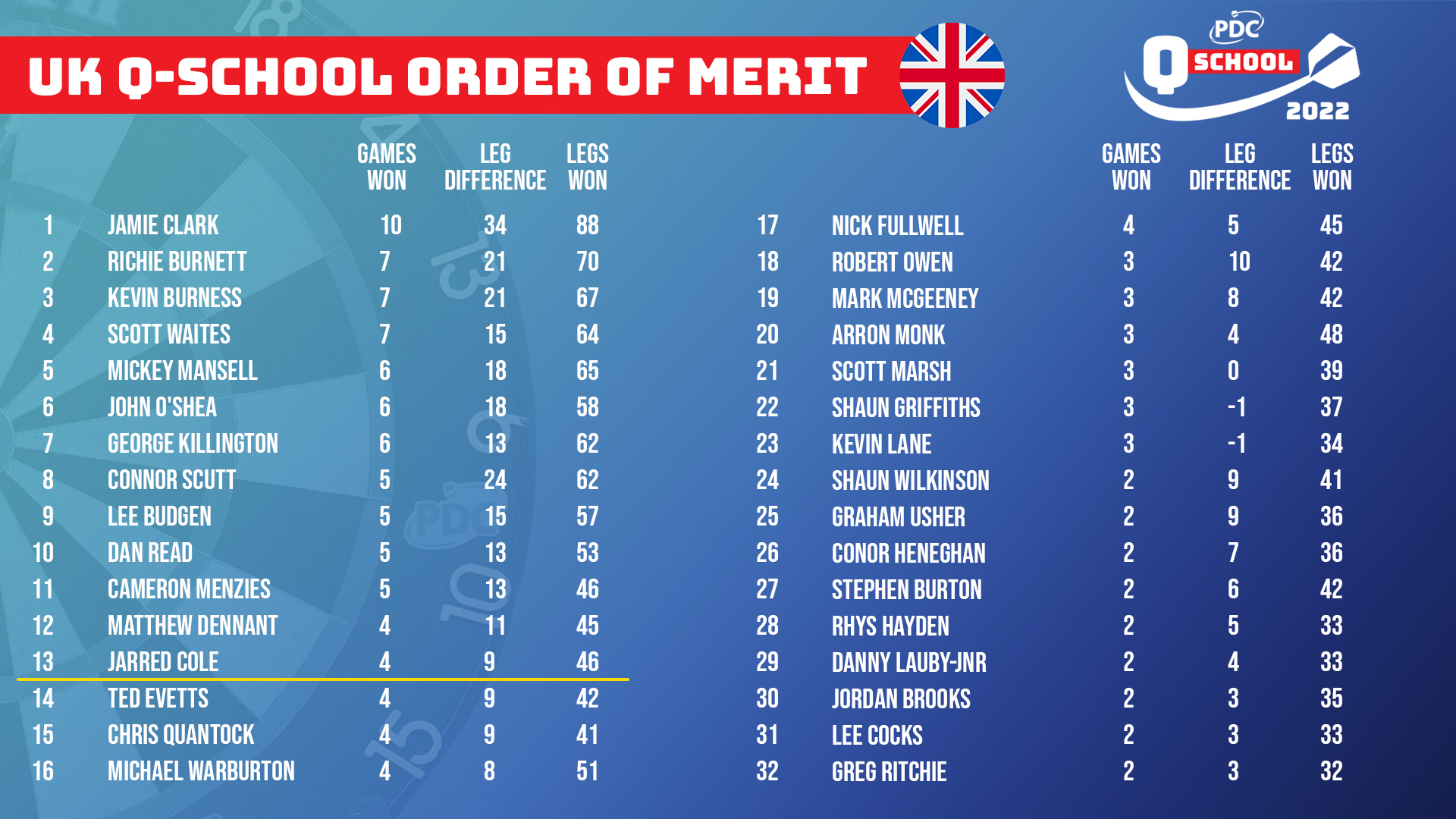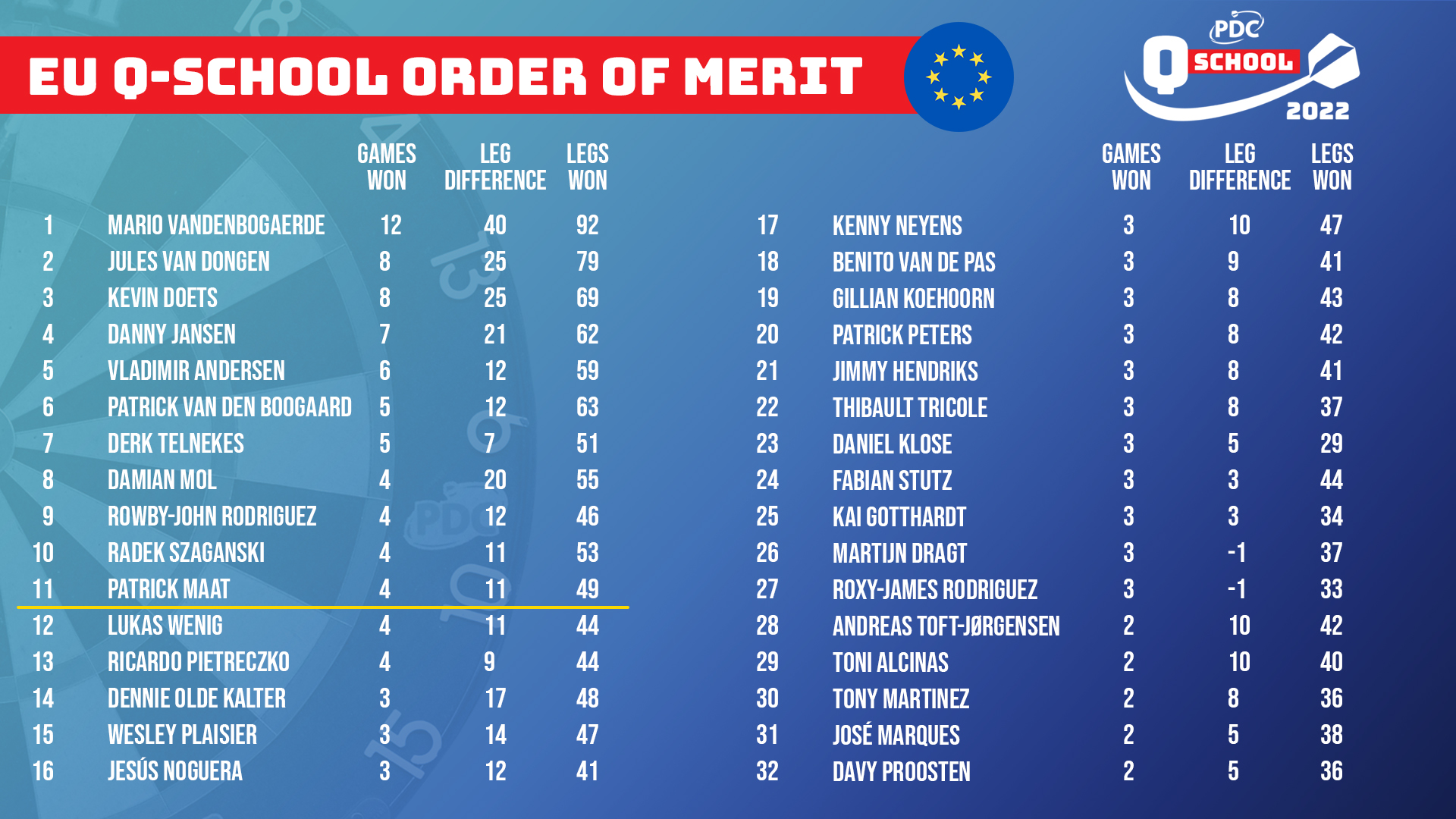 Each day's winner at both UK and European events secures an automatic PDC Tour Card.
In addition to the daily Tour Card winners, a further 24 Tour Cards will be awarded on a pro-rata basis to players from the respective UK/European Qualifying School Final Stage Orders of Merit following Day Four - 13 in the UK, 11 in Europe.

Any ties in the respective Q School Orders of Merit will be split as follows based on all match results: Leg Difference, Legs Won, then DartConnect average. If players still cannot be split, a play-off would be organised.