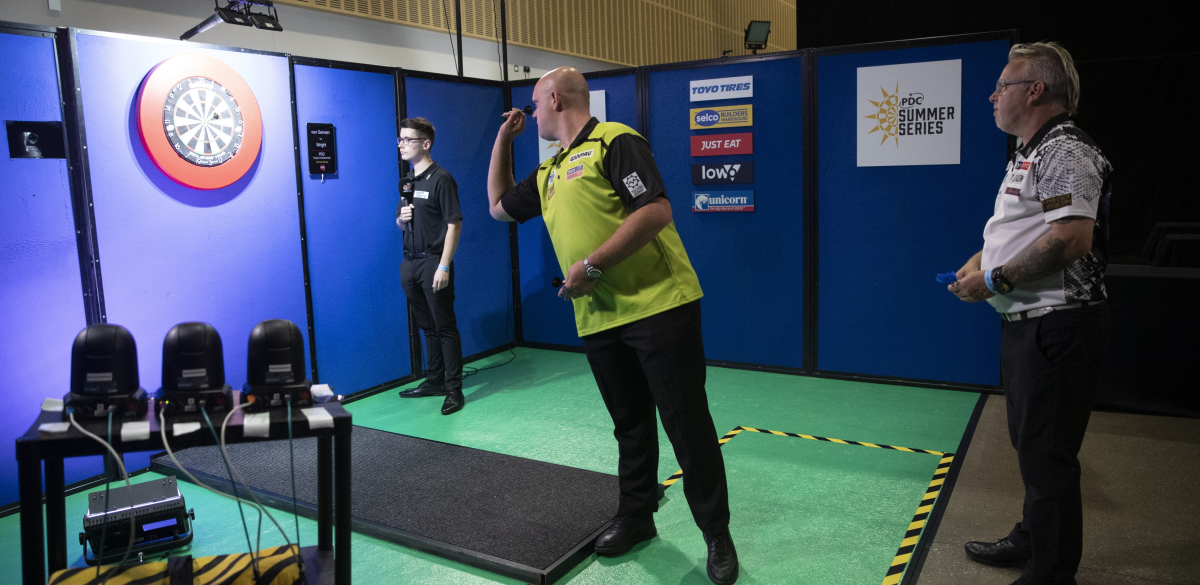 Player entries have been confirmed for Players Championship events 5-6, along with the 16 seeded players for European Tour events 4-5.
Players Championships 5-6 will take place from March 19-20 at the Barnsley Metrodome and will be broadcast live on PDCTV.
PDC Tour Card Holders will be joined in the fields for each event by Associate Members from the Challenge Tour Order of Merit.
As with all 2022 Players Championship events, prize money will stand at the new total of £100,000 per event, with all winnings counting towards the relevant PDC Orders of Merit.
The 16 seeded players for the Interwetten Austrian Darts Open (ET4) and Interwetten European Darts Open (ET5) have also been confirmed and are listed below.
Tour Card Holder Qualifiers for ET4 and ET5 will be played on March 18 at the Barnsley Metrodome. 
Update (Mar 18): Zoran Lerchbacher, John Brown, Scott Mitchell and Gerwyn Price have withdrawn, and been replaced by Steve Haggerty, Lee Evans, Stephen Burton and Robert Owen (PC5 only) and Matthew Edgar (PC6 only).
Players Championships 5-6 Player Entries
The Barnsley Metrodome
March 19-20 2022
Players Championship 5
Vladimir Andersen
Gary Anderson
Nathan Aspinall
Danny Baggish
Keane Barry
Steve Beaton
William Borland
Andy Boulton
Bradley Brooks
Keegan Brown
Stephen Bunting
Kevin Burness
Richie Burnett
Stephen Burton
Matt Campbell
Dave Chisnall
Jamie Clark
Brett Claydon
Jonny Clayton
Gabriel Clemens
Rob Cross
Joe Cullen
Mike De Decker
Jose de Sousa
Geert De Vos
Jeffrey de Zwaan
Chris Dobey
Kevin Doets
Brendan Dolan
Glen Durrant
Ritchie Edhouse
David Evans
Lee Evans
Ricky Evans
Ted Evetts
Nick Fullwell
Adam Gawlas
Andrew Gilding
Daryl Gurney
Steve Haggerty
Jason Heaver
Florian Hempel
John Henderson
Jimmy Hendriks
Damon Heta
Max Hopp
Peter Hudson
Jamie Hughes
Luke Humphries
Adam Hunt
Kim Huybrechts
Danny Jansen
Jake Jones
Ryan Joyce
Jose Justicia
Krzysztof Kciuk
George Killington
Mervyn King
Martijn Kleermaker
Boris Krcmar
Maik Kuivenhoven
Darius Labanauskas
Steve Lennon
Adrian Lewis
Eddie Lovely
Jason Lowe
Martin Lukeman
Jack Main
Mickey Mansell
Tony Martinez
Gordon Mathers
Jim McEwan
Ryan Meikle
Cameron Menzies
Ron Meulenkamp
Damian Mol
Ross Montgomery
Joe Murnan
Geert Nentjes
Danny Noppert
William O'Connor
John O'Shea
Robert Owen
Luc Peters
Devon Petersen
Ricardo Pietreczko
Nathan Rafferty
Brian Raman
Krzysztof Ratajski
Madars Razma
Josh Rock
Rowby-John Rodriguez
Rusty-Jake Rodriguez
Callan Rydz
Martin Schindler
Connor Scutt
Ryan Searle
Jeff Smith
Michael Smith
Ross Smith
Alan Soutar
Mensur Suljovic
Radek Szaganski
Raymond van Barneveld
Dimitri Van den Bergh
Vincent van der Voort
Jules van Dongen
Dirk van Duijvenbode
Michael van Gerwen
Berry van Peer
Mario Vandenbogaerde
James Wade
Scott Waites
Jermaine Wattimena
Darren Webster
Steve West
Ian White
Simon Whitlock
Shaun Wilkinson
Jim Williams
Lewy Williams
Scott Williams
James Wilson
Stu Wilson
Luke Woodhouse
Jon Worsley
Peter Wright
Niels Zonneveld
Players Championship 6
Vladimir Andersen
Gary Anderson
Nathan Aspinall
Danny Baggish
Keane Barry
Steve Beaton
William Borland
Andy Boulton
Bradley Brooks
Keegan Brown
Stephen Bunting
Kevin Burness
Richie Burnett
Stephen Burton
Matt Campbell
Dave Chisnall
Jamie Clark
Brett Claydon
Jonny Clayton
Gabriel Clemens
Rob Cross
Joe Cullen
Mike De Decker
Jose de Sousa
Geert De Vos
Jeffrey de Zwaan
Chris Dobey
Kevin Doets
Brendan Dolan
Glen Durrant
Matthew Edgar
Ritchie Edhouse
David Evans
Lee Evans
Ricky Evans
Ted Evetts
Nick Fullwell
Adam Gawlas
Andrew Gilding
Daryl Gurney
Steve Haggerty
Jason Heaver
Florian Hempel
John Henderson
Jimmy Hendriks
Damon Heta
Max Hopp
Peter Hudson
Jamie Hughes
Luke Humphries
Adam Hunt
Kim Huybrechts
Danny Jansen
Jake Jones
Ryan Joyce
Jose Justicia
Krzysztof Kciuk
George Killington
Mervyn King
Martijn Kleermaker
Boris Krcmar
Maik Kuivenhoven
Darius Labanauskas
Steve Lennon
Adrian Lewis
Eddie Lovely
Jason Lowe
Martin Lukeman
Jack Main
Mickey Mansell
Tony Martinez
Gordon Mathers
Jim McEwan
Ryan Meikle
Cameron Menzies
Ron Meulenkamp
Damian Mol
Ross Montgomery
Joe Murnan
Geert Nentjes
Danny Noppert
William O'Connor
John O'Shea
Luc Peters
Devon Petersen
Ricardo Pietreczko
Nathan Rafferty
Brian Raman
Krzysztof Ratajski
Madars Razma
Josh Rock
Rowby-John Rodriguez
Rusty-Jake Rodriguez
Callan Rydz
Martin Schindler
Connor Scutt
Ryan Searle
Jeff Smith
Michael Smith
Ross Smith
Alan Soutar
Mensur Suljovic
Radek Szaganski
Raymond van Barneveld
Dimitri Van den Bergh
Vincent van der Voort
Jules van Dongen
Dirk van Duijvenbode
Michael van Gerwen
Berry van Peer
Mario Vandenbogaerde
James Wade
Scott Waites
Jermaine Wattimena
Darren Webster
Steve West
Ian White
Simon Whitlock
Shaun Wilkinson
Jim Williams
Lewy Williams
Scott Williams
James Wilson
Stu Wilson
Luke Woodhouse
Jon Worsley
Peter Wright
Niels Zonneveld
European Tour 4-5 Seeded Players
Interwetten Austrian Darts Open (ET4)
Premstättner Halle, Graz
April 29-May 1 2022
1. Gerwyn Price
2. Peter Wright
3. Jose de Sousa
4. Joe Cullen
5. Michael van Gerwen
6. Ryan Searle
7. Dimitri Van den Bergh
8. Luke Humphries
9. Brendan Dolan
10. Rob Cross
11. Damon Heta
12. Jonny Clayton
13. Dirk van Duijvenbode
14. James Wade
15. Krzysztof Ratajski
16. Nathan Aspinall

Interwetten European Darts Open (ET5)
Ostermann Arena, Leverkusen
May 6-8 2022
1. Gerwyn Price
2. Peter Wright
3. Jose de Sousa
4. Joe Cullen
5. Michael van Gerwen
6. Ryan Searle
7. Dimitri Van den Bergh
8. Luke Humphries
9. Brendan Dolan
10. Rob Cross
11. Damon Heta
12. Jonny Clayton
13. Dirk van Duijvenbode
14. James Wade
15. Krzysztof Ratajski
16. Nathan Aspinall