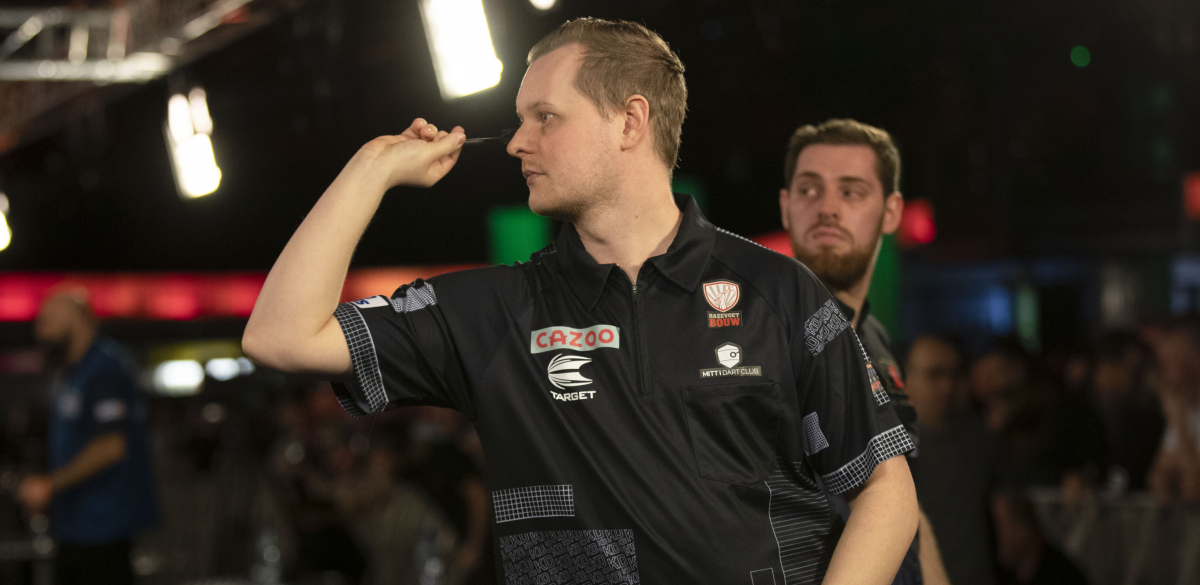 PDC Stats Analyst Christopher Kempf lists the top 30 players over their last 100 legs played...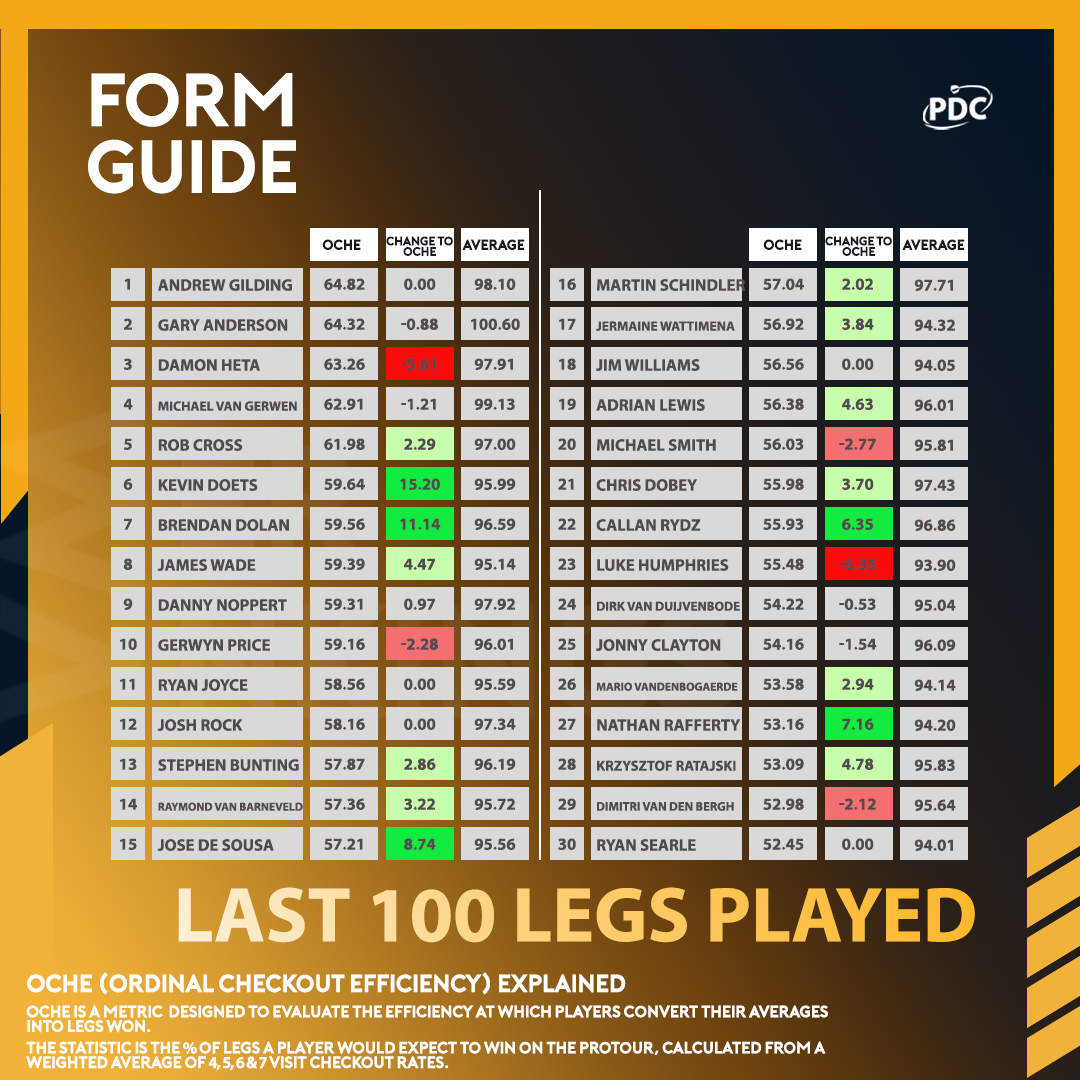 Michael van Gerwen and Gerwyn Price have been playing at a high level for so long that even winning a Players Championship title is no guarantee of an averages or a rankings boost.
Indeed, Price's OChE rating dropped to 59, and Van Gerwen's to just below 63 after winning Players Championship Events Seven and Eight respectively last weekend.
The top three players as rated by OChE are Andrew Gilding (who did not participate in PCs 7-8 in Niedernhausen, and whose high rating from last weekend is thus preserved), Gary Anderson and Damon Heta, with Van Gerwen placing fourth.
Neither player's title-winning exploits were of the calibre needed to displace the outstanding performances of Anderson and Gilding last week, as both had close calls and sub-90 averages interspersed within their best performances.
Surprising runs to the semi-finals and finals were the bigger stories of the weekend than two World Champions adding to their already stuffed trophy cabinets; two young continental players solidified their places in the top 10% of PDC Tour Card Holders with their last 100 legs.
Kevin Doets, 23, has thrown 38 three-treble visits in his last 100 legs, as many as Adrian Lewis and more than Michael Smith - in OChE terms he is the sixth-most efficient player at winning legs.
His breakthrough run to the semi-finals gave him the largest single-week increase in his stats of any player this year; his OChE rating shot up 15 points, and thanks especially to a 108 average in defeating Damon Heta, Doets is now one of 24 players averaging 95+ over his last 100 legs.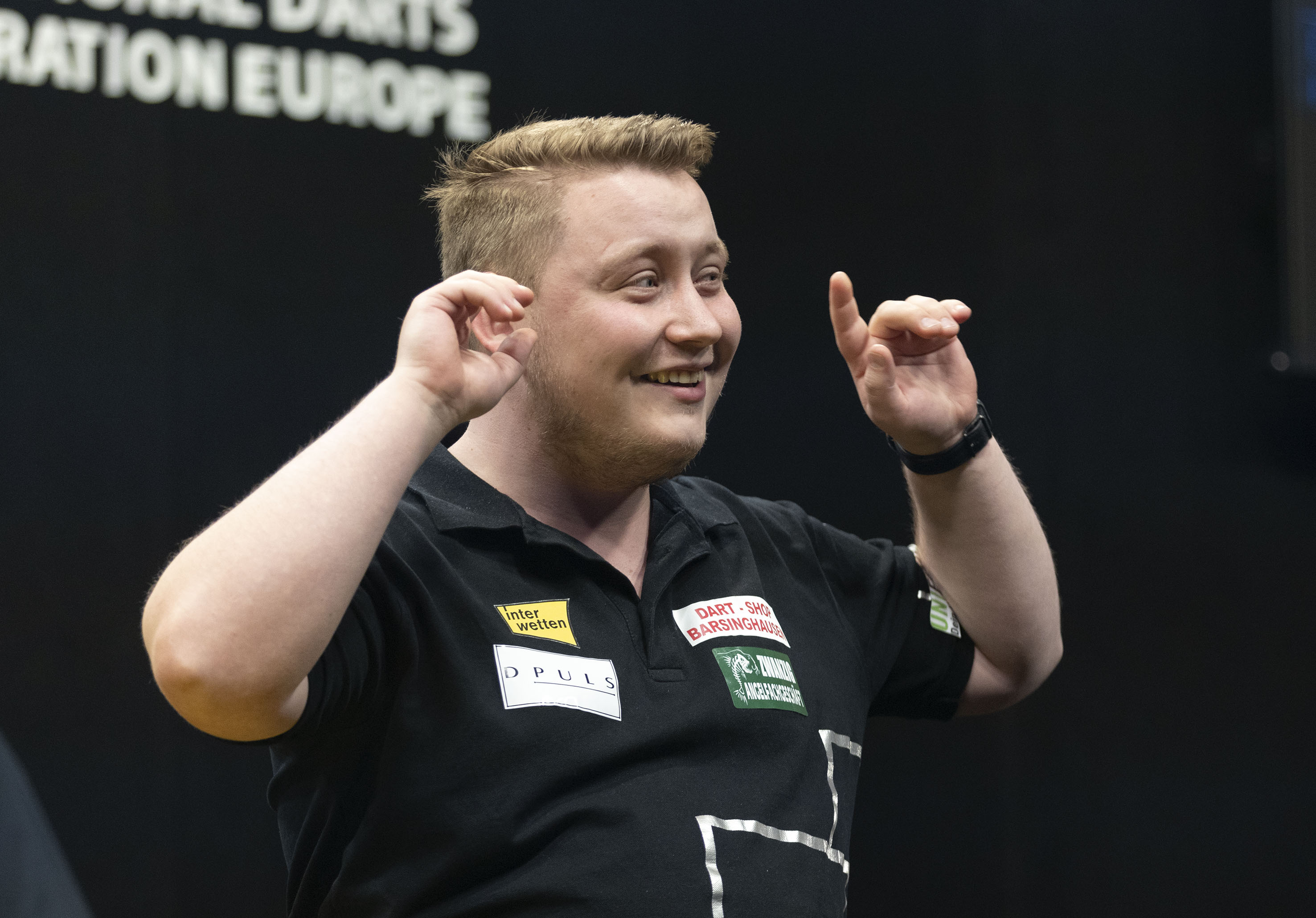 Martin Schindler, having started from such a high baseline, did not see such enormous increases in his averages or OChE, but now currently has the seventh highest average of any PDC Tour Card Holder, in performances that are good enough to win him 57.7% of ProTour legs in general.
Currently ranked 51st in doubles percentage, any improvement in Schindler's finishing on the same average would transform him into a permanent title contender (given his run to the final of PC8).
Rob Cross and Daryl Gurney have earned the most money in the first eight Players Championship events of the season of any player who has not won a PC title, with neither player reaching a final.
Intriguingly, the pair have achieved similar results with very different stat lines; Cross is averaging 97 and putting in performances that would win him 62% of legs on the ProTour, while Gurney has the 73rd highest average, the 114th highest doubles percentage and would actually be projected to lose most of his legs on the ProTour.
Why, then, have the two had similar success? We can look to their performances with the match on the line - Gurney won four consecutive deciding legs on Sunday while averaging sub-90; Cross, on the other hand, had a dozen chances to beat Gerwyn Price (averaging 90) and failed to capitalise.
Next week's update will wipe the slate clean for most players; performances in PC events 9, 10 and 11 will comprise the more than the last 100 legs for many players, and the majority for most of the rest. This will put the PDC-best stats of Anderson and Gilding to the test.
Follow Christopher on Twitter @ochepedia