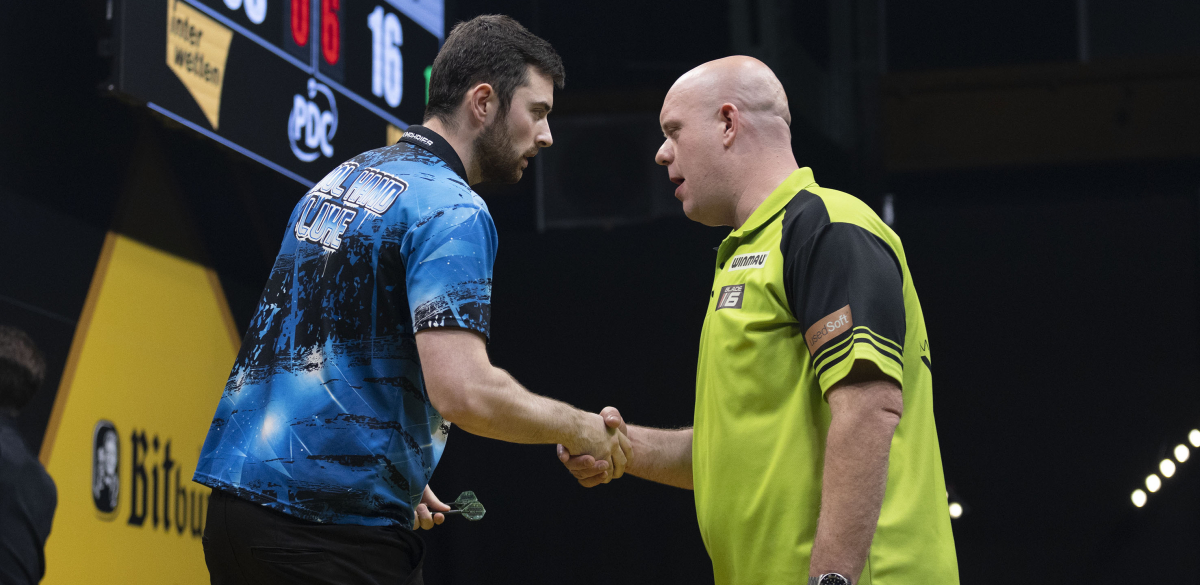 PDC Stats Analyst Christopher Kempf ranks PDC players based on current standard of play and recent results...
The Form Guide lists the top 30 players by standard of play across their last 100 legs played, while the Power Rankings reflect the top 30 players by the calibre of matches won and lost over the last 12 months.
Form Guide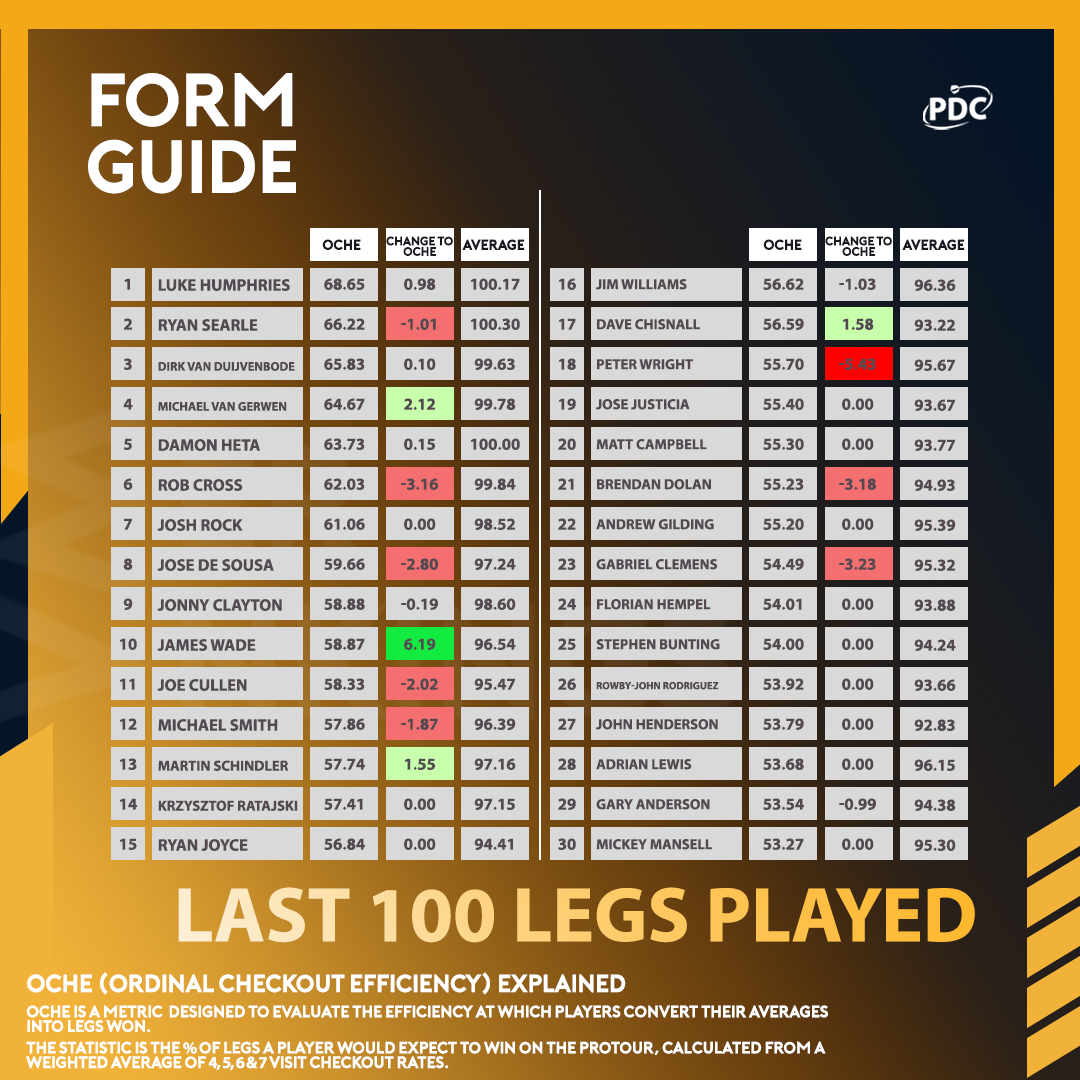 If Luke Humphries were to play his next 100 legs against ProTour opponents in the same manner in which he played his last 100, he would more than likely win more than two thirds of them - 68.65 is the expected value.
This makes him, for the moment, the number one player in the world at converting his already high averages (100.17, second in the world) into legs and matches won.
If Humphries had played every match comprising those 100 legs as he did against Michael van Gerwen on Monday, in fact, he would be winning at least 85% against any opponent he might face.
No other player, moreover, has thrown more than 40 180s over their last 100 legs among the 128 Tour Card holders, and Humphries also ranks in the top ten for doubles accuracy.
According to any metric, Humphries is playing better than ever before.
Martin Lukeman played at an outstanding level to defeat Damon Heta and Martin Schindler, but interspersed between those matches were some below-par performances, suggesting that Lukeman does not have the same prospective strength as Humphries in spite of his inspired runner-up finish at the German Darts Grand Prix.
Lukeman ranks in the 70s in averages and OChE for his last 100 legs, and actually declined in both metrics relative to last week.
With the exception of his whitewash at the hands of Humphries, Michael van Gerwen continues to improve - every other match of the past week has seen MvG average at least 100.
Van Gerwen is not far behind Humphries, at an expected 64.67% leg win rate, but his doubles percentage continues to lag behind his ranking in other metrics.
Compare those stat lines to those of James Wade, whose victory in last Thursday night's final boosted him to an average of 96.54, an increase from 94 last week.
His doubles accuracy, third highest among tour card holders, gave him just enough of an advantage to defeat Joe Cullen, the player who ironically has the second-highest checkout rate in the world.
One of the biggest improvements in form relative to last week came from Scott Waites, now in the top half of PDC Tour Card Holders for the first time this year in terms of OChE and averages; he is now close to winning an expected 50% of his legs after a surprise upset win over Peter Wright in Germany.
Power Rankings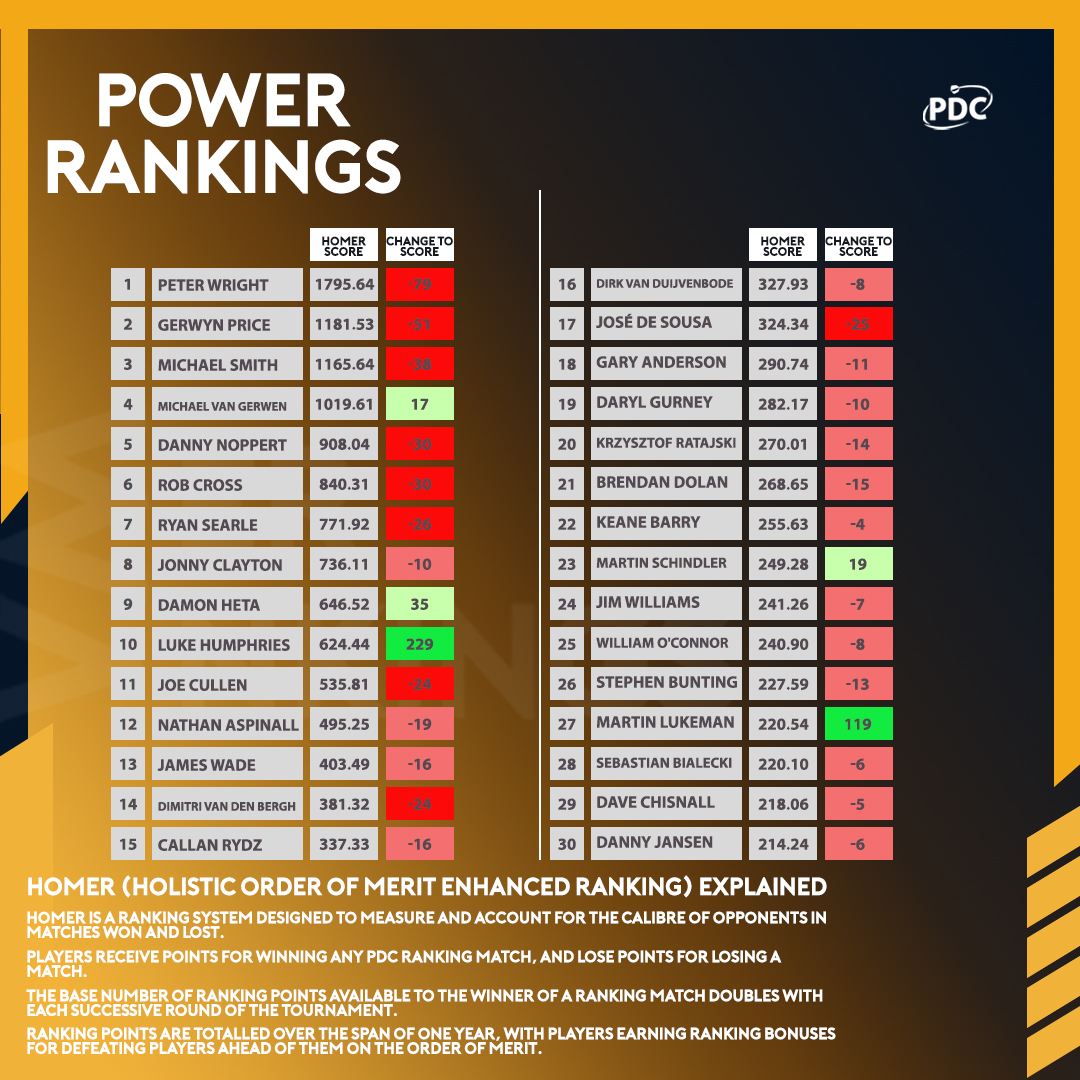 Luke Humphries' monumental whitewash defeat of Michael van Gerwen only earned him £3,500, which is less than he would have earned had he defeated MvG in a Players Championship semi-final.
But in the HOMER ranking system, defeating the world number three earned him a bonus multiplier of 1.89, netting him 120 ranking points from that match alone - nearly as many as he had earned by defeating Martin Lukeman in the final.
Together with his victory over another top-10 player in Michael Smith, Humphries' total ranking gain from the weekend was 229 points, putting him in the top ten of the ranking for the first time this year.
Similarly, the shock runner-up finish from Martin Lukeman had a very insignificant effect on his Order of Merit rank; the £10,000 he earned saw him rise from world #74 to only world #72. But in the HOMER system, Lukeman is rewarded more substantially for his wins.
Before the weekend, Lukeman's largest ranking point haul from a single match was 19 (a Players Championship quarter-final defeat of Keane Barry last year, by now nearly removed from consideration by the time scale weighting).
In contrast, his defeat of world number 20 Damon Heta earned him 112 points alone; the total ranking impact of his most impressive stage campaign to date was 194.
Only four other players in the top 50 managed to increase their ranking point total compared to last week - semi-finalists Michael van Gerwen and Damon Heta, Martin Schindler and Madars Razma - by either advancing far enough into the tournament or defeating highly-ranked players, thus compensating for the ranking point attrition caused by the time scale.
Follow Christopher on Twitter @ochepedia